Third-Party Logistics (3PL) Ecommerce Fulfillment and Solutions Guide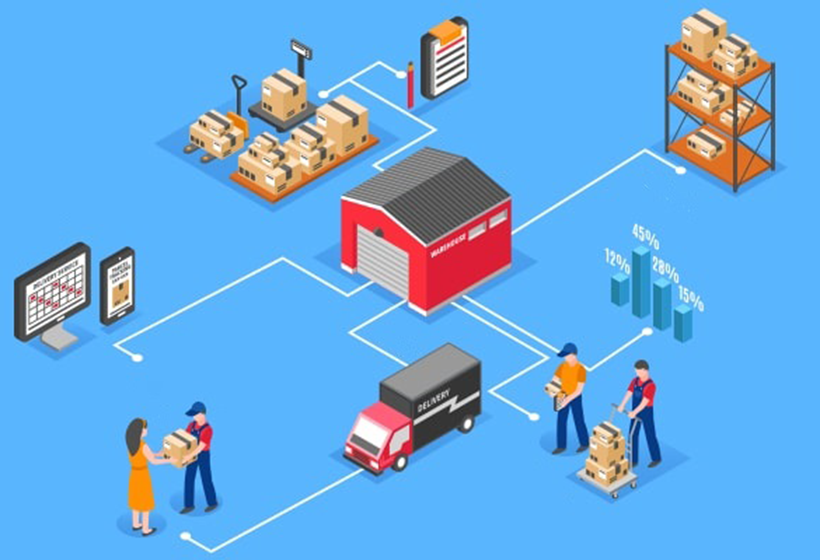 Order fulfillment is one of the most integral aspects of any online storefront. As an ecommerce business manager, setting up an efficient and cost-effective fulfillment strategy is essential to scale your business and satisfy your customers.
However, some ecommerce businesses must rely on additional shipping support from outside their internal resources to improve operations and improve ROI. One of the most prevalent solutions for enterprise businesses is to utilize third-party logistics (3PL). Let's discuss how third-party logistics works and some of our top ecommerce fulfillment solutions.
What is 3PL Fulfillment?
3PL (third-party logistics) fulfillment is when an ecommerce business uses an outsourced entity to handle retail operations, including receiving orders, inventory management, packing, shipping, and storing products. Some organizations leverage 4PL to free up additional bandwidth from their organization. 4PL allows enterprise ecommerce businesses to have another party handle coordinating with their outsourced shipping and end-to-end supply chain management.
Why 3PL is Important?
3PL is important for many growing businesses because it helps alleviate time-consuming internal operations so companies can spend more time growing their business. The most appealing advantage of 3PL is that it not only frees up time but that it's the most cost-effective solution to coordinate, store, and ship inventory to customers.
How Do 3PL Companies Work? The Stages of Ecommerce 3PL Fulfillment
Every 3PL partnership is different, but third-party logistics primarily includes storage, shipping, packing, and fulfillment. A 3PL partner can consist of several different entities, including warehousing companies, distribution centers, or fulfillment services. 3PL partners can help lower shipping costs, improve shipping times, optimize logistics, manage returns, and provide better customer service.
3PL partners are essential for many growing businesses to scale their business. Handling inventory management, storage, and shipping can drain a lot of a company's internal resources, so an outside partner can free up significant bandwidth to save an organization's time and money. Let's break down the entire 3PL process from start to finish.
Storage
A business first must coordinate sending their inventory to their 3PL provider so that they can have their products at their disposal. Typically, a company will fill out a Warehouse Receiving Order (WRO) to document the quantity and product names they plan to send. Once a business records its inventory and transmits it to 3PL partners, they will store the items at their fulfillment centers either on shelves, pallets, or bins. They will categorize and label inventory accordingly to have it ready for when customers place orders.
Orders
When a customer places an order online, the 3PL will begin the fulfillment process. The most efficient 3PL ordering processes integrate the online store with the fulfillment center. As soon as a customer places an order on the company's website, the 3PL party is notified and sent the necessary information to complete the order. A warehouse packing team member will collect the order from storage and send it to the packing and shipping division.
Packing and Shipping
The warehouse team will begin to package the item. Businesses can specify how to package their products based on costs and weight. They can also customize the packaging material to highlight the brand. The 3PL will place a shipping label on the product and have their daily inventory ready for carrier pickup. 3PL partners will send an order and shipping confirmation to their partners, and the 3PL can handle any possible returns. (PS: You can help reduce ecommerce return rates with our helpful guide.)
6 Best Ecommerce Fulfillment Solutions
There are many reasons why businesses choose to leverage a 3PL partner. Whether it's handling the fulfillment, storage, or supply chain management, a 3PL can be the MVP for your ecommerce business. Here are some reasons why you and your business could benefit from third-party logistics:
1. Time
You probably didn't get into fashion retailing to spend hours packing orders. Working with a 3PL gives you the time you need to focus on your big-picture business strategies. There are countless tiny details involved in order fulfillment. Contracts with transportation drivers, tracking lost orders, figuring out how a storm on the East Coast may affect deliveries to the region—these are the kinds of small but important details you no longer have to worry about with a 3PL in place.
2. Money
When an outsourced provider handles your order fulfillment process, that can cut down on expenses. For instance, a 3PL with a warehouse means you don't have to spend money on your own storage facility for excess inventory. You also don't have to hire and pay extra staff members to handle fulfillment on your end. Plus, if you work with a 3PL with multiple other clients, it can often translate to lower shipping rates for everyone because the 3PL is shipping at high volume.
3. Convenience
Using 3PL is a terrific e-commerce business solution because it can handle every aspect of order fulfillment. Your vendors can ship merchandise directly to the 3PL warehouse, where it can be synced to your in-store inventory to keep everything organized for you. When orders come in, the 3PL handles all of the packing, labeling, and shipping. If an order is returned, the 3PL takes care of restocking. An experienced company that professionally and reliably administers all these logistics can be a game-changer for your business.
4. Customization
A 3PL can cover every aspect of order fulfillment for you. But 3PLs can also offer customized solutions tailored to your specific needs. Are you focused on adding next-day or same-day shipping to your e-commerce site? Find a 3PL with those capabilities and the warehouse network to support that. Do you want to provide gift-wrapping services or need temperature-controlled packaging? There are 3PLs out there that can handle every kind of fulfillment issue. The best firms will listen to your needs and develop a comprehensive plan to optimize your order fulfillment.
5. Flexibility
A 3PL boosts your company's responsiveness to e-commerce demands. Suppose you're planning a huge holiday sale, for instance. In that case, your 3PL company can adjust accordingly and make sure it has enough transportation solutions and fulfillment staffers in place to meet that higher order volume. Conversely, you don't have to let go of your workers if there is a lull in orders; the 3PL can quickly ramp down, depending on your needs.
This scalability is especially valuable if you are at a crucial stage of growing your e-commerce business. There are few things worse than not being able to meet increased customer demand—it can tarnish your brand's reputation. Plus, taking advantage of a 3PL's warehouse means you may be able to carry a higher volume of inventory, so you can save money by buying merchandise in bulk and serve more customers with more orders, which can benefit your bottom line.
6. Quality Assurance
By doing your homework and partnering with a trusted 3PL company, you are leaving order fulfillment in the professionals' hands. These intricate, heavily detailed logistics are their bread and butter, and you can be assured that your fulfillment process is in the best possible position to benefit your e-commerce business. A well-oiled fulfillment process reflects well on your business and enhances customer satisfaction and your brand's reputation.
Let Us Take Care of Your Coordinating Your 3PL Operations
The decision to work with a 3PL can be a wise one, but only if you use a company focused on meeting your ecommerce needs and can provide you with quality service and practical solutions. We'll help you improve your entire business operations so you can not only meet but exceed your ecommerce KPI goals.
Connect with us and learn more about our global logistics solutions to optimize all of your ecommerce operational needs. Schedule a quick time to chat with us below, and we can discuss the best solutions for your business.
In the meantime, learn more about how to improve your ecommerce business using our informative guides: