Why You Should Outsource Your Ecommerce Technology Stack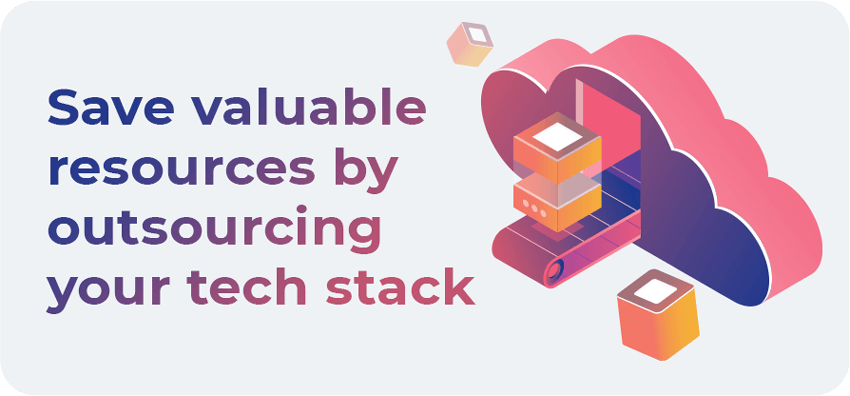 Building your own tech stack can be costly — and risky.
Unless you're the founder and operator of your business, there's a high chance that your business's tech stack is "inherited." And it's not the "thousands of dollars and a house on an island" kind of inheritance. Instead, it looks more like rusty antiques coated in dust.
You're probably not an IT professional (and if you're acting like one, you don't want to be), and the task of finding a better tech stack solution may feel way out of your wheelhouse.
But integrating extensions and plugins that can grow with your business could make or break how you compete in today's ecommerce marketplace. The question is: how can you upgrade your ecommerce platform without rebuilding everything from scratch? 
At Nogin, we help businesses solve this problem every day.
The Quality of Your Tech Stack Can Make or Break Your Business
Your tech stack is more than just code — it will determine the digital ecosystem your brand lives on and the extent to which you're able to scale and grow. When your tech stack is outdated, the result is a clunky experience for both you and your customers. 
While your employees should be focused on positioning your company for success, they may be stuck switching between apps that don't communicate with one another, hampering productivity and wasting time where they could be making a meaningful impact. Even if you have enough resources to keep your current tech stack up and running through day-to-day maintenance and periodic upgrades, the sheer scale of owning and operating your own tech stack means you'll need to hire and keep talent to manage all your apps and integrations.
Not to mention, one of the biggest risks of a build-your-own tech stack is security. In the current ecommerce space, the security of your customers' data is equivalent to their trust in your brand. If there are gaps in your tech infrastructure, you're directly putting the integrity of your brand at risk. Going with a trusted, secure third-party tech stack vendor adds an extra layer of protection as you upgrade to create a better customer experience.  
Nogin Intelligent Commerce is the Solution 
Here's the good news: You don't have to stick with your current, outdated system, and you don't have to build your own solution from the ground up to get the tech you need for D2C growth.
There's another way.
Nogin is an all-in-one ecommerce solution that takes on the heavy lifting of your technology so you can focus on your actual job.
Best of all, we're built to scale with your business over time. We sit directly on top of Shopify Plus, meaning you won't have to worry about replatforming to start leveraging enterprise- level features like a Customer Data Platform (CDP), AI-powered customer segmentation, and algorithmic merchandising.

You're not an IT expert, and we don't believe you should have to be one in order to have a successful, growing business.
Take advantage of our focused expertise, along with reduced time-to-market and significant time and cost savings, to bring your business up to speed and compete with the ecommerce giants.
We'd love to come alongside you with what we've learned and help your business reach its full potential.
If you think you might be ready to start scaling with Nogin, schedule a free introductory convo today.