Commerce-as-a-Service 101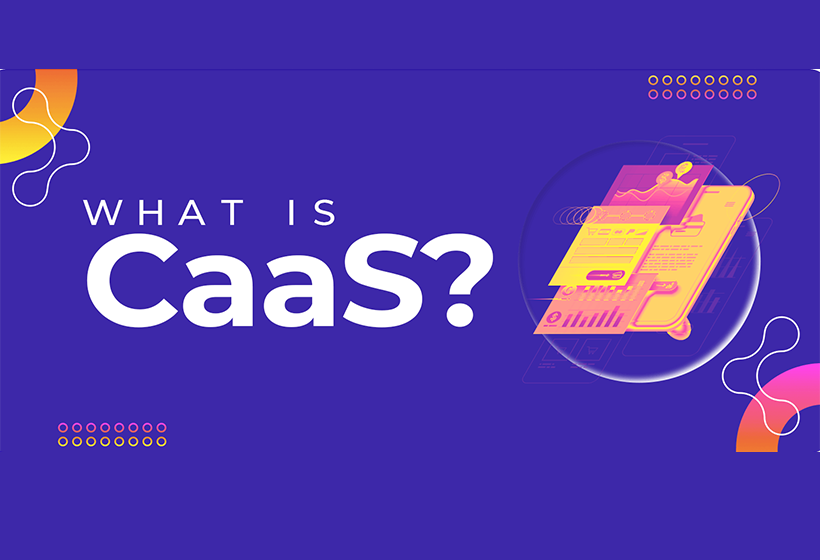 The evolution of ecommerce has accelerated due to the Covid pandemic. As people shifted their shopping behavior, purchasing most goods from online marketplaces like Amazon quickly became the norm. Whether you shop primarily online or at brick and mortar retailers, both consumers and businesses are feeling the nasty effects of supply chain issues, inflation, and a coming recession.
Consumers are cutting unnecessary purchases and tightening their wallets. Ecommerce businesses must also make tough decisions and adjust their business plan to prepare for the worst. The unfortunate Catch-22 is that as ecommerce businesses invest less in tech and marketing, they will make less revenue.
Many ecommerce businesses have spent years building their brands but have reached a point where they can no longer profitably scale. They need full-stack enterprise SaaS but can't invest the millions of dollars upfront or wait 1-2 years to get their storefront migrated.
They need predictable and effective marketing with a strong return on their investment. Still, they can't afford expensive marketing retainers for agencies they can't comfortably trust to get the job done. They need practical 3PL ecommerce fulfillment and storage but can't afford the free shipping and return costs to compete with Amazon.
They need a full-stack technology solution that gives them enterprise-level SaaS with advanced marketing automation capabilities, 3PL integration, order management, and sophisticated research and development to keep their business competitive, profitable, and scalable. Oh, and they need it to have no upfront costs.
They need Commerce-as-a-Service.
What is Commerce as a Service (CaaS)?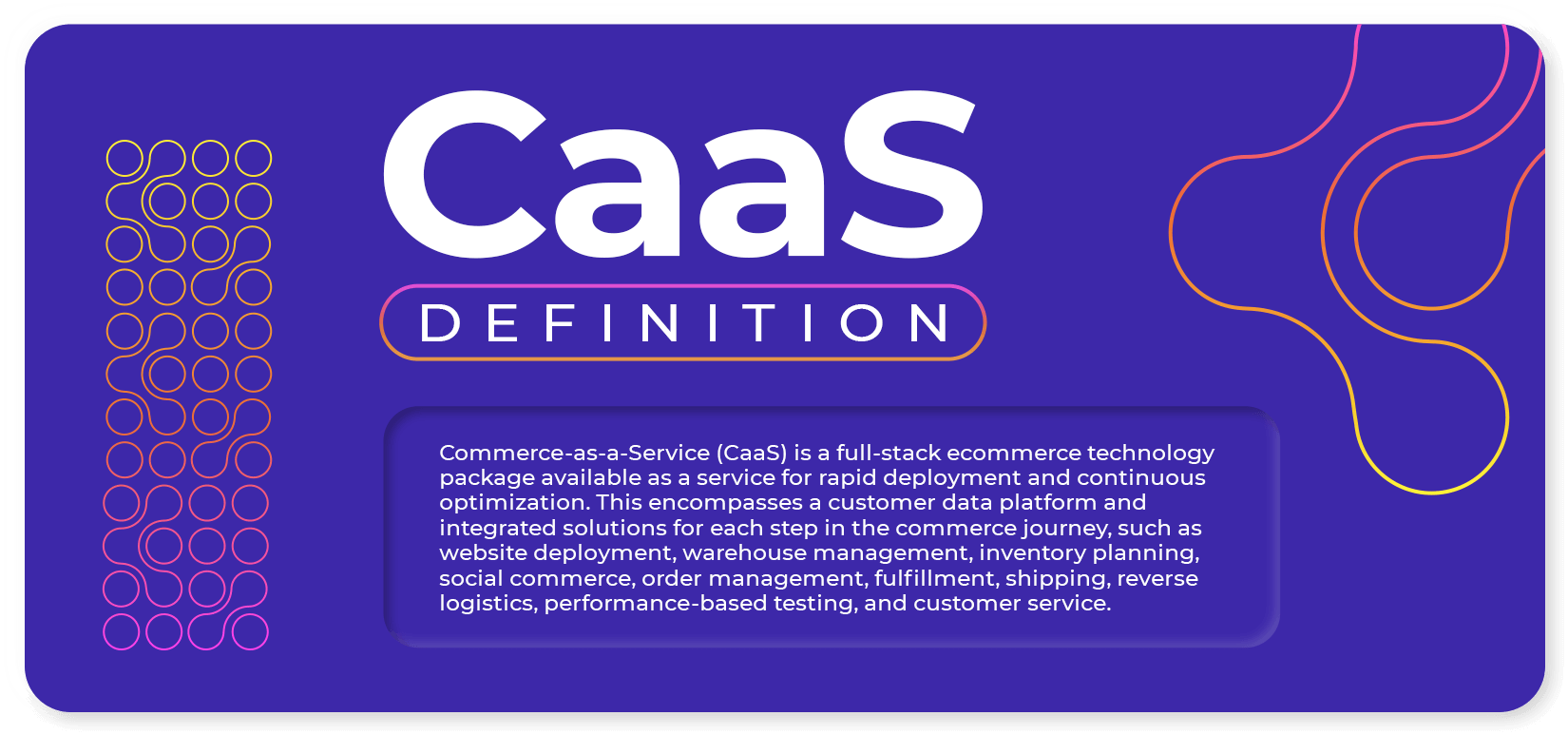 Commerce-as-a-Service (CaaS) is a comprehensive ecommerce package available as a service for rapid deployment and continuous optimization. With CaaS, brands gain access to state-of-the-art Intelligent Commerce technology, a fractional team of experts across essential functions, and deep ecommerce expertise. This encompasses a customer data platform and integrated solutions for each step in the commerce journey, such as website deployment, warehouse management, customer service, digital marketing, analytics, IT, finance/tax, inventory planning, social commerce, order management, fulfillment, shipping, reverse logistics, performance-based testing, and customer service.
Simply put, CaaS is a technology platform that fulfills and solves every aspect of running an ecommerce business. Nogin's CaaS platform connects all your operations, and our data-driven technology helps to eliminate wasteful spending to more efficiently and profitably run your ecommerce business. Our clients no longer need to coordinate with multiple marketing agencies, SaaS providers, 3PLs, and all the other necessary entities an ecommerce brand needs to operate. Instead, they can instantly plug into the Nogin Commerce Platform, which optimizes to grow your business profitably. Best of all, our value-based pricing means you won't have to invest upfront to gain the technology and resources you'll need to recession-proof your business.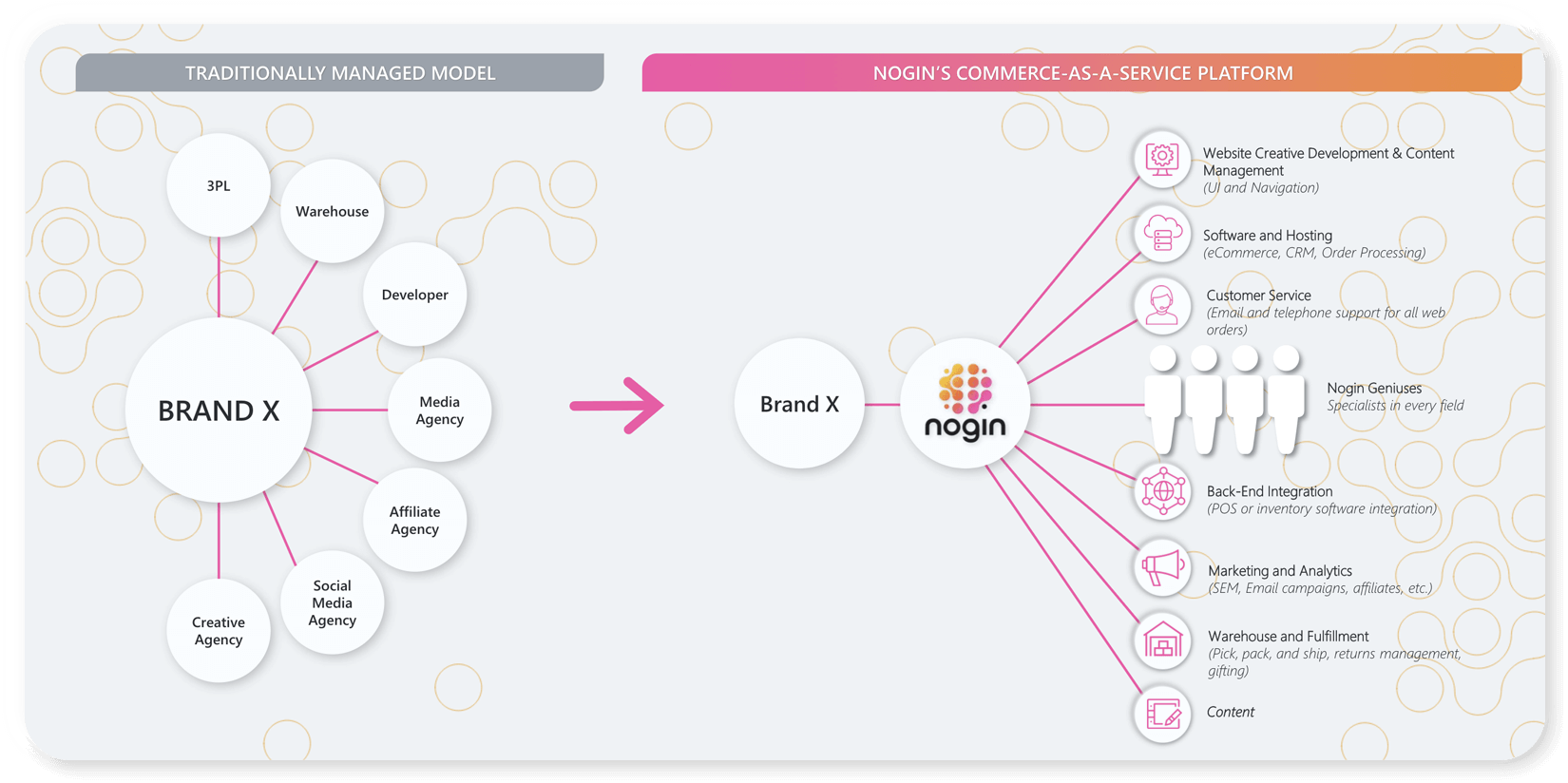 10 Advantages of CaaS
Nogin's CaaS platform gives you the integrated enterprise-level technology that optimizes, analyzes, and drives results for your ecommerce business to thrive. Check out the many advantages you'll gain from migrating to our platform for Intelligent Commerce.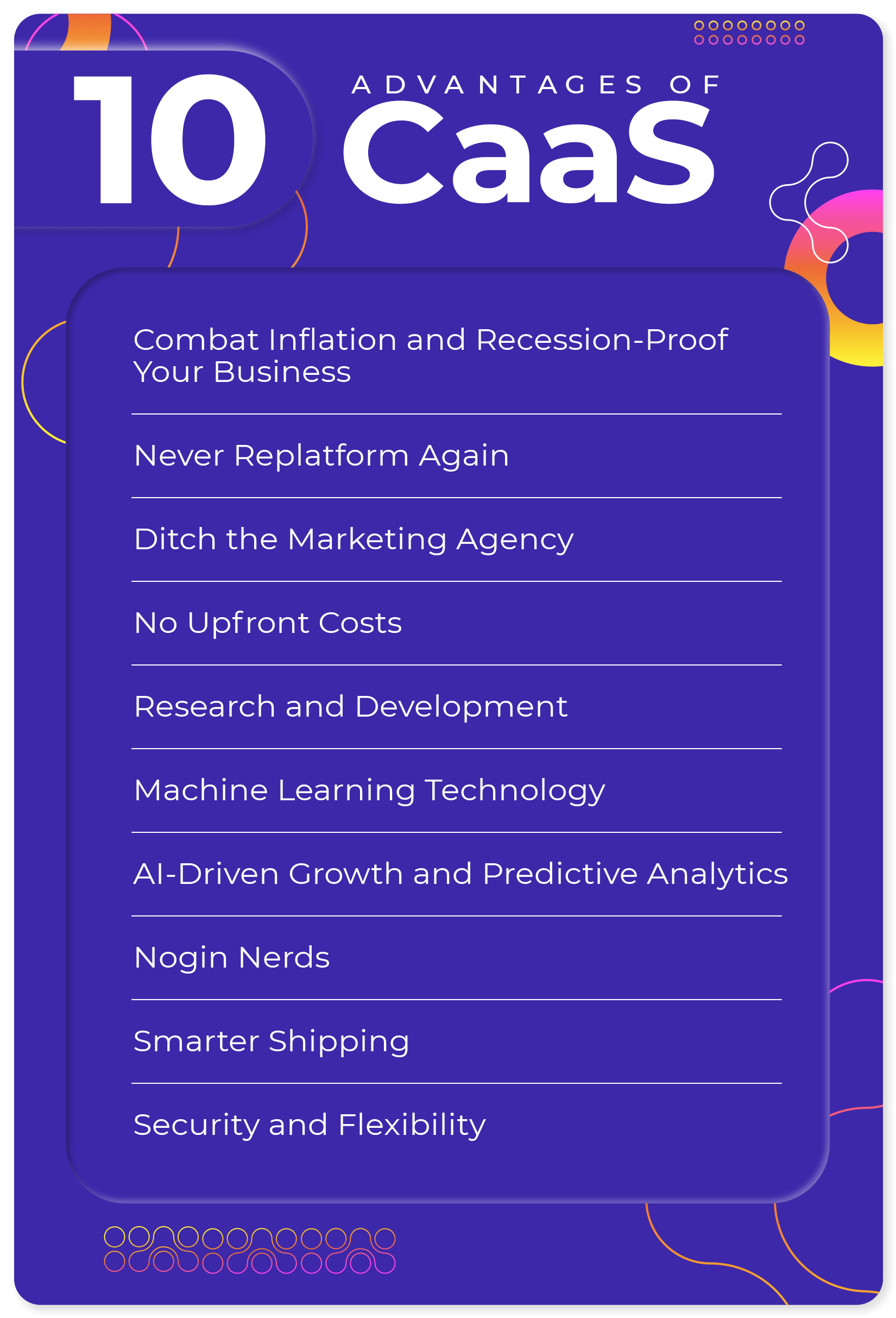 1. Combat Inflation and Recession-Proof Your Business
Our company was started during a recession, and our main goal was to arm ecommerce brands with the tech, expertise, and infrastructure they need to scale their business even during economic turmoil. Our proprietary technology platform continuously optimizes your storefront and eliminates wasteful spending and inefficiencies.
You'll start spending less money to acquire more customers with higher profit margins as soon as you plug into the Nogin Commerce Platform. As your competition scrambles to stay profitable, our smart tech will work 24/7 to make you more money for each dollar spent.
2. Never Replatform Again
Ecommerce brands need the best technology platform to compete with big retailers. Unfortunately, whether you're an SMB or an enterprise business, the SaaS solutions on the market come with an expensive price tag. Brands must invest millions in the SaaS solutions they need, which can take months or even years to implement. They'll also need to retrain their teams and hope their investments pay off.
Nogin offers a smarter approach. It takes a fraction of the time to migrate to our platform, and our clients instantly access the best-in-class enterprise SaaS and infrastructure they need to scale profitably. Our platform is always up-to-date, so you don't have to worry about finding, implementing, and training your staff on the latest SaaS solutions. Our tech continuously drives incremental GMV growth for you and without manual oversight.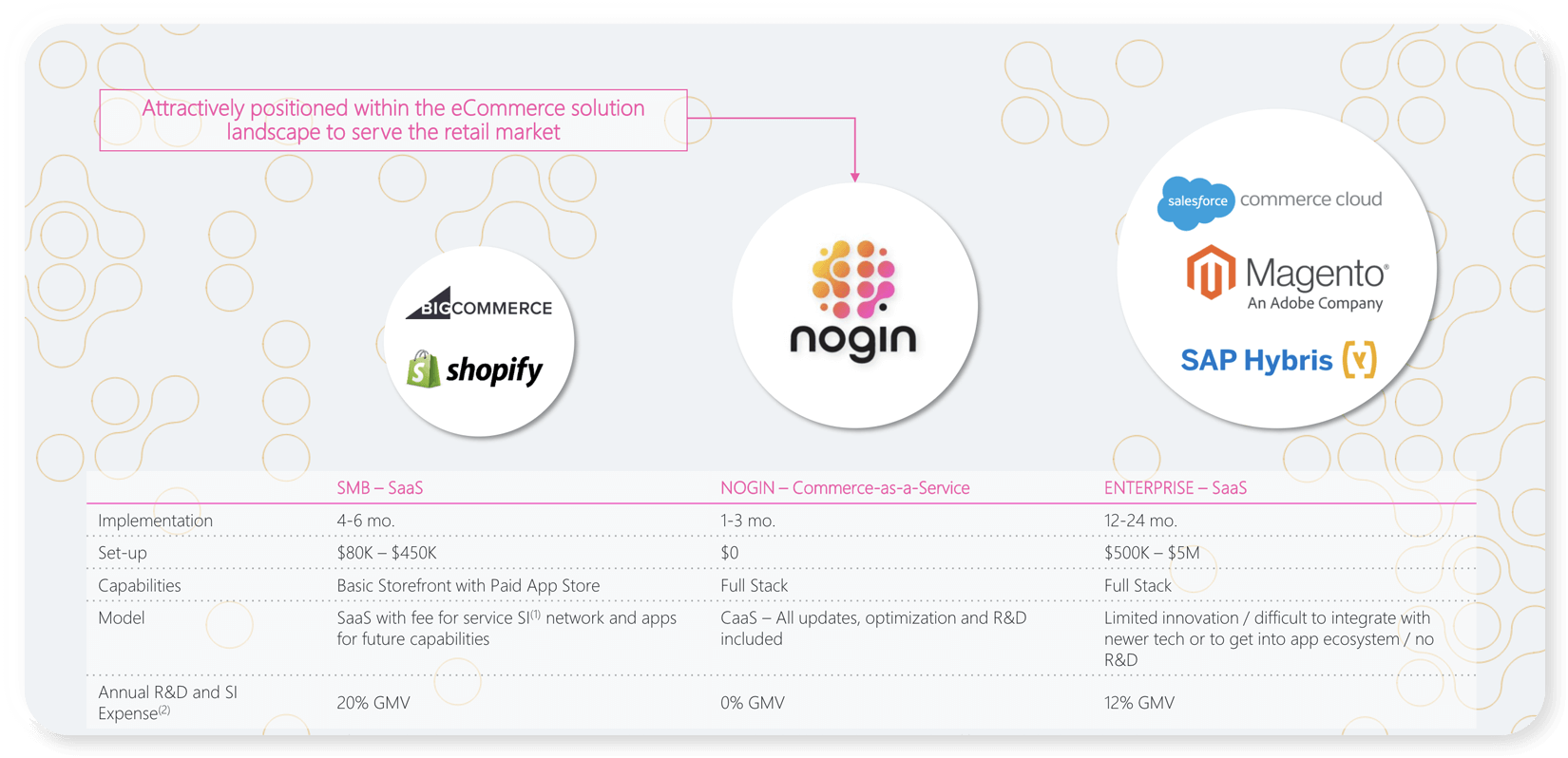 3. Ditch the Marketing Agency
Ecommerce brands must allocate their budget to various marketing channels, including Google Pay-Per-Click (PPC), social media, and email. In addition to funding each channel,  you must pay for a marketing agency's services, which are based on a limited amount of hours and resources and are not tied to the long-term success of your brand. Every time you want additional analytics, strategy, and guidance, they'll charge more. They want to plan your actions two months in advance and put them into motion, and not adjust as you go along.
Our adaptive technology platform automatically syncs all your advertising channels and delivers superior marketing automation for your business. Our technology is like having a dozen marketing agencies test, refine, and implement hundreds of marketing messages. Our marketing automation software quickly refines your campaigns to deliver superior results that achieve stellar Return on Ad Spend (ROAS). We are invested in your success.
4. No Upfront Costs
Our value-based pricing model allows our clients to access the tech, expertise, and resources to scale an ecommerce business. Since we charge a percentage of your revenue, we share the risks as well as the rewards, protecting your profits in economic uncertainty.
While your business grows, you won't have to worry about allocating vast portions of your budget to gain the tools you need to reach your ecommerce goals.
5. Research and Development
Big retailers invest millions into research and development to gain the data needed to modify their storefronts for profitability and provide a better user experience. Migrating onto our Nogin Commerce Platform allows your brand to gain all the rich insights, data, and strategies from all the clients under the Nogin banner.
Nogin's R&D innovations are shared across all of our client's stores, so everyone can compete smarter and faster. With enterprise-class ecommerce infrastructure, continuous technology innovation, extensive integrations, expert services, and high-volume shipping discounts negotiated across our customer base, you can give an experience far beyond your size. Our tech analyzes all purchases, store interactions, shipping, returns, and promotions across all our brands, and your store will automatically reap the benefits.
6. Machine Learning Technology
Our Nogin Commerce platform leverages sophisticated algorithms and machine learning (ML) to push benefits back to our customers' businesses at scale, capturing far more nuanced insights than a single brand can collect. Our tech does the work for you, and the best growth hacks and optimizations are released system-wide to elevate your ecommerce experience for profitability.
7. AI-Driven Growth and Predictive Analytics
Our technology was built to deliver data-driven outcomes for your operations, focused on customer acquisition costs, lifetime value, and conversion. Nogin's technology will improve your P&L because our tech constantly A/B tests tactics across all our brands that amass $1B in annual gross merchandise value (GMV) to find and implement the best strategies that make your business more money while spending less.
8. Nogin Nerds
While you're free to run Nogin's technology on your own, Nogin has a team of skilled experts, including ecommerce IT specialists, merchandisers, marketers, operators, developers, and thinkers standing by to help you stay ahead of the market. By empowering you to run as much or as little of the infrastructure as you choose, Nogin frees you to focus on the customer journey, product innovation, and brand-building.
9. Smarter Shipping
Many ecommerce brands overpay for their fulfillment and shipping costs to try to compete with big retailers like Amazon. Unfortunately, their profit margins suffer without the infrastructure to offer competitive shipping rates.
From shipping to warehousing, fulfillment, and third-party logistics (3PL), you can rely on our innovative technology and services to benefit your bottom line. Nogin even has distribution centers across the United States and can offer the most competitive rates for shipping, warehousing, and fulfillment.

10. Security and Flexibility
Security is no joke, and neither is the rigidity of most commerce platforms. Nogin lifts the complexity off your shoulders by optimizing and protecting your transactions against fraud.
Our headless ecommerce platform offers security and flexibility to offer the ideal ecommerce storefront you want to present to your customers – now and in the future. Our team will handle all backend and security requirements for your storefront to save you time and money.
Plug Into Intelligent Commerce and Take the Headache Out of Running an Ecommerce Business
If you want to recession-proof your business and instantly become more profitable, here's your chance to start with a more intelligent approach. Contact Nogin today to learn more.
Want to hear more about the research and data behind a CaaS business model? Download the Coresight Research Reports below: