The Power of Celebrity Collaborations (How to Collab with Brands)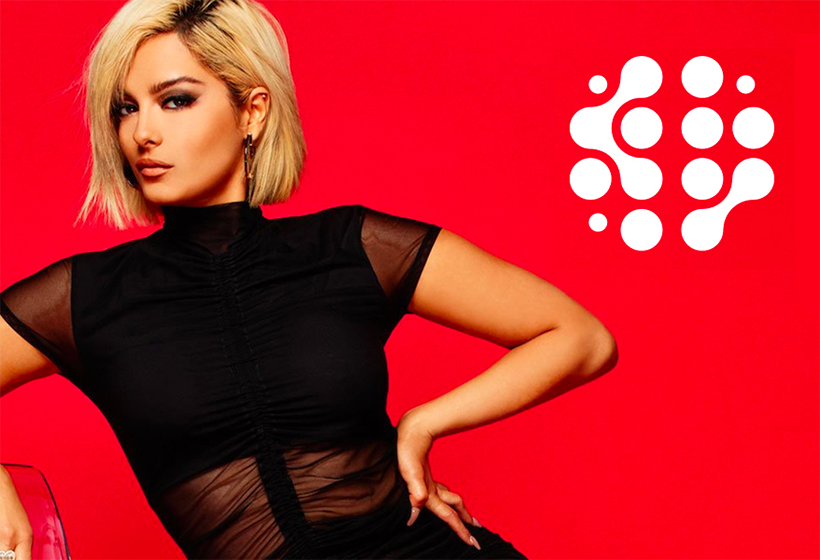 Celebrity endorsements are as old as Pheidippides running from the town of Marathon, Greece, to Athens in 490 B.C wearing his Nike sandals, well maybe not actually Nike, but you get the drift. Celebrity brand endorsements are nothing new, and whether we like it or not, celebrity endorsements have become such a common factor in people's daily lives that our world has become heavily influenced by their social commentary.
They are powerful, and moreover, successful. However, today's celebrities are going beyond simple endorsements and are actually collaborating on new product lines. Celebrities are well aware that they can become a marketable product and many have created personal brands that keep them in the spotlight well past whatever made them a star, especially in the luxury ecommerce space.
Consider one of the most well-known collaborations between Michael Jordan and Nike; he hasn't laced up a pair of basketball shoes competitively since 2003, however his brand is still iconic within the athletic apparel industry. Going well beyond a simple product endorsement, Jordan became a brand, and many more celebrities are now leveraging the spotlight to influence similar brand partnerships.
Let's dive into some of our favorite brand partnership examples and if you need help improving your ecommerce operations, make sure to check out our other great content on:
The Best Brand Partnership Examples and Celebrity Collaborations
Some of our favorite successful celebrity collaborations include:
Kanye West, Adidas, and the Yeezy Brand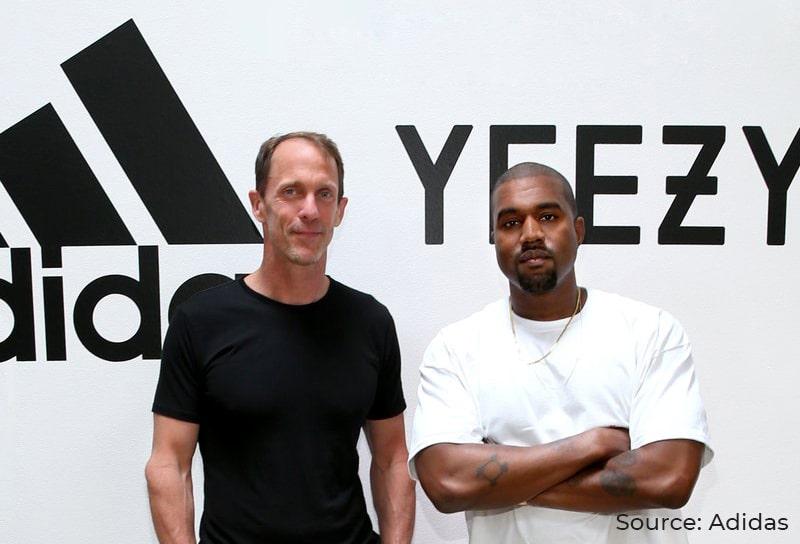 Kanye West and Adidas co-branding the Yeezy brand. The combination of Kanye's personal brand and Adidas' growing streetwear segment has been incredibly successful with almost a 14% increase in earnings for Adidas since the partnership began feeding on the cult-like frenzy of the Yeezy following.
Rhianna and Puma
Grammy award-winning artist Rhianna went beyond a simple spokeswoman role with PUMA when she became a brand ambassador for an entire women's line overseeing collaborations in apparel, footwear, and accessories.
Beginning in 2015, when she released her first footwear collaboration, the Creeper, which sold out within hours of its presale launch, she has since gone on to create an entire fashion line called FENTY PUMA by Rhianna.
Based upon her experiences growing up and having to wear uniforms to school, she wanted to create a line that was completely different and fun. Not only has the line been praised by fashion critics and bloggers alike, but PUMA has also had over a 180% increase in searches on their site since the collaboration began.
A$AP Rocky and Guess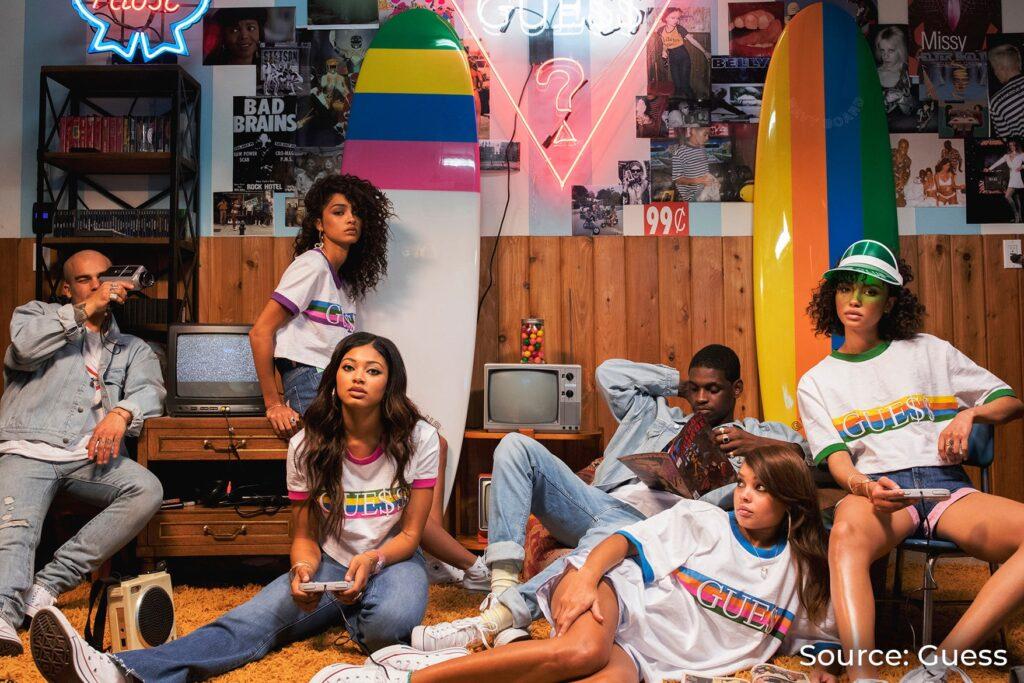 GUESS teamed up with rapper A$AP Rocky to create a collection of apparel and accessories for both men and women, based upon his well-known style and interest in the fashion industry. Focusing on the $ to replace the "S" in throwback 90s GUESS patterns, the nostalgic line utilized his platform to "show kids what they missed out on".
David Guetta and GH Mumm Champagne
In 2014, Maison Mumm announced a collaboration with world-famous DJ, David Guetta. Together, they redesigned the famous G.H.Mumm Cordon Bouge champagne bottle. The special limited collector's edition bottle was a perfect fit to leverage Guetta's brand. It featured a platinum design that emulates a mirror to reflect nightlife and DJ LED lights to create a stunning and attractive effect. G.H.Mumm launched the limited-edition champagne in tandem with Guetta's new music video Dangerous. 
The collaboration is a perfect example of how a luxury brand can position its product with a celebrity that appeals to a valuable target audience. The champagne was sold in nightclubs to command a premium price markup, fit the environment, and the packaging grabbed the attention of anyone on the dance floor.
Taylor Swift and Keds Footwear
Keds footwear collaborated with Taylor Swift back in 2013 to develop a sneaker line featuring some of Swift's favorite things, including mini guitars and polka dots alternating with paw prints. Swift's audience loved the sneakers because they helped them connect with their favorite artist. The variety of designs at an affordable price meant they could purchase multiple sneaker designs without breaking the bank.
The collection was available worldwide on Keds.com, TaylorSwift.com, Nordstrom.com, and Journeys.com. All styles were only $50 and each pair featured a silver heart of Swift's favorite number, 13, or a guitar pick with Swift's logo. Keds perfectly leveraged their partnership with Swift to appeal to a specific target audience and give them sneakers that incorporated their idol's favorite things to create a unique, tangible appeal.
Fashion Nova and Cardi B
And we would be remiss to leave out Fashion Nova's collaboration with Cardi B. The "Bodak Yellow" rapper who turned her social media clout into a successful music career, sold out her first line of 82 styles raking in over $10M last November, while her latest line sold out within minutes of its release making over $1M in under 24 hours.
How to Find the Best Target Celebrity Partnerships
Brand collaborations are nothing new, especially in the fashion world. Utilizing a particular fan base in order to develop target audiences, is exactly the type of data point that Nogin can take advantage of to help drive sales for a brand.
Take for example Nogin's partnership with Blue-Star and Bebe Rexha. The two-time Grammy-nominated artist, Bebe Rexha has partnered up with fashion brand bebe for their empowering national marketing campaign 'BEBE LOVES BEBE'. The campaign was created to celebrate the powerful idea of loving and accepting yourself, feeling incredible at any time, all the time.
With the help of Nogin, Rexha has been appearing in the brand's Fall 2019 campaign, which has been running throughout the U.S. on social, out of home, and in print since the launch of Vogue's September issue.
Nogin is a full-spectrum ecommerce partner and leading provider of customized, end-to-end digital commerce solutions for retail brands. Underpinned by first-in-class technology, the company's mission is to help brands navigate the complex online environment to effectively attract, retain and increase customer leads.
Nogin's enterprise ecommerce solutions include website development, performance marketing, business intelligence, merchandising and planning, brand-focused design, retail imaging and video, full-scale warehousing and fulfillment, and world-class customer care. Our exclusive ecommerce platform seamlessly merges with your company's current eCommerce provider to leverage more efficient operations and greater data capabilities to increase revenue while saving on marketing and operating costs.
Check out some of our impressive case studies, including Blank NYC. We were able to build their website from the ground-up and helped them experience 100% growth in the first year and a 50% increase in conversions. We also helped Muck Boots build a multimillion-dollar online business by leveraging our Core Logistics® technology to grow their online business by 300%.
We can also help you find the best celebrity partnerships to help your brand explode its growth. Our company has the resources to not only provide you the best eCommerce solutions to outperform the competition, but our comprehensive services can take substantial weight of your own internal operations. Keep up-to-date with our latest news and send us a message below to chat with a member of our team. We can chat about your brand's current struggles and how we can leverage our services to lessen your load while exploding your growth.