What is Dropshipping? A Practical Solution to Maintain Profitability and Grow Your Ecommerce Business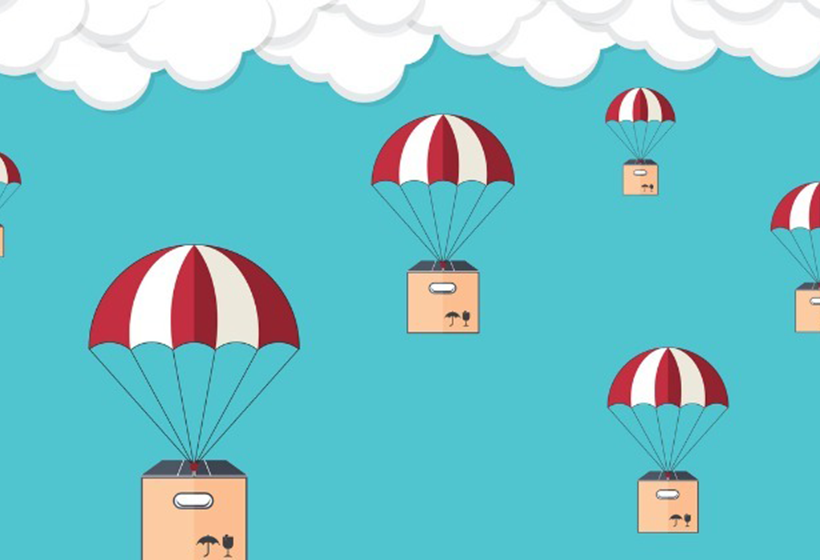 Dropshipping might not sound like the flashiest segment of the high-tech world of fashion ecommerce, but it's a strategically crucial component of expanding product line visibility and increasing revenues.
"As many retailers continue to see downward pressure on their sales, they are looking for innovative ways to sell their products," explains Howard West, Nogin's Chief Product Strategist. "While most retailers continue to see overall sales shrink year over year, large and small retailers alike are seeing significant growth opportunities in the ecommerce space. Dropship services for retailers are a significant part of any brand owner's ecommerce growth strategy."
Learn more about dropshipping, how it works, the advantages and disadvantages, and how Nogin has the most innovative solution for enterprise ecommerce merchants to leverage 3pl fulfillment while maintaining MAXIMUM ROI.
What is Dropshipping?
Dropshipping is when another party—other than the brand owner—is marketing and selling products, but when an order is placed, the products are shipped directly from the brand owner to the consumer. This process allows large retailers to expand their product selection via an app or online store without having to stock inventory for that product.
Dropshipping is one of the biggest ecommerce trends. Brands can integrate their dropshipping provider in many common ecommerce business platforms, including Shopify and BigCommerce. However, many do not feature 3pl EDI integration which is the FUTURE of dropshipping.
Advantages of Dropshipping
There are numerous advantages and benefits of dropshipping that ecommerce merchants can leverage, including:
1. Storage, Shipping, and Fulfillment
Since you don't have to worry about storing your products in a physical location, it's simple to get your ecommerce business started. Your dropshipping partner will coordinate managing your warehouse supply, packing, managing and shipping inventory, and handling returns.
Coordinating fast and efficient ecommerce return rate solutions is imperative to any ecommerce business since poor customer experiences can lead to poor reviews and tarnish your reputation. A professional dropshipping partner will ensure your ecommerce operations run smoothly.
2. Minimal Capital Investment
A dropshipping model requires minimal capital investment, and ecommerce merchants do not have to commit to a high upfront purchase order. Although buying products in bulk brings down the cost of each product, ecommerce businesses are forced to store, manage, and sell their inventory. If the products don't sell, they are stuck with a high investment without suitable ROI.
However, for merchants using a dropshipping supplier, products are only made when there is a verified purchase to fulfill. Merchants no longer have to commit to a hefty upfront payment to get started, so there is less risk. Dropshipping merchants must also factor in paying a premium to produce each product based on a confirmed purchase, so you must have an effective conversion funnel and customer retention strategy to make a sufficient return on your investment.
3. Scable and Testable With a Variety of Products to Sell
Merchants using a dropshipping supplier can offer a variety of products on their websites. You can test trending products and use your marketing analytics to analyze your best-selling items. Testing various items and selling the products that work without a significant upfront investment in inventory is a massive advantage for emerging ecommerce merchants. It also helps to have marketing automation software to ensure your marketing dollars are maximized.
If you do experience a boost in sales, you will have the facilities to support larger orders without the additional headaches of scaling your business. It's also important to use traditional marketing strategies, including product listing strategies and retail markdown 
strategies to ensure consistent purchase orders and growth.
Does DropShipping Work? Dropshipping Challenges
Dropshipping will reach a predicted market valuation of $557.9 billion by 2025, and around 27% of online ecommerce merchants use dropshipping. Although it is a frequently talked about ecommerce myth that dropshipping is "dead," that is clearly not the case. However, there are clear challenges many enterprise-level merchants will face using a dropshipping model, including:
1. Meeting Customer Expectations
High-end retailers like Nordstrom and Macy's, have high expectations of the customer experience. Brands must keep an accurate inventory reading so that retailers aren't selling products that can't be fulfilled and negatively impacting this experience. You can harm your brand by opening yourself up to a dropship scenario if you don't have the infrastructure in place to support these expectations.
2. Managing Logistics
Being able to meet SLAs (Service Level Agreements) consistently is another challenge for brand owners. For example, a department store might expect that when they send an order to a brand by noon, that order needs to be picked, packed, and shipped the same day. If you're not meeting the agreed-upon expectations, they may no longer carry your products.
3. Processing Returns
Many retailers handle the return process themselves under their previously established returns process. However, there are some situations when the order comes back to the dropship brand owner—for instance when a product is undeliverable or refused upon delivery. Combining these returns quickly and communicating with the retailer is imperative to a healthy consumer relationship.
Complying with packaging requirements: Packaging must be appropriate for the product being shipped. Retailers may require custom packaging and inserts as well as branded packing slips and shipping labels. Being able to manage multiple shipping accounts across multiple retailers can introduce challenges. Many nuances go into building a successful dropship program—and brands need to have effective and accurate systems and processes to ensure success.
4. Operational Infrastructure
For many brand owners, dropshipping a single order to a customer can be a significant challenge. Often, fulfillment systems and processes in place are designed for bulk sales, so a single product order in many cases can result in manual intervention and introduce room for error.
For example, for some brand owners, picking a single item order might look something like this: a worker grabs a lift truck, pulls down a pallet, opens a box, then opens up a master case, opens another box, finds the right size, re-boxes that item, and then ships it. Automating and managing inventory to provide an excellent shopper experience is where Nogin can help provide technology and services that help manage these types of scenarios.
Is Dropshipping Profitable? Is It Worth It?
The short answer is it can be, but for most ecommerce business businesses, dropshipping is not the most profitable approach. Most ecommerce businesses using a dropshipping model have their product margins eaten away by the expensive costs of dropshipping fulfillment. It's a convenient way to run an ecommerce business, but it costs a pretty penny to get it done. Not to mention, companies also have to generate traffic to their shops using Google or social media ads, further dipping into profit margins.
Worst of all, big retailers have the resources and infrastructure to squeeze you. Most growing ecommerce businesses fail to scale and maintain their profitability. They have to offer colossal sale prices to stay competitive and simply cannot bring their operating costs down enough to stand a chance against Amazon, Walmart, and other retailers. Big retailers can also invest in their own knock-off products that you may try to sell in your store. Although they may be popular items, Amazon or Walmart will be able to offer a more inexpensive alternative with free shipping and better fulfillment infrastructure.
The only way to compete is by using Nogin. We have the power of big retail to fight big retailers. You'll never be able to match the free shipping, fulfillment, and marketing solutions needed to compete with big retailers. Fortunately, we have a different approach. We can migrate your storefront on our proprietary intelligent ecommerce platform. You'll never have to worry about replatforming again and save thousands on internal development costs and essential internal resources. We also have our own fulfillment centers and intelligent shipping solutions to help you save on all your ecommerce expenses.

Dropshipping can be profitable if you use your Nogin.
How is Dropship Evolving?
Retailers are embracing innovative, omnichannel marketing strategies as they continue to combat the ecommerce revolution. This requires brand owners to keep up with technology and infrastructure investments to meet the demands of their most successful retailers.
Making products, wherever they are, readily available to the customer is just part of the overall picture. To create seamless experiences, it is necessary to access accurate inventories—which may be in a store or a warehouse or transit—and to be able to communicate the right product information consistently and deliver on customer expectations.
The key is not to focus on keeping up with Amazon or Walmart but on differentiating your brand experience from the rest. Having the right partner to provide consistent operational expertise and infrastructure so that brand owners can innovate and differentiate their products is the only way to compete.
Picture this: a customer visits a retailer with a personal shopper. As the personal shopper finds products and styles for this customer, they might use technology like augmented reality to show how styles that the retailer does not hold in stock might look on the customer. The shopper can make the purchase right there and have the products delivered directly to the home, or the shopper can pick them up and try them on the next day at the retailer.
For a brand owner, this means making certain they have provided the retailer with the right mix of photography and product content, making sure that inventory and sizes are 100% accurate, and having the infrastructure to dropship that order immediately following the decision of the customer either to the shopper or to the retailer. As a brand owner, being able to support these retailer innovations is a must to succeed.
Imagine going into a high-end boutique, standing in front of a mirror, and being able to interact with digitally, drag and drop, and try on clothes virtually thru technology, then trying on shoes or accessories via the mirror, placing an order with your phone via a mobile payment app, and having all of these products delivered from multiple brands directly to your home via dropship. This is happening today, and as a brand owner, you must be looking ahead to make sure you can support these types of sales processes.
Dropshipping FAQs
We are sure you have other questions about dropshipping and if it is right for your business. Check out the answers to some of the most frequently asked questions about dropshipping.
How Much Do I Need to Invest to Start Dropshipping?
The minimum amount needed to start a dropshipping business is around 150 dollars. New merchants simply need to purchase a domain name, a hosting website, CMS, and dropshipping software to fulfill orders.
Do I Need GST for Dropshipping?
If your business operates out of Canada, you will have to fill, apply, and collect Goods and Services Tax (GST) instead of sales tax which is a flat-rate percentage based on the individual transaction value.
How Do Dropshippers Make Money?
The profit margins are slim, and competition is fierce. Suppose you want to make money with your dropshipping business. In that case, we recommend learning more about what our enterprise ecommerce solutions can help increase profitability, lower internal operating costs, and scale your business.
Is Dropshipping Legal?
Dropshipping businesses can run into legal troubles if they work with a shady supplier. Some suppliers provide illegally trademarked logos or products that use a company's intellectual property. If you sell their illegal products, then you are liable and complicit. Make sure to choose your supplier carefully and sign a solid Dropshipping Agreement Contract. 
How to Find Dropshipping Suppliers?
There are many dropshipping suppliers to choose from but some of the most popular include:
How to Make Dropshipping Work? Use Your Nogin!
The reality is that ecommerce operations and logistics are not what many ecommerce leaders want to worry about. Managing inventory, infrastructure, marketing, development, and the endless other components of running an ecommerce business is not only challenging but draining.
Nogin provides comprehensive ecommerce support for our partners. Nogin believes in a partnership model to ensure that we can serve your business to the best of our abilities. Typically, ecommerce giants must rely on outsourcing their marketing, development, website maintenance, fulfillment, and more. It is expensive but requires significant oversight to ensure they are working in tandem with your business's goals to meet your website KPIs.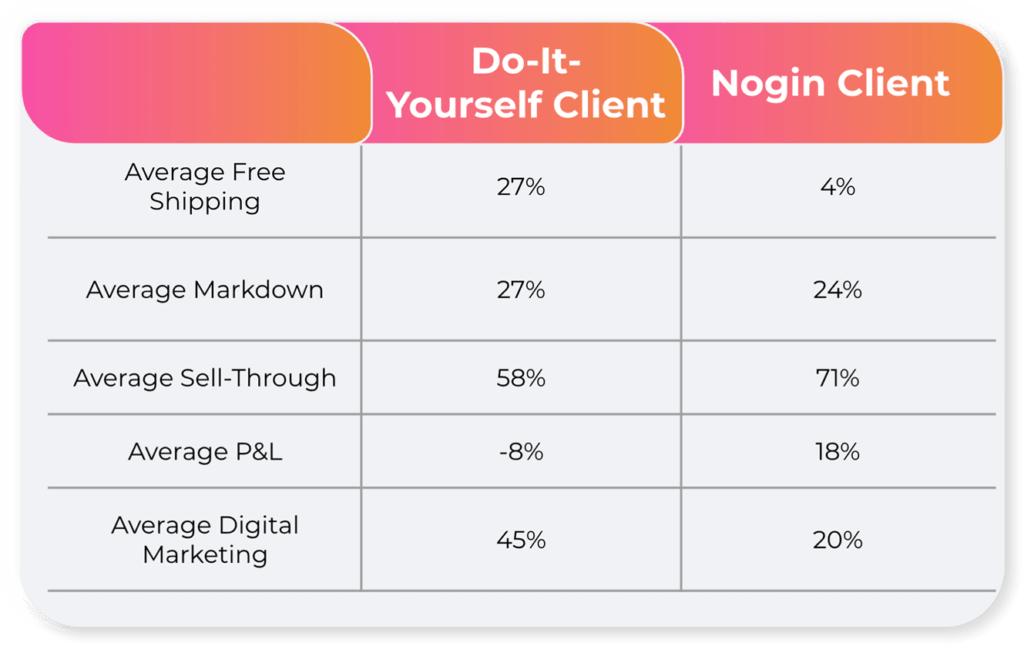 Nogin invests in your business upfront and migrates your business on our proprietary headless ecommerce platform. We have a team of Nogin Nerds to ensure your ecommerce business maximizes efforts front to back. More importantly, our technology features marketing automation and continuous research and development to deploy the most effective tactics for all our partners. You also NEVER have to replatform again, which can cost ecommerce businesses tens of thousands of dollars. You won't have to worry about updating your website with every Google algorithm or iOS update.
Our partners save on every facet of their business to become scalable, profitable, and nimble. You'll finally have the tools, resources, and support to fight big retail while maintaining complete control over your brand. Get in touch with us to see if you qualify for a FREE site audit. You could be wasting thousands of dollars each day, so don't let your opportunity slip by. Use your Nogin!