New Customer Acquisition and Retention Strategy for Ecommerce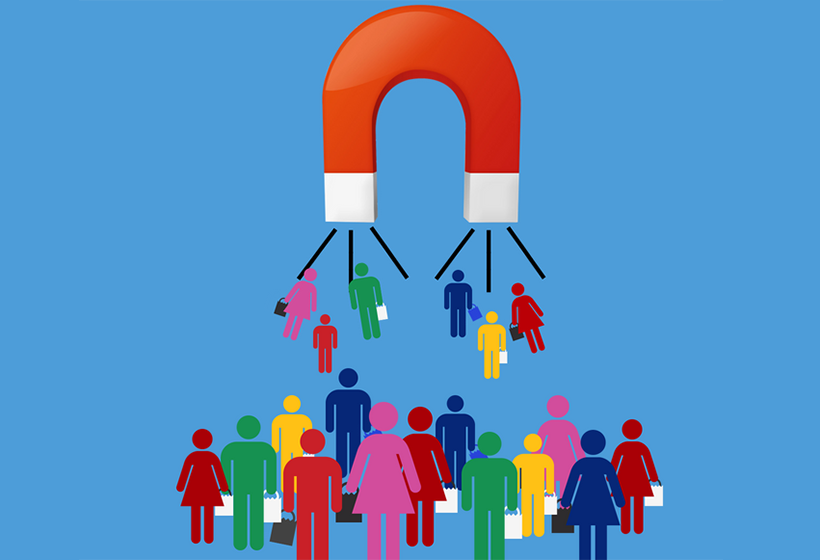 If you've been trying to find ways to increase revenue, there's a terrific one right in front of you, just waiting to be explored: customer retention. Shoppers who have made repeat purchases at your ecommerce site are an incredibly valuable source of revenue, and if you haven't tapped into that yet, you should.
Repeat customers may be small in numbers—between 12% and 15% of a business's clientele is made up of these loyal shoppers—but they wield enormous power, contributing between 55% and 70% of a company's total sales. That's because they tend to buy more from a trusted retailer: Bain says that when it comes to fashion purchases, shoppers spend a whopping 67% more on each order with a company they've bought from over a period of two and a half years, compared to the total spent on their first purchase there.
It makes sense, then, that bolstering the customer retention rate and directing ecommerce initiatives towards that sector would boost your bottom line. In fact, the same Bain report found that increasing customer retention by just 5% translated into a profit increase of anywhere between 25% to 95%. So how can you get started? Here are some strategies that are all grounded in exceptional customer service—if shoppers have a good experience with a company, there is a 54% chance they will make a second purchase on a subsequent visit.
What are Customer Retention Strategies?
Customer retention strategies are practices implemented by businesses to maximize the number of repeat customers and find ways to increase each visitor's profitability. Once someone has purchased a product from your site, you will have their contact, shipping, and payment information in your system.
A customer adding a product to their shopping cart is one objective, but getting them to submit all their necessary information or create an account is the most challenging part of an organization's ecommerce conversion funnel. However, return customers already have an existing account with their contact and payment information cataloged, so the purchasing process is faster and less challenging.
Almost 65% of an organization's business comes from returning customers, and 87% of satisfied customers are more likely to upgrade purchases and buy new services. Positioning your website to entice returning customers is imperative to a successful ecommerce business and should be one of your top website KPIs.
Along with employing effective product listing strategies and retail pricing strategies, ecommerce businesses should make sure they have an effective email marketing strategy to re-engage past customers with new offers and promotions.
What are Negative Customer Retention Strategies
Negative customer retention strategies aim to penalize customers from leaving, and they are more likely employed in a B2B context. However, customers may feel trapped by negative customer retention strategies, leading to poor reviews for your business.
An organization may employ negative strategies because they actively want to dissuade particular customers from purchasing their products or services. It can open the door to attract their ideal clientele that is worth their effort by discouraging specific customers. They may reduce the scope of services or increase prices for select customers. Also, particular customers may use your products or services in a way that hurts your organization's reputation.
A business can employ negative customer strategies, including incentivizing them to leave, providing a lack of customer service, setting unattractive price models, or simply forcing them to leave.
5 Best Positive Customer Retention Strategies for Ecommerce
On the other hand, positive customer retention strategies aim to persuade customers to return and continue services with your business. For ecommerce businesses, it is essential to use positive customer retention strategies to encourage repeat transactions. Let's discuss some of our recommended strategies to ensure your customers keep coming back.
1. Roll Out the Red Carpet for Repeat Customers
People want to feel special, and that holds true for their shopping experience. By showing them they are valuable, they will be more likely to return. One method of doing that is by making it painless to create a customer account. Then, every time return shoppers log in, they are greeted by name. You can suggest new items for them to check out and show them previously purchased items.
Streamline the path to repurchasing by making it simple—allow customers to autofill information for shipping or store their credit card information, for instance. Customers who have completed at least two purchases with a retailer are nine times more likely to buy again than a first-time shopper, and anything that helps them towards that sale is beneficial.
2. Offer a Rewarding Rewards Program
Consider this the online version of those old "buy ten frozen yogurts, get one free" cards. Ecommerce sites offer more and more customer loyalty programs built-in with rewards, using a concept called gamification. Shoppers can accrue points or reach certain levels to activate rewards, similar to how a video game operates—Sephora, for example, offers programs based on how much money consumers spend each year. Each purchase also accrues points that can be used on products or services.
However, these programs must be relevant and easy to use, so customers are invested in them: Research shows that only 36% of consumers have received a reward they would actually use. In comparison, 81% of loyalty program members don't know how they work. Working with a partner experienced in reading customer data can help you shape an ecommerce program that speaks to your customers and makes the initiative worthwhile for them as well as for you.
3. Add a Personal Touch
A sale to a new customer is cause for celebration, but now the real work kicks in. Once customers make their first purchase with you, there is a 30% chance they will become a longtime customer. You can help that conversion along by humanizing your ecommerce business. Something as simple as a handwritten thank you note can result in 50% better customer retention rates for companies than those businesses that didn't send a note. Other examples include sending a sample or a small gift when mailing a purchase.
4. Don't Lose Touch
An intelligent email strategy is a great way to keep you front of mind with customers so they will come back to your site. You can send one thanking them for the purchase or asking for a review, then follow up down the road with emails that advertise special sales or discounts on items targeted for the recipient. Again, this is an initiative where it pays to work with an expert ecommerce retail partner.
5. Make a Problem Work to Your Advantage
Even the top retailers sometimes encounter difficulties, such as a package that arrived late or an item that was damaged. Prompt, high-quality service is key to customer retention. According to HubSpot Research, 96% of people surveyed said if a company apologized for a problem and promptly fixed it, they would buy from that business again. Make sure your customer support is locked in, whether that's through live chat, answering emails, or responding to complaints on social media channels.