Nogin: When Tech and Merchants Marry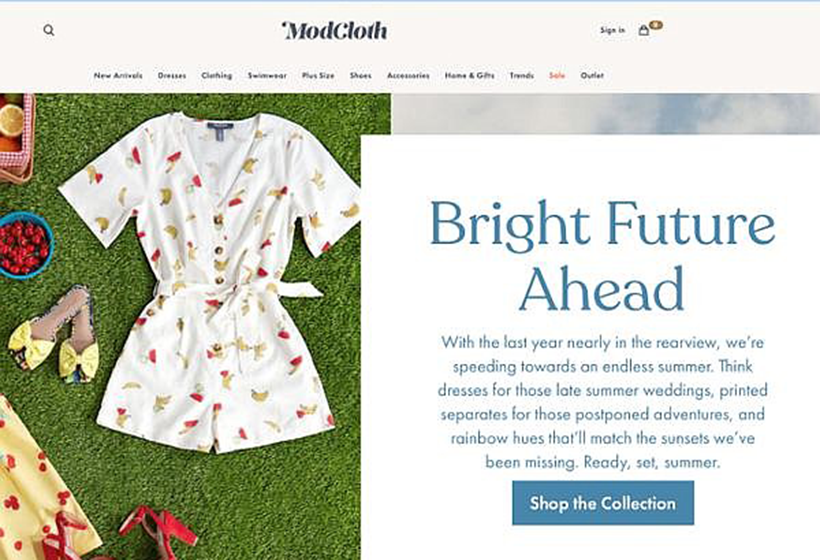 Reposted by the Orange County Business Journal. Article by Kari Hamanaka
When Tustin-based Nogin, a technology company that helps fashion-focused retailers and other businesses grow their e-commerce operations, acquired vintage-inspired e-tailer ModCloth, it represented a seemingly unusual match between high-tech and fashion.
Turns out, the deal, announced earlier this month, makes a whole lot of sense.
"If you think about what we do, primarily, we deliver what we call 'intelligent commerce' for many, many brands. And, really, our platform and services drive exponential results. So, when we look at brands we're going to support, we go through a checklist of different attributes," said Nogin co-founder and CEO Jan-Christopher Nugent.
Nogin—which until this year was known as Branded Online—helps brands boost their e-commerce game with its tech platform. The company works with some 50 brands and retailers on their e-commerce in varying capacities, including Bebe, Yeezy, True Religion, Hurley, and Charming Charlie.
'Low-Hanging Fruit'
Nogin management evaluated ModCloth on its brand equity, the executive team, digital traffic and other factors before acquiring the business on undisclosed terms from Go Global Retail out of Los Angeles.
"ModCloth just rated really high for us in terms of low-hanging fruit where we knew we could optimize," Nugent said.
In other words, the CEO went on to say, the deal made sense because Nogin could focus on the back-end tech complexities—tracking consumer behaviors online and segmenting them in smart ways to bring those consumers to the site and buy—while the ModCloth team could go back to spending time on the creative aspects of steering the e-tailer and international expansion.
ModCloth brings a team of 55 from L.A. to Nogin's headquarters in the Flight office complex at Tustin Legacy, in addition to some workers remaining at a Pittsburgh call center for the brand.
Nogin's OC office recently underwent a year-long buildout that transformed it into what Nugent calls the next generation of creative tech space, with parts of the office themed around different fashion districts in a nod to Nogin's more ambitious plans as a company.
ModCloth, A Quick Study
It's been an interesting ride for ModCloth.
The born-online brand launched in 2002 in a college dorm room by Susan Gregg Koger and Eric Koger. The high school sweethearts had an interesting proposition with ModCloth's vintage-inspired looks at affordable price points and sizing that ranged from XXS to 4X. The brand earned a loyal following and grew from there with its first entry into brick-and-mortar in 2016 with what it called FitShops.
In 2017, Walmart Inc. (NYSE: WMT) paid a reported $50 million for ModCloth as part of an e-commerce buying spree that began the year prior with the acquisition of Jet.com. Other purchases included men's pants brand Bonobos, outdoor retailer Moosejaw and underwear line Bare Necessities.
Two years after Walmart bought ModCloth, it sold the business to Go Global Retail on undisclosed terms. It wasn't the only sell-off within the digital portfolio for the big-box discounter.
"Walmart wanted to better understand the e-commerce space as they were seeing their competitors Amazon and Alibaba grow at a faster pace," Go Global Retail founder and Managing Director Jeff Streader told trade publication Retail Dive in a March 2020 interview.
"Jet, Bonobos, ModCloth were really about their efforts to more clearly understand the opportunities at digitally native, mono-channel brands. They supported the business financially and did not want to 'Walmart-ize' these companies, but wanted to observe. And when they were done observing, they decided to divest, and their first divestiture was of ModCloth."
Go Global later went back to more traditional retail with its recent acquisition of the children's chain of stores Janie and Jack, with more than 115 U.S. locations and an online site, from San Francisco-based Gap Inc.
"ModCloth is an amazing brand poised for growth," Streader said in a statement on this month's deal. "We feel very good about the progress at ModCloth since our January 2020 acquisition of the brand from Walmart and are excited to see its momentum continue with Nogin."
Art and Science
Unlike ModCloth's former parent companies, Nogin brings a different kind of expertise to the table.
The company's founders, Nugent and President and Chief Technology Officer Geoffrey Van Haeren, got their start building the technology on which many of the largest e-tailers' sites live.
They built BuyNow.com, which was then sold to Digital River Inc. They then formed Branded Online to specifically help apparel companies with their e-commerce.
Branded Online debuted on last year's Business Journal list of the largest advertising agencies at No. 4 with $43.6 million in 2019 sales, up 77% from the prior year on client wins that included Bebe, Sanrio and Brookstone.
Branded Online scaled through the acquisitions of Zther Interactive four years ago and OneStop Commerce two-and-a-half years ago, further bolstering its technology capabilities.
The company earlier this year rebranded to Nogin, and works with companies in the fashion, consumer products, beauty, health and wellness industries.
"We've had a bit of an evolution where we were originally supporting brands as a service provider and then we started to see an opportunity where we would license really strong heritage brands, the online rights, and completely run them ourselves," Nugent said.
A good example of that is Costa Mesa surf brand Hurley, whose online rights are licensed to Nogin from Hurley parent Bluestar Alliance LLC to completely handle the e-commerce.
Those licensing deals have since led to a natural evolution, Nugent said, in investing and acquiring brands. ModCloth marks its first foray into brand ownership.
"We see, obviously, a significant shift where physical retailers are coming under pressure because of the malls and their stores, but they have these really strong online stores," Nugent said.
For those that can make the move to digital or where the online can be separated from the physical, Nogin maintains an interest.
Divide and Conquer
The retail environment after COVID has left the industry with questions around digital and where it's going.
For the younger shoppers, being online and shopping there is nothing new.
"What COVID really did," Nugent said, "was it took a demographic that [companies] did not expect to make a material impact to online shopping and increased it by 80%, so you've now got an older demographic that really sort of adopted online during COVID. The question will become: Are they going to stay online at that rate or will they go back to stores?"
There's also just the overarching reality, Nugent said, that companies can no longer direct consumers to where they end up buying product.
"We've leapfrogged 10 years," he said. "There's verticals like consumer brands which, for the most part, have been really late to selling online. They've been very loyal to their [wholesale] retailers. With COVID, the consumer
expectation was 'You've got to sell me this online.' So, there's a mass land grab in the consumer space going on of them realizing they need to catch up online."
Thus, Nogin becomes even more important to apparel and beauty brands that may have been slow to embrace technology either from the standpoint of solutions provider or a potential buyer.
"Our real key is our secret sauce, which is the technology platform, and the primary reason why we can get them off their antiquated, old, very expensive infrastructure within 35 to 40 days," Nugent said.
"Whereas, these other investors, they cannot, which means that the online's going to be quite a liability for them for six-to-nine-to-12 months. So, from that standpoint, we're uniquely positioned."
The CEO also guessed the industry may see a hybrid acquisition model emerge more frequently where there's a separation of the physical retail business from the online via a spinoff, separate sale or licensing deal.
"The real key to all this is merging art and science," Nugent said. "You can be a great tech nerd or you can be a spectacular merchant. To combine the two is tough."