The world's first true multi-channel market automation tool
Because better experiences yield bigger shopping carts and loyal customers, the most valuable business tool for marketers is one that does all the things you need to help turn purchase intent into a shopping transaction.
With NoginX you can set your goals and budget, plug in your channels and automate the spend to maximize return.
Get ready for exponential traffic, growth and conversions

Drive exponential growth
– right out of the box
Automated campaign management that powers traffic and conversions
Built to enhance Shopify and integrate with other best-in-class applications, Nogin puts intelligent campaign management at your fingertips. NoginX is the world first true multi-channel marketing automation tool that combines real-time and historical inventory, sales, and traffic data with intelligence and execution to maximize sales and customer acquisition.
historical + real-time data

schedule + automate

seamless deployment + execution

campaign performance metrics

calendar + dashboard overviews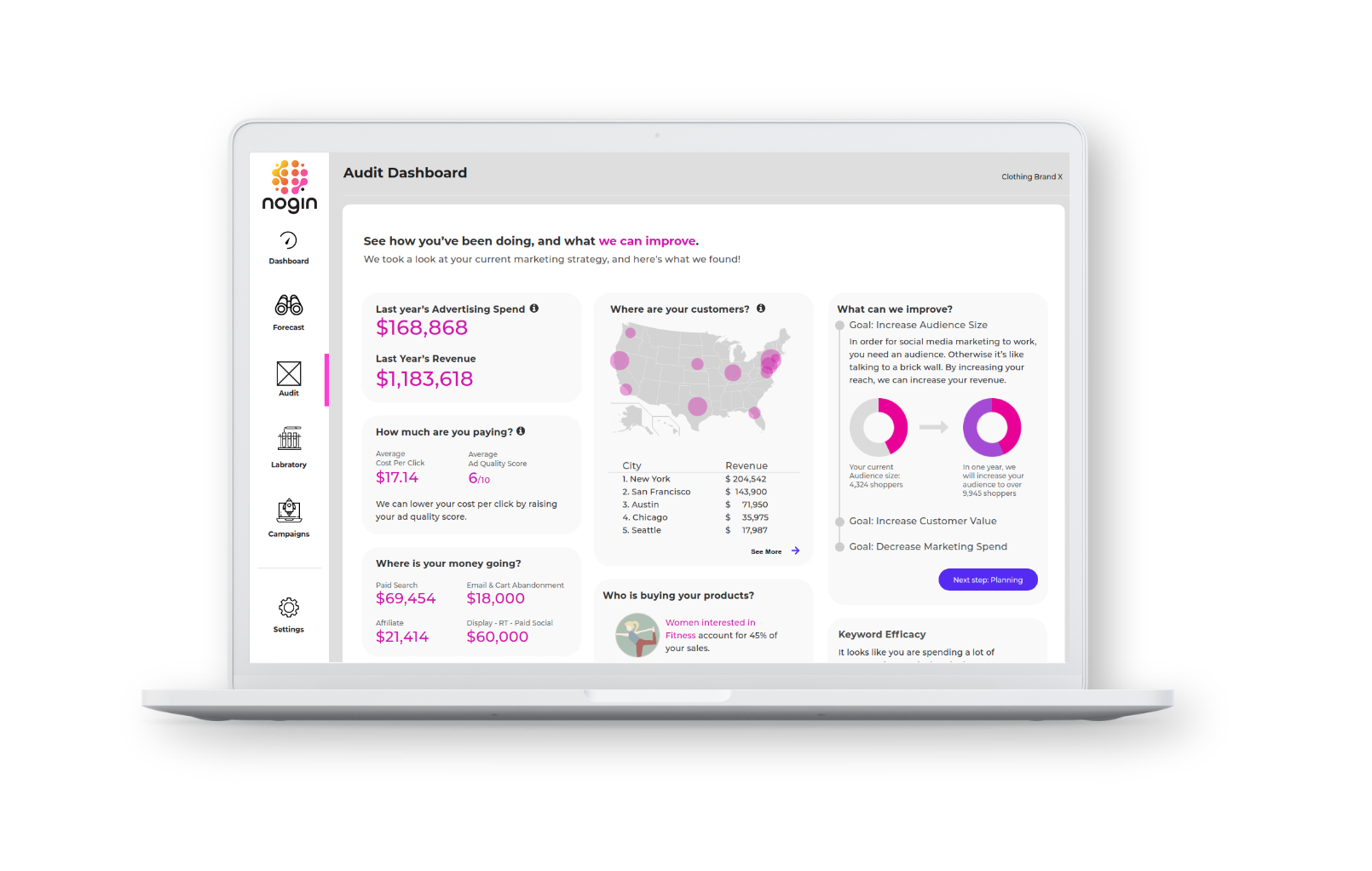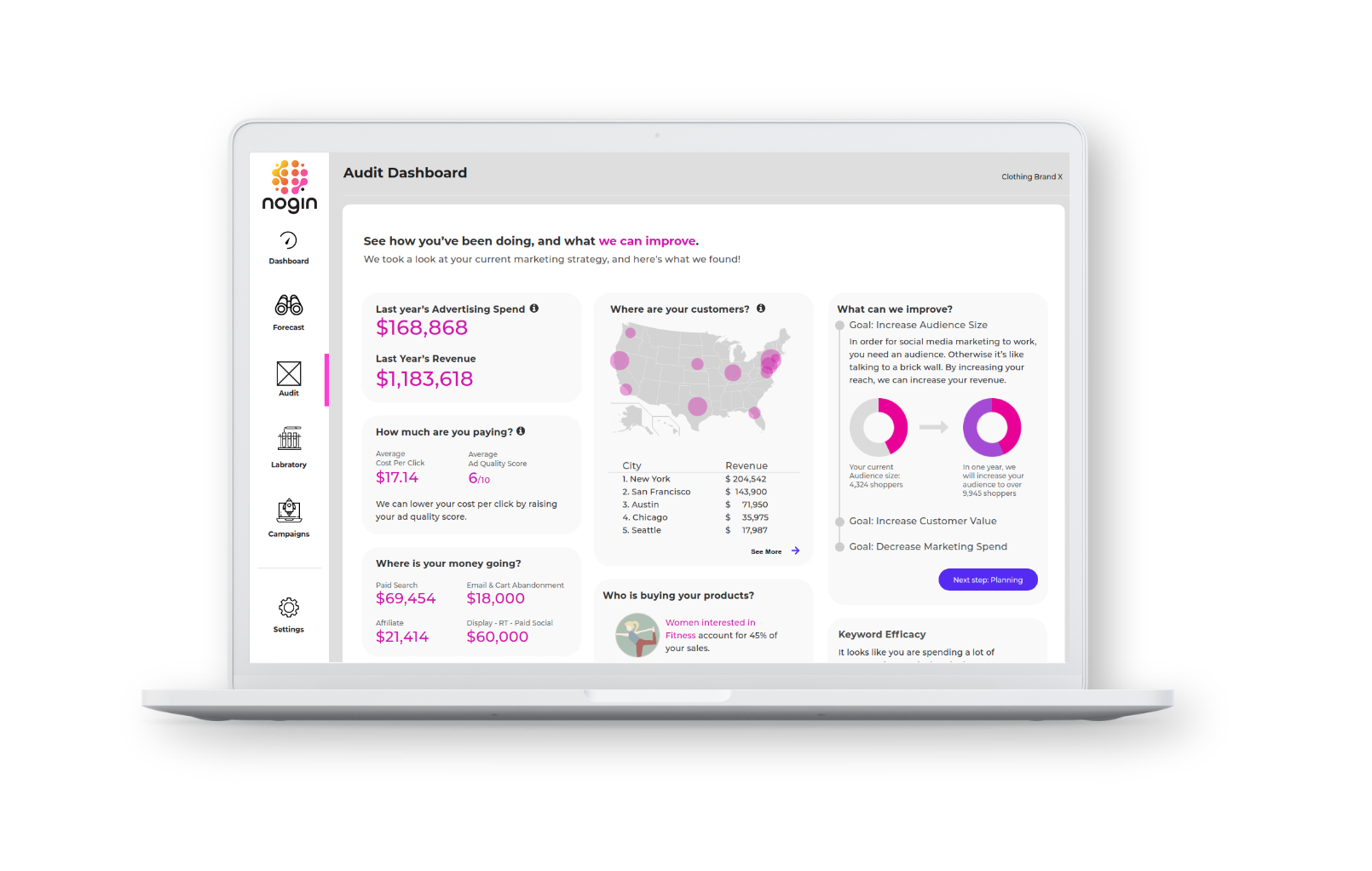 Tap into agency-level results
for pennies on the dollar
Sophisticated digital marketing made accessible
Nogin leverages machine learning to automate the management of paid search and paid social, while simultaneously leveraging automated promotional tactics that grow your margins. Learn and reorder data, ingest complex functions like consumer behaviors and shopping interactions and drive traffic through predictive online ordering.
Execute A+B Testing, experiment with new campaigns, simulate outcomes and launch new products, NoginX allows you to set your goals and budget, plug in your channels (search, social, email, etc…) and automate the spend across channels to maximize your return and growth.
Can NoginX read minds? Not quite – but it will help you see around corners and better understand when and where customers might consider a product, then automatically execute the optimal campaign asset and offer to maximize conversion.
Precision forecasting, optimized deployment
Plan smarter
When you plug into Nogin, it assesses your brand's current marketing spend, ROAS and analyzes opportunities for growth. Visualize a range of what's possible, plug-in your growth goals and Nogin will generate the budget needed to achieve it.
Manage smarter
Schedule and manage promotional activities with ease – Nogin's campaign automation lays out your promotional calendar for the year and helps to connect all the pieces.
With task management functionality your calendar becomes actionable and automatically uploads promotional assets into integrated apps like Shopify.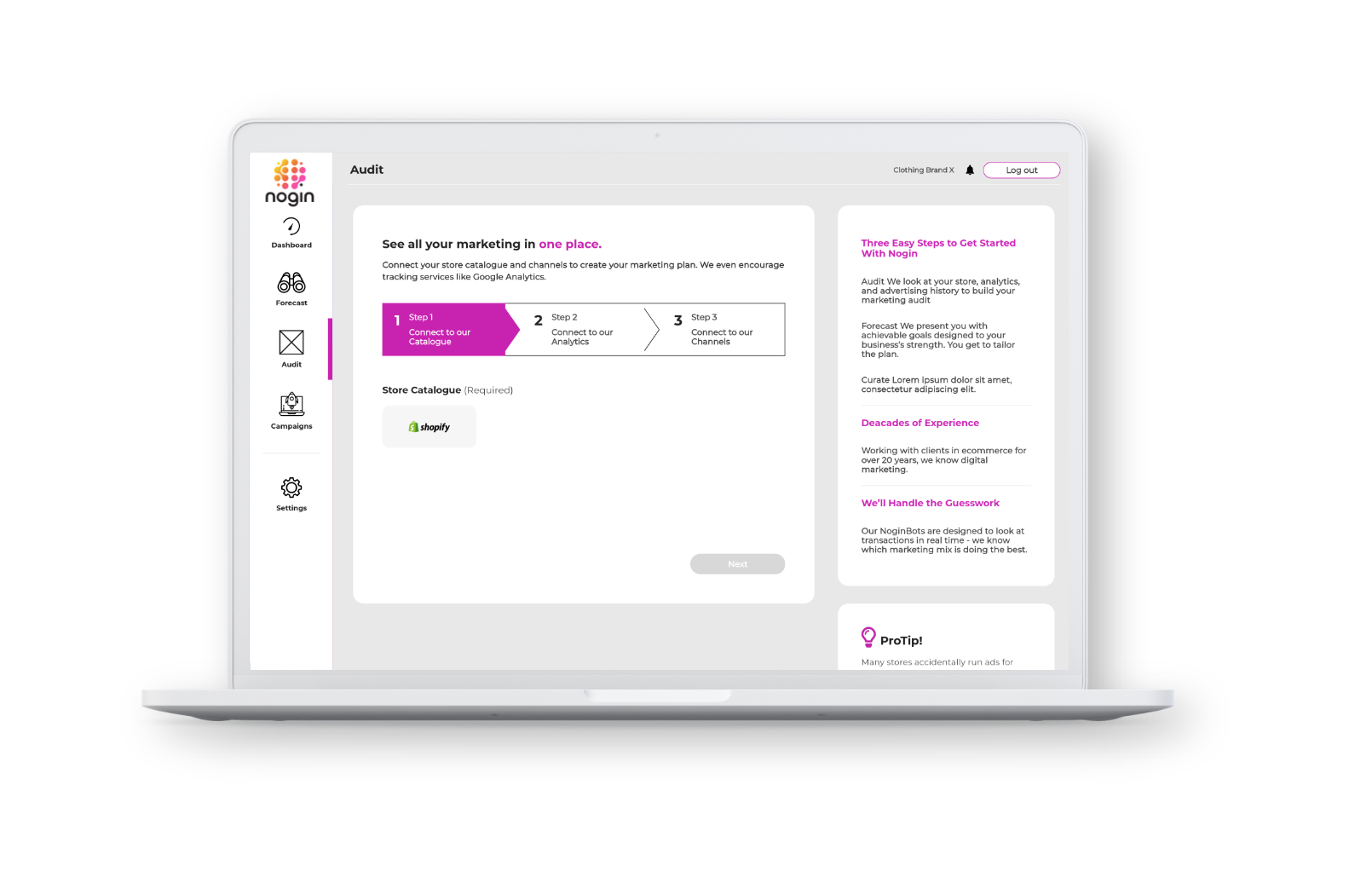 Stay in touch, get launch details and prepare for exponential results!