How to Optimize Your Product Pages For More Sales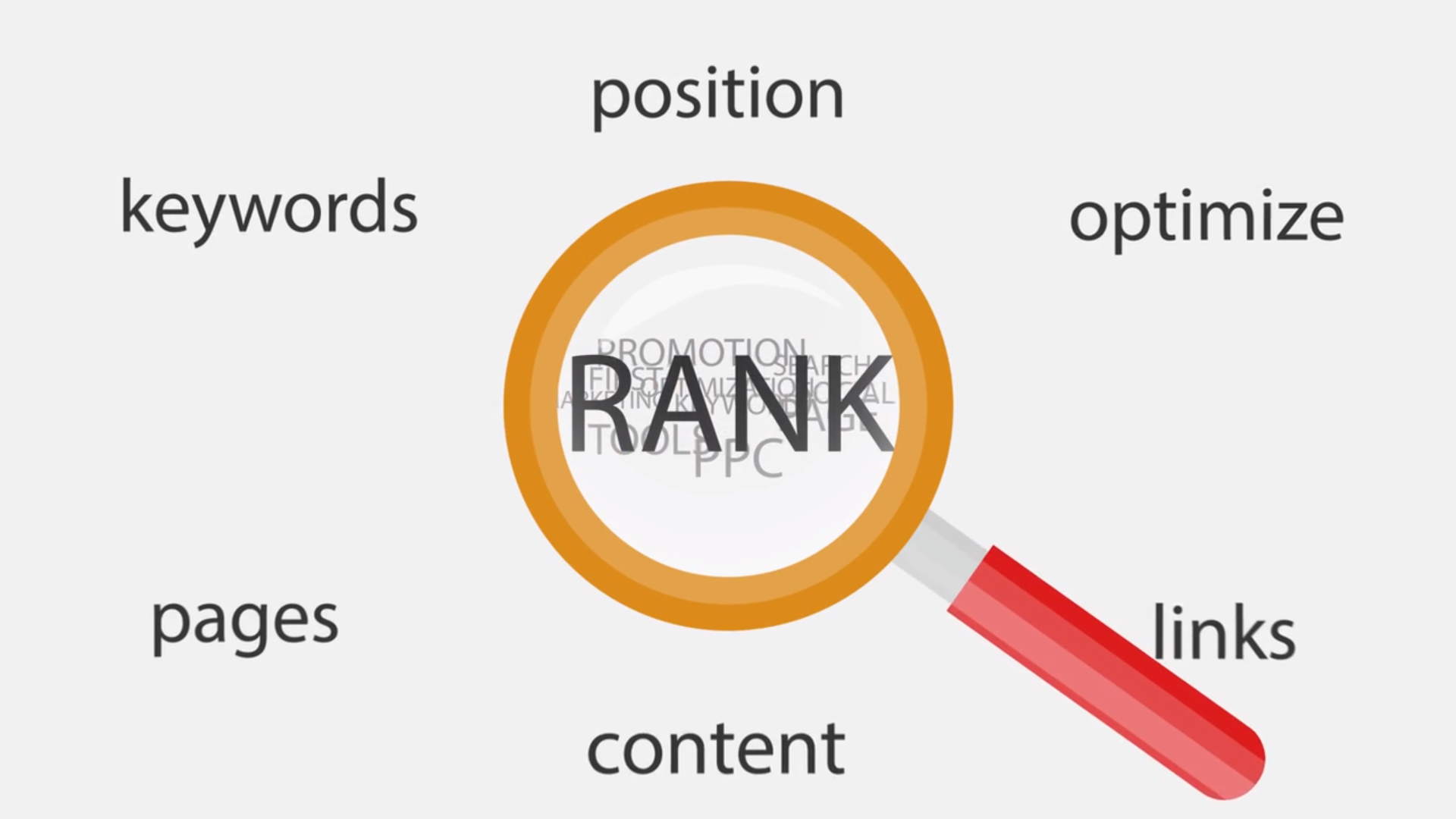 High-converting product pages are the foundation of an ecommerce website. There are many ways to optimize your website for conversions, including:
All of these approaches will help convert users once they reach the end of your ecommerce conversion funnel. Still, it's important to follow product page optimization techniques to ensure you have the best chances to maintain high conversion rates, arguably the most significant ecommerce KPI.
Regardless of your ecommerce business platform, there are many essential optimization strategies we recommend you employ on your website. Here are nine essential product page optimization tips:

1. Your 'Buy Button is the Most Important Factor
Since the entire goal of your ecommerce site is for customers to purchase your products, your 'Buy' or 'Add to Cart' button is crucial. Whatever you name it, make sure your customers can easily find it.
The 'Buy' button should be immediately visible when landing on the product page.
Surround the button with plenty of white space.
Customers should never be required to scroll or search to find it.
Be sure the button is an actual button, not just stand-alone text.
Use appropriate colors that are prominent and coordinate with your brand.
Example: Looking at Hurley.com we see a prominent 'Add to Cart' button that stands out from the other items on the page without looking out of place.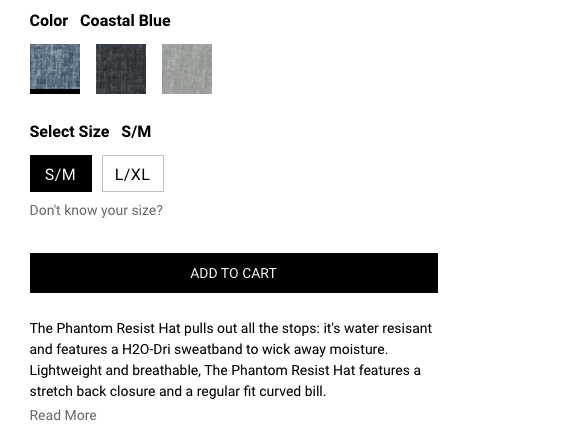 2. Focus on Mobile Optimization
Did you know that mobile commerce (m-commerce) is growing even faster than ecommerce? In 2021, experts predict m-commerce will generate 53.9% of all retail ecommerce. Take advantage of this crucial ecommerce trend and optimize your website for mobile devices.
Create mobile-friendly content that is both visible and easy to navigate on smaller screens.
Develop a shopping app – be sure to create something that is functional and reflects the quality of the brand. Nothing more says "rookie" than creating an app that your customer doesn't use.
Present special offers or discounts for mobile customers.
Example: Hurley's mobile product page makes it easier for visitors to sort, filter and view items. They even include a prominent discount offer that, while easily visible, does not overshadow the products and is easy to click and close.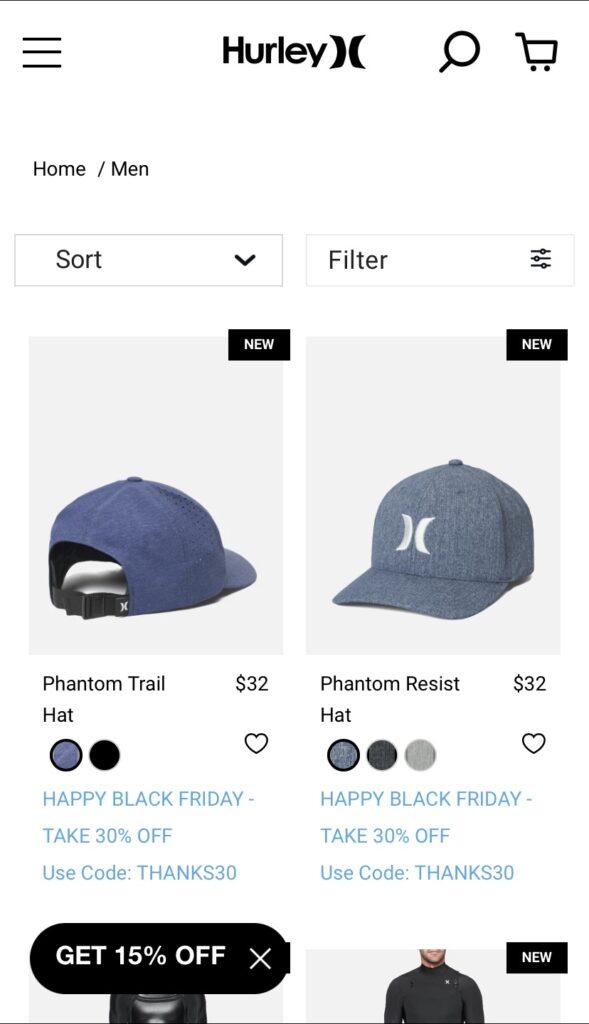 3. Excellent Photos and Videos
The importance of premium photography cannot be overstated. Because your customer can't physically touch and manipulate online products, your photos need to do this (virtually!) for them. Publishing captivating and interactive photos are especially integral for a DTC CPG ecommerce strategy or the cosmetics ecommerce industry.
High-quality photos should reveal multiple product angles and offer a zoom feature.
Opt for well-lit products on a white background.
A 360-degree view and/or in-context lifestyle images (and video) are also recommended.
If there are multiple product color options, each individual color should be photographed and displayed.
Be consistent with your photography style across all product pages.
Example: We visited Bebe.com to find a great example of use of product photography. Not only can you access different views of the product but you can easily zoom in or out on the image to get a better idea of what the fabric looks like.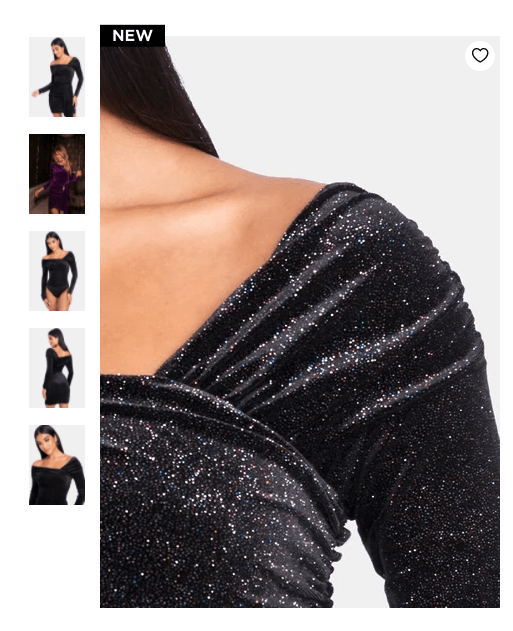 4. Organize Your Copy
When writing your product pages, both structure and content matter. The format in which information is presented can be just as important as the actual copy.
Get started with an engaging product title.
Use headings, subheadings, and bullet points to develop highly scan-able content.
Be sure customers can quickly find the info they're looking for.
Include information on pricing, features, materials, care instructions, and sizing details.
Example: Continuing on the same product page from Bebe.com shown in the point above, you'll find a clean, easy to read product description. The bullet points make it simple to find the key factors one might need when considering a purchase and then include easy to find links for a sizing chart and details regarding shipping and returns.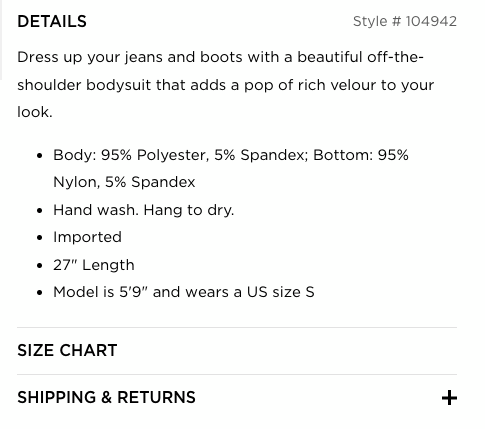 5. Create Compelling Content
Don't be boring! Put some energy into your product descriptions and develop a brand voice that appeals to current and prospective customers. Also, make sure to use keyword research ecommerce tools to ensure you utilize the best phrasing for your specific products.
Give customers the context to envision themselves using your products.
Mainly when selling luxury items, provide plenty of detail to support higher costs.
Define the product's value by describing any unique origins, superior materials, or other upscale features.
Remember to answer the age-old question: Why should your customer choose this product over another? Never assume your customer knows the answer — your job is to tell her why.
Example: The example below comes from ShopJustice.com. This product description for girls' pajamas is anything but boring! While you may not be able to feel the fabric these pajamas are made of, you get a very good idea of how soft and comfortable they'll be.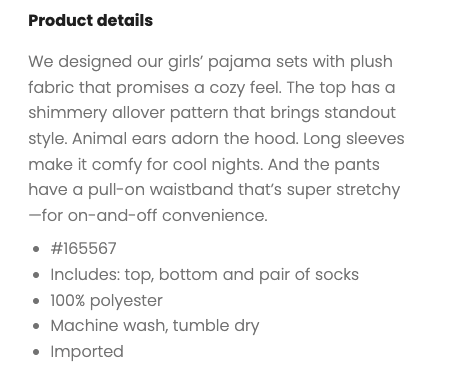 6. Brand Each Page Properly
Don't limit your brand message to your home page; it should be carried over to all product pages.
Assume that customers have never seen your home page.
Highlight your brand as soon as they land on a product page.
Create an easy-to-navigate layout.
Keep design clean, clear, and consistent.
Example: Staying on ShopJustice.com, when we scroll to the top of a product page we still see the Justice logo and brand colors featured at the top of the page. The intermixing of their primary magenta color keeps the page bright and engaging, especially to a tween audience.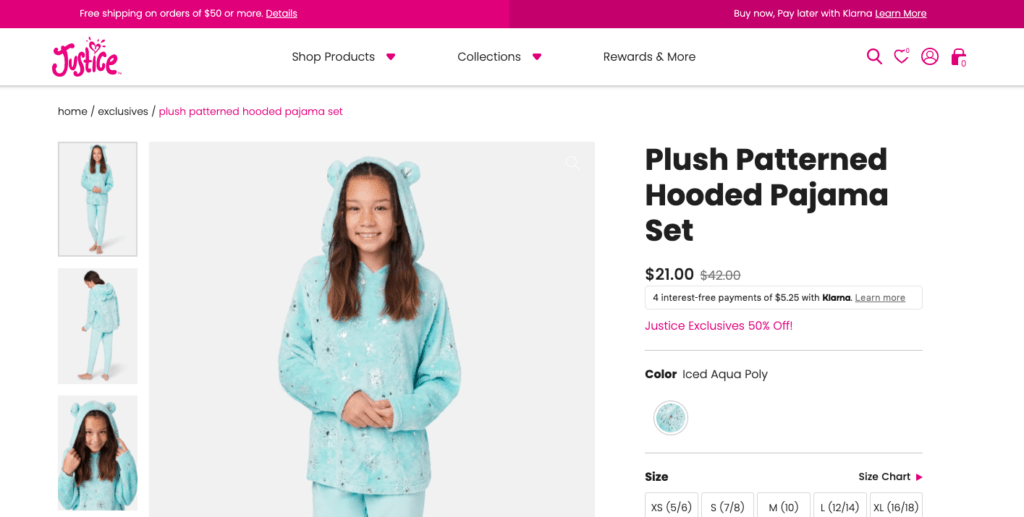 7. Don't Forget to Cross-Sell and Up-Sell
Your product page should take the place of an enthusiastic salesperson. You know, the one who brings over the perfect accessories to match the outfit you're trying on?
Every product page offers the opportunity to sell more products by encouraging additional, coordinating purchases.
For each product, recommend accessories, other styles, or additional items in a similar color or featured design.
Example: Bebe.com does a great job showcasing additional items a shopper may be interested in based on the specific product page they visit. Whether the product they're looking at isn't exactly what they want or they need a complimentary item to go with it, Bebe makes it easy for them to know where to go to find it.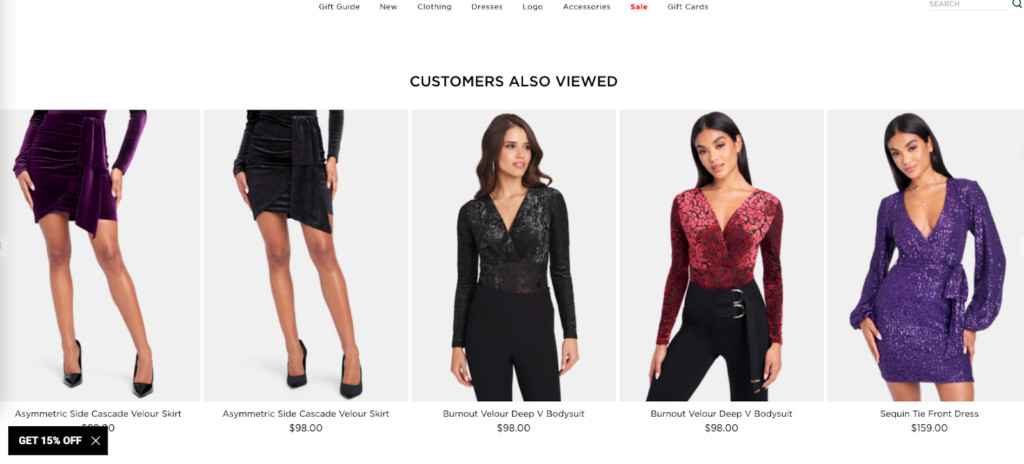 8. Add Social Proof
For today's tech-savvy customers, online reviews have replaced word-of-mouth recommendations to persuade prospective customers to fill their virtual carts.
 Include customer reviews, ratings, Instagram photos, and personal testimonials.
 To help develop this component, send post-purchase e-mails and surveys asking customers to review purchased products.
Example: Hurley not only provides reviews of their products, but also includes the average star rating and number of reviews of each product in a quick glance. Savvy shoppers know the more reviews and the higher the star rating, the better the product. And savvy retailers know the more reviews and the higher the star rating, the better chances of a customer purchasing.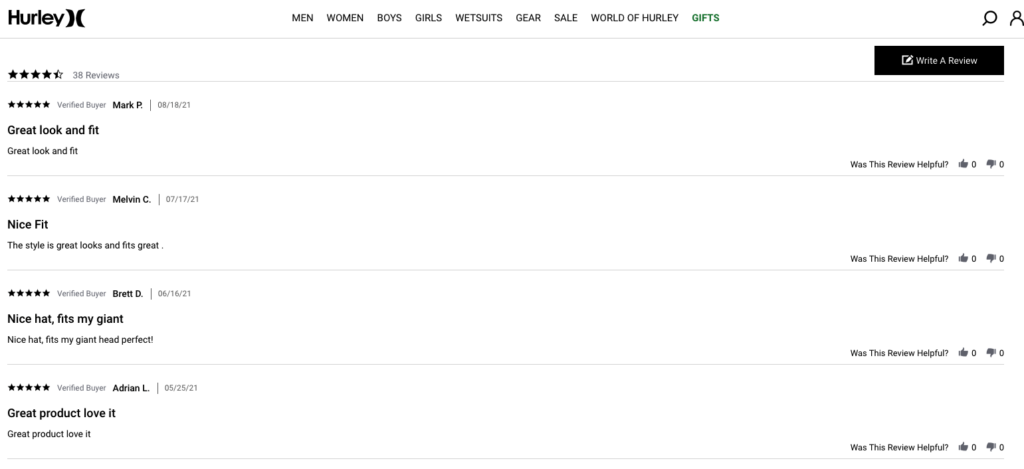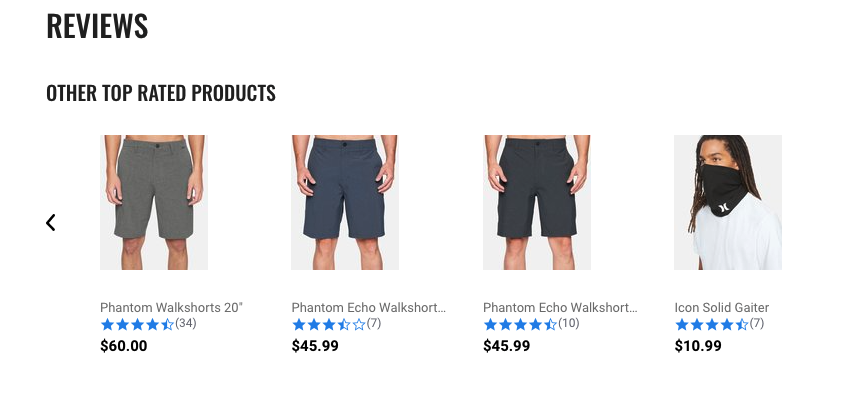 9. Speed Matters
Sometimes, people are in a hurry. Don't let your site slow them down.
Make sure product pages load quickly.
Allow busy customers to access shipping information quickly and easily.
Keep the checkout process free of unnecessary complications.
Create a sense of urgency — i.e., "Product on sale through tomorrow only!" — to encourage customers to press 'Buy' right now.
Example: Staying on Hurley.com we see at the top of every page the current sitewide sale. Not only is the required code easy to find, but we know exactly how long we have before the sale ends.

Like we mentioned at the beginning of this article, there are many optimization strategies that can be deployed throughout your ecommerce website. But these nine are the ones we've seen in our 10 years of ecommerce expertise produce the best results. As an online retailer, your website does your talking for you, make sure it's saying the right thing to your buyer!