How Nogin Supercharges Any Shopify Store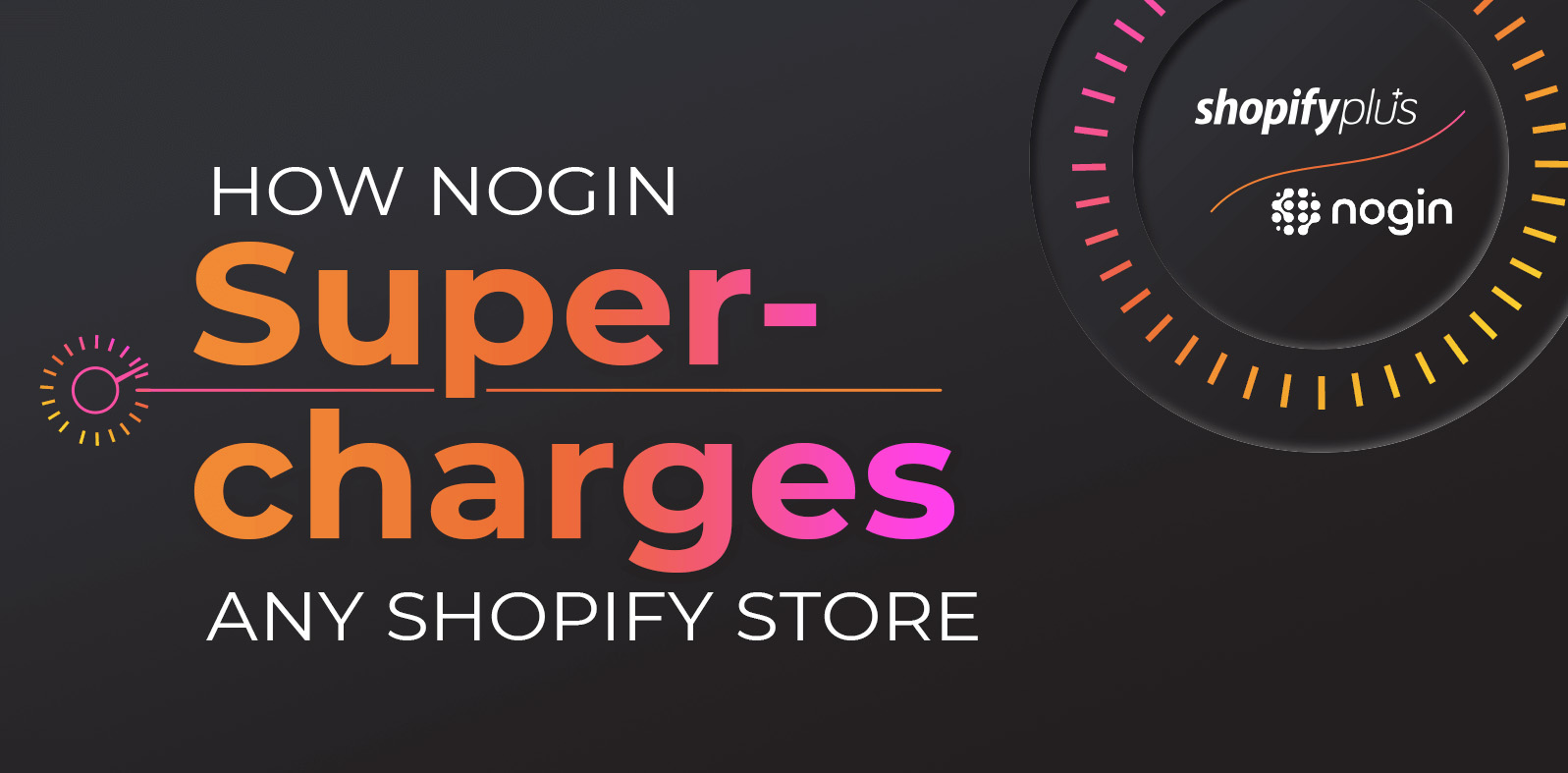 Shopify is one of the most popular cloud-based, all-in-one ecommerce business platforms. Shopify has generated over $496 billion in sales during its 16 years of operation and provides store owners the apps, themes, and infrastructure to launch and manage an ecommerce brand.
Four million ecommerce sites are built on Shopify, but not all brands are thriving on the platform alone. Customers must find, vet, and deploy apps on their store. Whether they are premium or free applications, integrating multiple apps into your store can lead to complexity, inefficiency, and headaches.
The more apps you install, the bigger the problem becomes. Each new application creates compatibility issues between existing apps, and store owners must stay on top of application updates.
The problem does not scale linearly. There is only one relationship between two apps. But three apps have three relationships, and six apps have 15 relationships. The average Shopify store uses six apps, but many have a lot more!

Many brands need more than just Shopify if they want to conquer their ecommerce market. If you need a practical solution to supercharge your Shopify store, plugging into Nogin's full-stack, multi-channel commerce suite is the answer. Discover the advantages of the fastest growing category in ecommerce, Commerce-as-a-Service (CaaS), and how it improves any Shopify storefront.
What is CaaS?
CaaS gives Shopify store owners the tech, data, marketing, and expertise they need to run an enterprise-grade online ecommerce business. Our smart tech removes the endless complexities of DIY ecommerce management and provides the automation, flexibility, and scalability brands need to grow.
What Challenges Does Nogin Solve?
Running a Shopify store on your own is tough. Store owners must find, install, and manage dozens of apps, oversee backend and data management, find a reliable and affordable fulfillment solution, coordinate with multiple marketing agencies, and much more.
Here are some of the main challenges Nogin helps solve for Shopify store owners: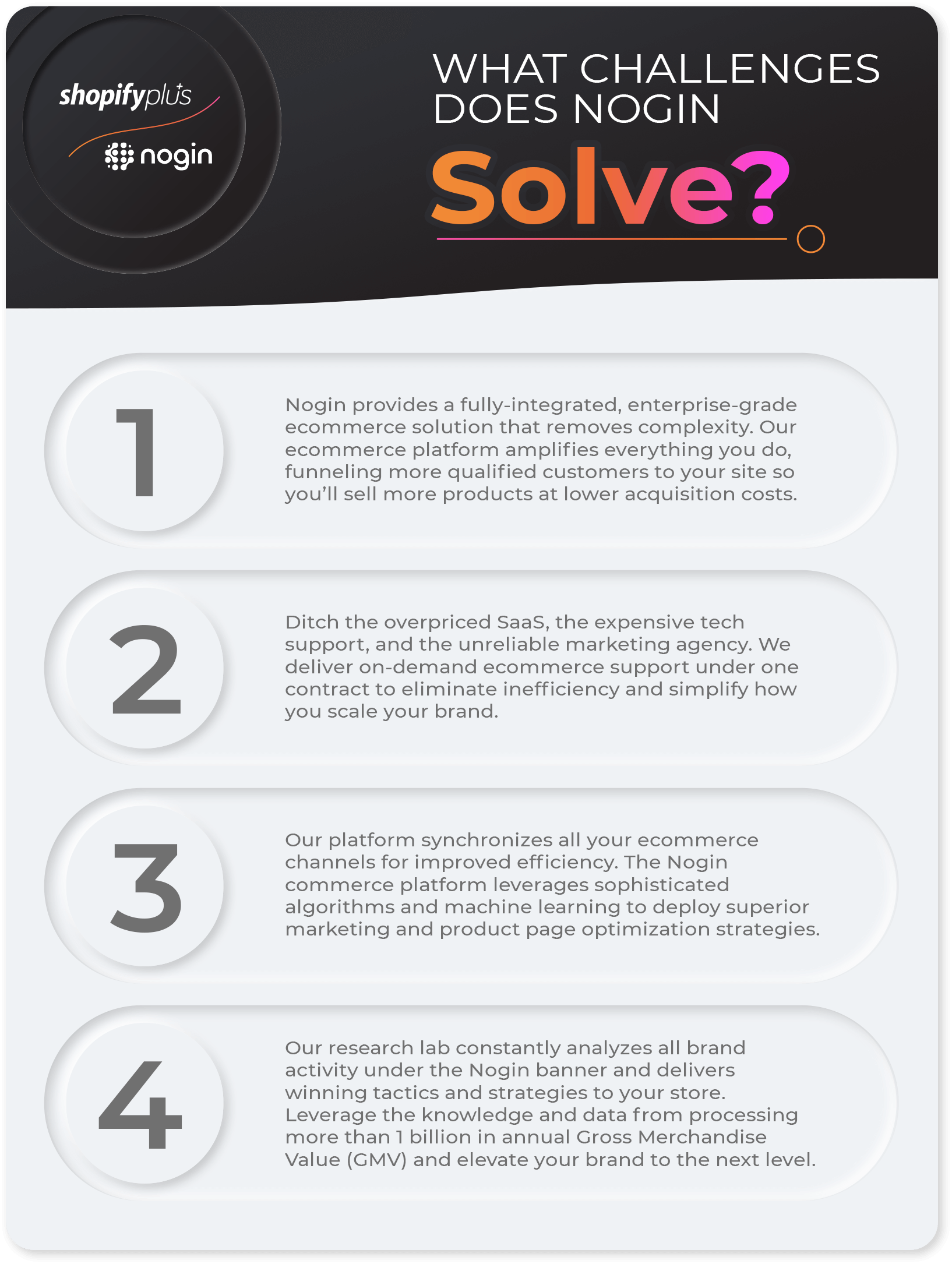 What About Fulfillment and Free Shipping?
We have our own ecommerce 3PL fulfillment centers to deliver superior shipping and return costs for our clients. Our smart tech will automatically run A/B test scenarios across all your segments to deliver the best offer to each customer group. Our tech will automatically help you save money on fulfillment so you can have competitive rates with big retailers that don't eat too much into your profit margins.
I HATE Merchandising. Does Nogin Make It Easier?
Merchandising can be a nightmare on Shopify. Store owners have little flexibility, and third-party apps deliver little information about inventory, sales, and pricing. With Nogin, you're in control with built-in, fully flexible merchandising. Drag and drop, scheduled changes, and information about inventory, price, sales, returnability, color, and size are all at your fingertips, and we keep it up to date for you, so there are no issues.
What About Wholesale and Direct-to-Consumer (D2C) Orders?
Shopify only provides basic frontend B2B features, but if you want to integrate your enterprise resource planning (ERP) system, electronic data interchange (EDI) transactions, and manage purchase orders (POs), you'd need to hire backend development support.
Nogin offers a seamless way to connect your Shopify store to our platform for enterprise resource planning (ERP) systems and wholesale or D2C orders. We have an extensive 3PL fulfillment network and can handle POs, advanced shipment orders (ASNs), and EDI transactions to and from big retailers.
How About Returns?
Shopify store owners must rely on third-party apps for returns, which increases costs and complexity. We built a self-service portal for our clients, and we can even provide white-label services for your business to handle returns and exchanges. Enjoy the flexibility to set custom return fees, and return windows allow customers to print labels directly. Enforce final sale and return policies automatically.
What About Your ERP System?
Shopify does not offer a built-in integration for your ERP, and your options aren't pretty. You can hire excruciatingly expensive consultants to do it for you. Or you can try to build your own integration or export the data every night and juggle Excel spreadsheets back and forth from your team. but there's a smarter way.
Our clients have seamless ERP communication through EDI software integration built in our CaaS ecommerce suite. We have direct integrations with several major ERP systems, and our integrations provide seamless input and reduce error.
Is Nogin a Shopify Partner?
Yes, but we offer more than a service partner would. We offer a fully-integrated, end-to-end solution—that we can operate for you if you'd like. Our tech and data capabilities make us unique.
Connect our end-to-end solution to your Shopify store to leverage our AI, tech, integrations, optimizations, and data network that remove complexity and costs from your store while helping you exceed all your ecommerce KPIs.
Who Are Your Target Customers?
We know how to help you serve them. We have 10+ years of experience with apparel, footwear, active lifestyle, consumer goods, and health and beauty brands doing between $2M to $50M annual GMV.
Have You Worked With Any Brands I've Heard Of?
We think so! We have worked with more than 40 clients who have leveraged a Shopify + Nogin partnership, including:
So… What Were the Results?!?
Curious about the results? Well, let's get to the good stuff! Our average customer sees more than 40% in annual gross merchandise value (GMV) in the first year. Across our portfolio, YoY growth over the last three years was 38%, 39%, and 36%, respectively. Hurley saw 240% growth, and Honeywell's year-one growth was 3X! Even the average Return on Ad Spend (ROAS) is 6X.
So… How Do We Get Started?
If you think your brand is the right fit, reach out to us and schedule a time to chat. We'd love to get into the nitty-gritty of your business and answer any questions you may have. We can dive into your brand's biggest pain points and how we solve them. Get in touch and take the headache out of ecommerce with Nogin!