If you are having trouble converting visitors on your ecommerce site, customer segmentation may be the answer. Independent brands have to elevate the shopping experience and find practical ways to compete with Amazon and other big retailers. 
However, creating positive customer experiences and guiding new visitors down your marketing funnel is tough with generic, one-size-fits-all messaging. The modern shopper expects a personalized shopping experience tailored to their unique buyer profile. 
The average conversion rate across all ecommerce industries was 3.65% in 2022. Using customer segmentation, you can drastically increase ecommerce sales and elevate the user shopping experience. 
Segmenting your audience is a crucial marketing strategy, but not all methods are equally effective. After careful analysis, we have identified the top ten ways to segment your audience and effectively communicate with each group, fostering loyalty and repeat business.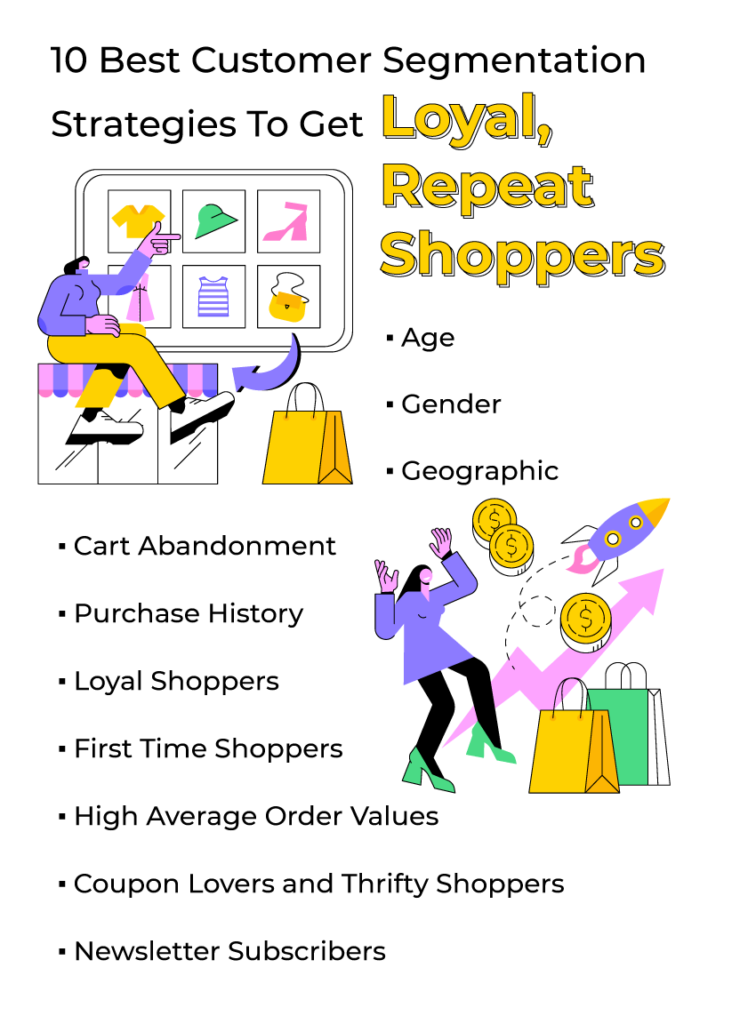 10 Best Examples of Customer Segments: 
Age

Gender

Geographic

Cart Abandonment

Purchase History

High Average Order Values

Coupon Lovers and Thrifty Shoppers

Newsletter Subscribers

Loyal Shoppers

First Time Shoppers
1. Age
You'd be amazed at what you'll learn about different audiences by segmenting them by age. Each generation grew up in a unique time and developed different shopping behaviors. 
Younger generations like Gen Z may love splurging on trendy products they found on TikTok and prefer mobile shopping. In comparison, older generations would rather shop on desktop devices using discount codes they received in their email inboxes. 
Experiment with different age-based customer segmentation strategies and give each audience a personalized shopping experience based on their collective preferences. 
2. Gender
Gender is an excellent way to segment your audience, especially if you are in retail. You can quickly lower the amount of wasted marketing to audiences that don't align with particular product recommendations. 
Many brands send the same product recommendations and promotions across their audience. If you're selling a new line of summer dresses, you'll probably want to target female customers.
Once you segment your shoppers, you can begin to test campaigns with offers to a specific gender to maximize your advertising efforts. 
3. Geographic
Location is an excellent way to segment your audience because each shopper will have unique product preferences and cultural influences based on where they live. Sending promotions for surf gear to a resident in Oklahoma or giving coupons in USD to your European audience likely isn't going to win you any new business. 
Many brands waste a huge chunk of their marketing dollars on campaigns irrelevant to specific shoppers based on where they live. Once you divide your audience by location, you can capitalize on their unique desires to deliver better recommendations based on local trends and preferences. 
4. Cart Abandonment
If you suffer from high cart abandonment on your site, you're not alone. 
The average cart abandonment rate across all industries is close to 70%. Shoppers may leave due to high shipping costs, extra fees, or a frustrating checkout experience. Once you segment your cart abandoners, you can investigate why they exited and offer enticing discounts or free shipping to encourage them to finally convert. 
5. Purchase History
Your customers' purchase history is some of the most valuable data you can use to segment your audience. Examining the products your visitors have purchased in the past will help you create recommendations for similar products that align with their interests. 
Include promotions of complementary accessories or even present special deals for bundled packages. You can incentivize them to leave a review on the products they previously purchased for social proof for other shoppers and reward them with points in a loyalty program to keep them coming back. 
6. High Average Order Values
Make sure to roll out the red carpet for your big spenders. Although allocating a good portion of your marketing budget to new customer acquisition is crucial, you can hit your most essential ecommerce KPIs by treating your top clients like royalty. 
Make no mistake, customers with high average orders are your most valuable marketing segment. Once you filter your customers by revenue and identify the top spenders, keep them engaged with early access to new products, dedicated shopper support, special bundles, shipping deals, or push notifications with easy reorder options. 
7. Coupon Lovers and Thrifty Shoppers
Some shoppers will only hit the buy button if they have a coupon or discount code handy. Once you segment visitors who used a coupon to make a purchase in your CDP, you can entice them with several strategies. 
Send exclusive, time-sensitive coupon codes to subscribers and turn them into loyal, repeat customers. Create custom offers based on their purchase history, so the discounts are specific to each shopper's interests. You can also get them to help promote your brand by offering discounts for referrals to encourage your visitors to bring new customers through your funnel. Also, make sure to target your thrifty shoppers for seasonal or holiday promotions. 
8. Newsletter Subscribers
Keep a close eye on your newsletter subscribers. They signed up because they wanted to stay up-to-date on your latest promotions and products. Give your subscribers what they want and develop editorials that inform them of the value of your products, and make sure to mix in some content purely to keep them entertained. 
Enhance your marketing strategy by including tailored special offers based on specific segments of your audience. For instance, you can offer a free gift as an incentive for making a purchase. By further segmenting your audience based on rule-based criteria, you can deliver dynamic and highly relevant content to each individual shopper and increase conversions.
9. Loyal Shoppers
Loyal shoppers bring in steady revenue for your business and frequently shop in your store. You don't need to shell out a bunch of money on marketing to keep them engaged, because they are brand enthusiasts. Don't neglect them! 
Once you segment your loyal shoppers, get them to join your loyalty or rewards program. Give them exclusive access to new products or even pick their brains on what products or features they want. Incentivize them to leave reviews or refer new customers with great coupon offers, loyalty points, shipping discounts, or gifts. 
10. First Time Shoppers
Don't let first-time visitors leave without making a purchase or at least get their contact information! Segment new shoppers and deliver dynamic content and offers to guide them down your funnel. You can use pop-up offers with access to discount codes if they submit their email address, so if they are not ready to make a purchase, you can keep them in your pipeline and send them follow-up emails. 
Dive into your marketing analytics and see what device they are using and the sources of their visits (search engine, social media post, PPC ad, etc). If the visitor was browsing your winter collection, use that data to send dynamic content and offers for winter gear directly to their inbox. Make sure you include plenty of social proof on your website, such as reviews or testimonials, to lower the action threshold and get them to purchase. 
Plug Into Intelligence Commerce and Transform Your Business with our Advanced Customer Segmentation Technology
There are many benefits of customer segmentation, and it's never been easier to segment your audience than with Nogin. Once you plug into Intelligent Commerce, you'll gain the customer segmentation technology you need to deliver dynamic and personalized content to each shopper. 
Our rule-based criteria and machine learning technology automatically target visitors with content and offers that align with their buyer profile. You can seamlessly manage unlimited content placements throughout your store and automatically deploy offers for qualifying customers in each segment.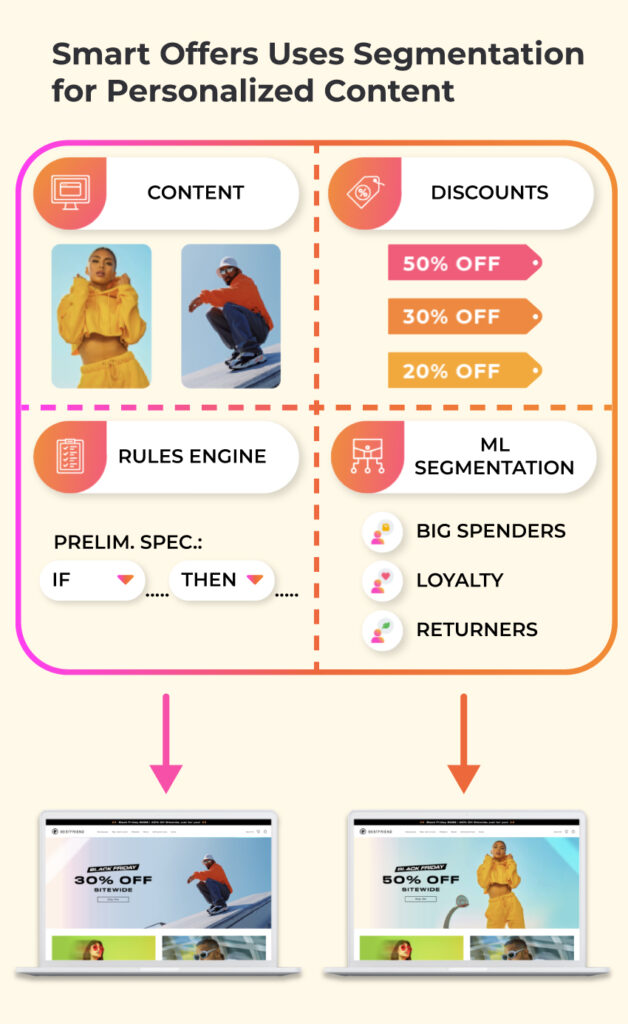 Best of all, our customer segmentation requires no analysis on your end. As visitors interact with dynamic content and offers, the data is fed back into our Content Management System, which is connected to our pre-integrated Luminate theme. 
We automatically run A/B testing based on the results of the campaigns to refine messaging and find the best offer for each segment. Our data scientists continually update algorithms to improve conversion results and keep visitors shopping with engaging content and personalized recommendations.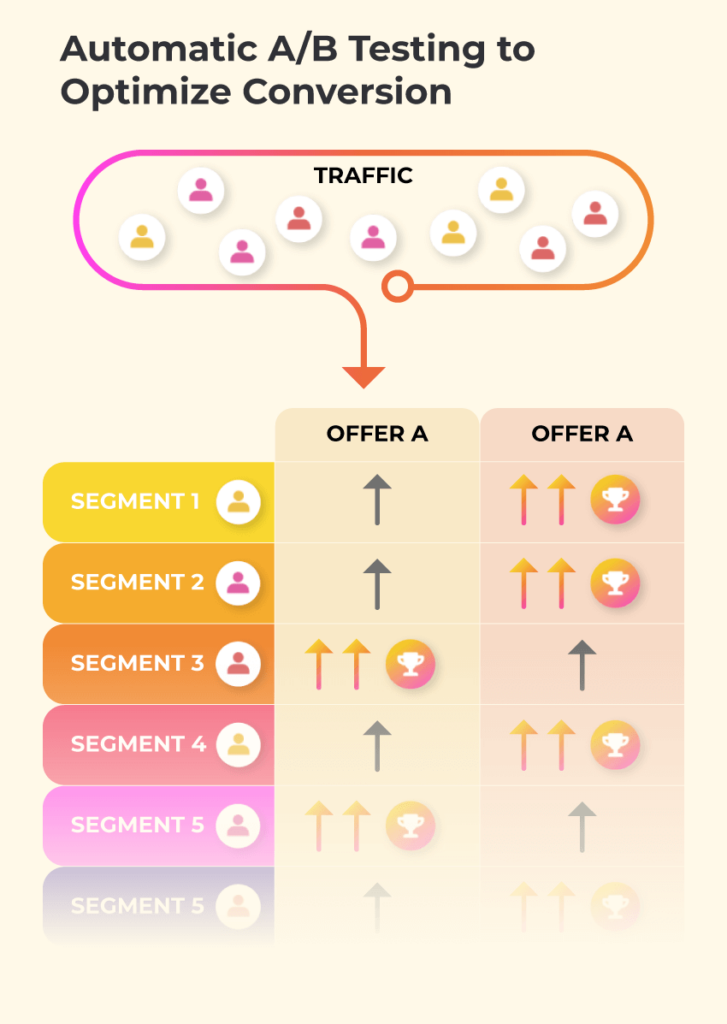 If you're ready to make the move to enterprise commerce and gain the customer segmentation tools you need to grow your business and much more, it's never been easier than with Nogin. Our headless enterprise technology plugs into Shopify Plus, supercharging it with market-leading functionality that outperforms against legacy enterprise platforms. Migrate to an enterprise level with no upfront costs in less than eight weeks! 
Here are some of the main benefits you can expect migrating to Intelligent Commerce:
Our servers are connected to Meta, Google, TikTok, and other social media platforms, so your ad performance won't be affected by updates and changes, such as the iOS 16 update. While your competitors' ad performance suffers, yours won't. 

We can handle multiple frontends and multiple backends. 

Access 40 enterprise-level tools and features that improve conversions and lower marketing spending, shipping, and returns. 

Replatform to a superior enterprise platform without replatforming fees and go live in just 6 weeks. 

Experience the power of Luminate, our cutting-edge technology stack that seamlessly connects with your store. With a robust suite of top Shopify apps, partner integrations, and our own exclusive tools developed for Intelligent Commerce, you'll have everything you need to take your online business to the next level.

True global enterprise ecommerce to reach and convert international customers. 

Our

3PL ecommerce fulfillment solution

will lower your shipping and return costs. 

Leverage marketing automation driven by Artificial Intelligence (AI) and machine learning to convert more customers at lower acquisition costs. 

Plug into our

enterprise ecommerce platform solution

with NO upfront costs! 
Nogin is a different approach to enterprise ecommerce, and the results speak for themselves:
Conversion rates improve an average of 40% on our platform.

Marketing spend efficiency increases 30% with our CDP.

Increased personalization drives a 15% increase in revenue.
If you want to recession-proof your business and instantly become more profitable, it starts with a smarter approach. Learn more about the research and data behind a Commerce-as-a-Service business model and download the Coresight Research Reports below, or contact us today: