Ecommerce merchandising isn't as simple as just having products in stock. For an ecommerce business, the difference between great and subpar merchandising is the difference between excellent and poor conversion rates. Elevating your customer experience through advanced merchandising strategies will help your customers find the products they want and help your business increase average order values and revenue along with other essential ecommerce KPIs.
Most ecommerce strategists love to focus on the ecommerce conversion funnels, product listing strategies, and customer retention strategies they can use to entice visitors to purchase inventory and keep them coming back. Although all of those are crucial to an overall marketing strategy, the evolution of ecommerce has seen the rise of omnichannel experiences, machine learning, and the need for brands to create truly personalized user experiences through advanced machine learning and artificial intelligence.
If independent brands want a chance to compete against big retailers like Amazon and the endless competition, they don't need to work harder; they need to work smarter. Nogin offers omnichannel infrastructure and technology to all our partners. Our tech automatically deploys marketing campaigns based on customer data to create predictive commerce.
Along with continuous research and development, our tech automatically deploys the most profitable tactics from each of our clients' stores, so everyone wins. Along with lower shipping costs, increased ROAS, and ecommerce experts available to manage your store, brands can finally focus on doing what they do best: growing a brand.
Gaby Haffer, Director of Buying, Merchandising, and Planning in Brand Management at Nogin, explains the best merchandising tips you can use to grow your business.
What is Ecommerce Merchandising?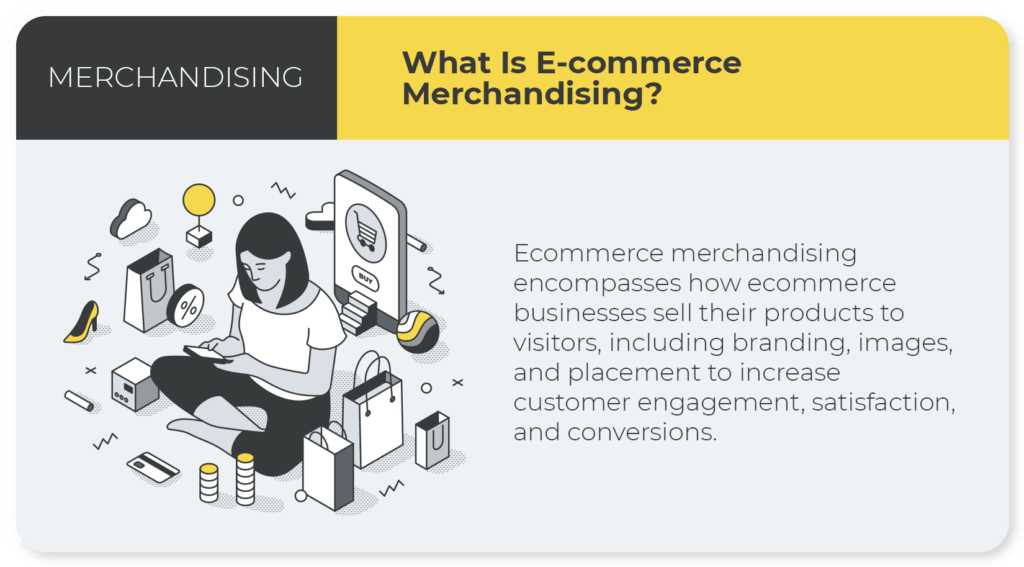 Ecommerce merchandising encompasses how ecommerce businesses sell their products to visitors, including branding, images, and placement to increase customer engagement, satisfaction, and conversions.
Brands should focus on merchandising to position their products in a natural way that entices customers to complete a purchase. It's not only about how you display products but utilizing a compelling call to action, pop-ups, offers, browsing history, and other messages or sequences to keep customers engaged and on the path towards a purchase.
At Nogin, we constantly A/B test different merchandising techniques across our brands to determine what works and what doesn't. We can continuously run different merchandising strategies thanks to our tech's machine learning and AI capabilities. Our platform automatically determines what works best and ditches merchandising approaches that don't work.
Our partners benefit from the information from other brands under the intelligent commerce suite, so your store will automatically implement the most effective merchandising techniques that convert customers and improve profit margins.
Ecommerce Merchandising Trends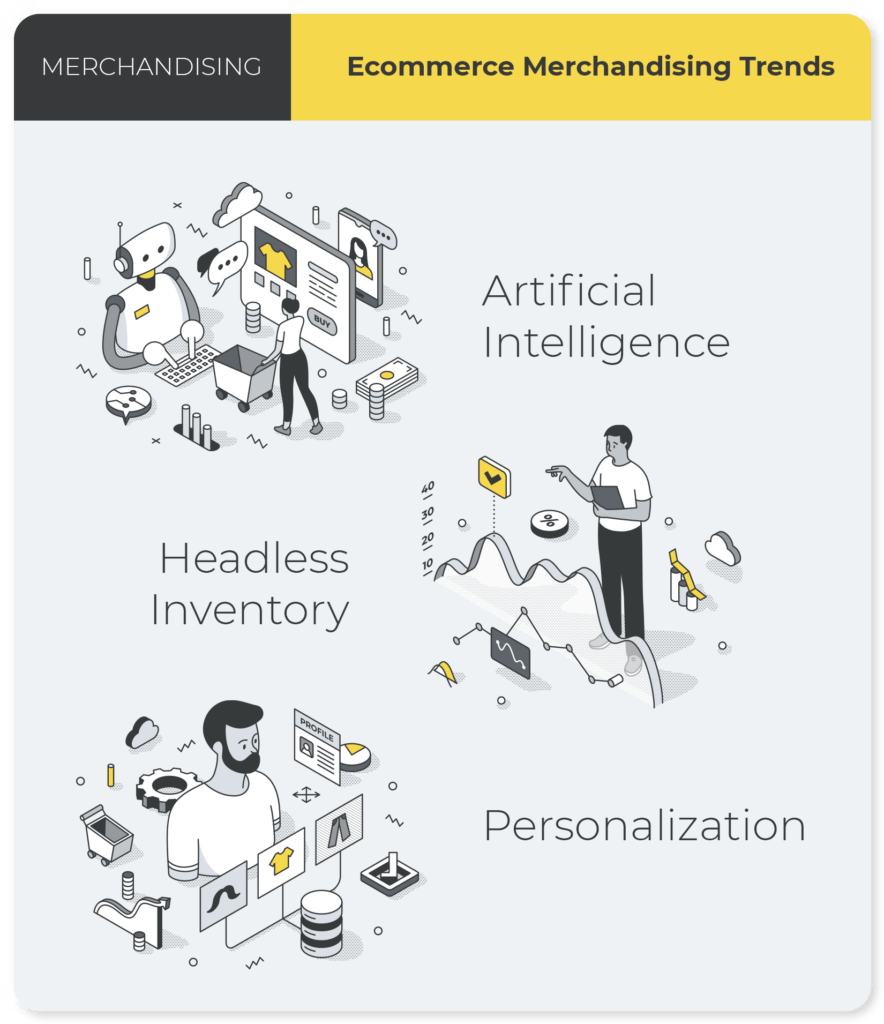 Ecommerce changes every day. Although utilizing traditional marketing strategies is essential, brands will need to invest in the tech and talent required to deliver a superior online shopping experience.
Online customers expect convenient and personalized shopping experiences. Brands will need to integrate an omnichannel infrastructure to compete with online shoppers. Utilizing social media or PPC ads to convert a shopper into an impulse purchase is one thing but keeping them engaged and coming back is another challenge.
Let's discuss some of the top ecommerce merchandising trends and how your brand can evolve with the times.
Artificial Intelligence (AI)
We are just at the beginning of the AI revolution in ecommerce. Brands will have to leverage AI tech to elevate their stores. Brands integrated on an intelligent commerce platform with AI and machine learning capabilities will deploy the most effective product page optimization and user experience strategies that automatically show personalized product recommendations, offerings, and experiences that convert customers.
Headless Inventory
Headless commerce platforms offer many advantages to ecommerce brands, but one of the biggest is headless inventory management. Headless inventory management analyzes inventory data and transactions across a brand's omnichannel network to inform buying and merchandising decisions.
Personalization
Creating a personalized experience is essential to connect with customers and increase sales. For a truly personalized experience, brands must utilize an omnichannel platform that integrates all their channels to collect data on which customers are engaged and where and how to reach them best. Messaging to a new customer versus a loyal, frequent shopper is much different.
Intelligent commerce collects customer data on all parts of the user journey. Using machine learning and AI integrated into your website and all other customer touch points allows brands to deploy curated and unique messaging tailored to each customer.
Whether it's a particular Facebook ad they viewed, a PPC ad they clicked, or a blog they read, our advanced ecommerce software takes that information. It automatically implements effective messaging to continue to drive customers down their marketing funnel towards a conversion.
Ecommerce Merchandising Challenges
Brands can face several tough challenges when it comes to online merchandising. Gaby Haffer, Nogin's Director of Buying, Merchandising, and Planning in Brand Management, lists her top three ecommerce merchandising challenges.
1. No Physical Stores
One of the biggest challenges, especially for apparel brands, is that customers can't try out or try on products before purchasing them. A fundamental obstacle for an ecommerce brand is building trust with visitors. Many luxury ecommerce brands will rent a physical store to create tangible brand experiences or pursue celebrity collaborations. Ecommerce brands must have the right content, testimonials, and marketing collateral to entice visitors and lower their action threshold to complete an online purchase.
By utilizing an omnichannel system to reach customers at the right time, nurture them down your funnel, and leverage smart data to elevate their shopping experience, brands can develop a viable connection and enlist loyal brand enthusiasts using intelligent commerce.
Gaby Haffer expands on this fundamental challenge, noting, "I think one of the most challenging parts of our jobs in an ecom business is that we don't have any physical stores for our brand. So that makes it a little bit more challenging because the customer is not really able to go into one of our stores, touch the product, feel the product, and really fall in love. For us (Justice), the customer is a 10-year-old girl, so the nagging factor is very important where she makes sure that her mom buys her what she wants. Without having a store, it's a little harder to build some of that loyalty we have. Nogin is very helpful because we are able to use our blog to communicate our mission statement, and we're able to communicate our fit through our platform. The photography we use definitely uses a diverse customer so that every girl can see herself wearing our product."
2. Affordable Shipping and Average Order Value (AOV)
Shipping is always a costly challenge to conquer in ecommerce. Amazon is big enough and has the infrastructure to support fast shipping solutions for customers. Prime items are eligible for free, two-day shipping, and they've scaled to a level where expenses still result in profitable outcomes.
Unfortunately, many mid-size brands must leverage 3pl fulfillment or dropshipping companies. It is not only expensive but often, holes and inefficiencies drive up costs. Not to mention, affordable free shipping is rarely a tangible option. Brands also need to try to increase average order values to receive workable margins. If customers purchase $5-10 products, brands can't afford to ship them out for $2-3.
Gaby expands on the issue of fulfillment, mentioning, "One of the biggest profit killers for ecommerce business is shipping. Obviously, with the state of the world, shipping is just more and more expensive. The good news is that the Nogin venture has so many brands that they service and partner with that we can use those mass scales to definitely get the best rate out there for shipping."
Nogin has several fulfillment centers, the omnichannel infrastructure, and tech to deliver affordable shipping costs to our partners. Brands on our headless platform are plugged into our 3pl EDI software integration. Our tech uses machine learning and AI to optimize shipping coordination to lower costs and maximize profitability continuously.
Agility
Many independent ecommerce retailers are stuck when it comes to tech. The enterprise solutions are expensive, inflexible, and require manual specialist oversight to execute tasks. Nogin offers the agility of smaller shops with the enterprise capabilities brands need. Our team and tech make it a breeze to implement new promotions, shift categories, and handle all things merchandising efficiently.
Gaby expands, saying, "I think in the retail sector, agility is key, and what I think Nogin's technology does better is offer us the agility to make changes in real time, and that has been a real blessing for us. For example, we are able to change a promotion in real time. We are able to change pricing if we see some things that aren't right. And that really has helped us. Also, within merchandising, we are able to merchandise by choice as opposed by the entire style, which has also been very helpful to really drive better results."
Ecommerce Merchandising Tips and Best Practices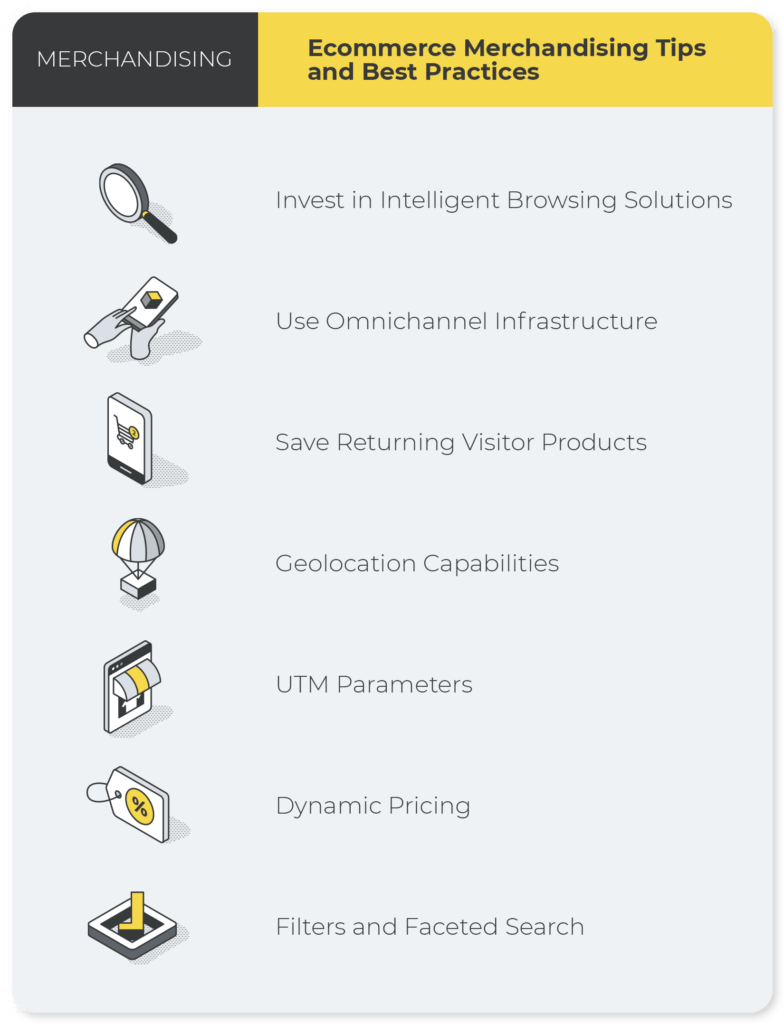 Here's a quick list you can save that details our expert ecommerce merchandising tips:
Invest in Intelligent Browsing Solutions: Make it easy for your customers to find products that align with their customer data using modern site search solutions. Invest in modern autocomplete and Natural Language Processing (NLP) algorithms.
Use Omnichannel Infrastructure: Migrate on an omnichannel system that continuously uses customer data to deliver products and a personalized brand experience for each customer.
Save Returning Visitor Products: Have previous visitors view their browsing history and list recently viewed items when they come back to your online shop.
Geolocation Capabilities: Utilize visitor IP addresses to offer personalized offers based on customer data. You can also use geolocation to show products applicable to their environment. For instance, displaying winter jackets and beanies to visitors browsing your website from Canada in November.
UTM Parameters: Personalize landing pages by establishing UTM parameters to segment traffic based on customer behavior.
Dynamic Pricing: Plug into intelligent software that can intuitively display dynamic pricing to beat competitors and increase conversion rates.
Filters and Faceted Search: Break down and filter results into manageable subcategories that allow customers to find the products they want faster and easier.
Learn More About Nogin's Intelligent Commerce Suite
Plug into our intelligent ecommerce platform to gain the tech and expertise you'll need to deliver an optimal merchandising experience to your customers. Learn more about the proven research behind Commerce as a Service (CaaS) and why it's the best option for mid-size ecommerce retailers to scale their business. Download Part two of the Coresight Research report for free to learn how to solve profitability issues in ecommerce.