In today's highly competitive ecommerce landscape, it's crucial for independent brands to stay ahead of the curve and continually innovate to drive growth. This is where Research and Development (R&D) comes into play. 
By investing in data-driven R&D, top ecommerce businesses gain valuable insights that help them to create a world-class online shopping experience and acquire loyal customers with high lifetime value. However, many smaller to medium-sized businesses lack the budgets and resources to spend on R&D, leaving them at a disadvantage against larger, better-funded competitors.
But with Nogin's innovative Commerce-as-a-Service (CaaS) platform, independent ecommerce brands can access a comprehensive ecommerce technology package that includes machine learning tech, expert support, and ongoing updates powered by Nogin's R&D. This enables you to compete with big retailers and drive predictable growth, even in challenging economic times. 
In this blog, we will explore the power of R&D and why Nogin's CaaS platform is the superior approach for independent ecommerce retailers looking to stay ahead of the competition.
What is Research and Development in Ecommerce?
Research and development is the continuous investment in resources, technology, and products to better understand and serve your target market. If you have the budget to support it, R&D is valuable because you can confidently implement new tactics and strategies that increase conversions and lower customer acquisition costs based on data-driven insights.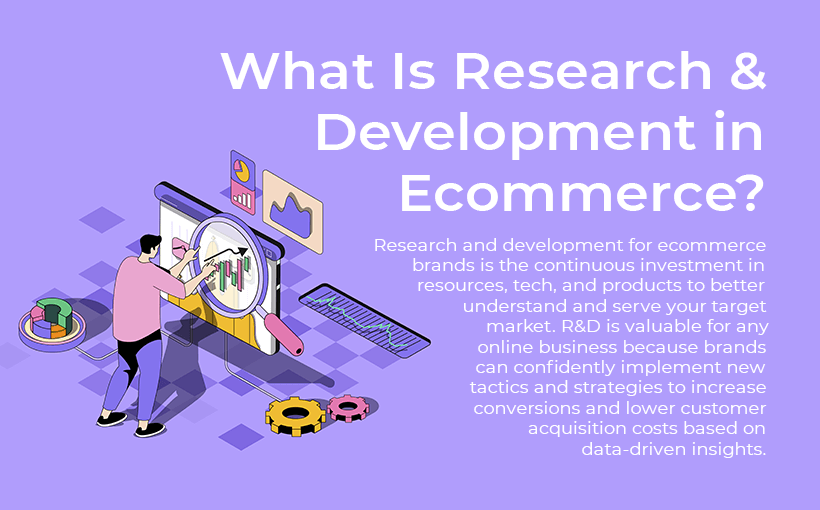 Why It's Hard for Independent Ecommerce Brands to Keep Up with Big Retailers
Innovation is crucial for the success of any ecommerce business. However, due to perceived risks, many brands hesitate to invest in developing their ecommerce infrastructure, technology, and operations. Retailers may be unsure whether the investment will pay off or if their funds would be better spent elsewhere. 
In addition, many brands lack the necessary expertise to drive innovation. The development process requires sophisticated tools, software, and skilled ecommerce specialists to analyze the data and deploy effective tactics. Small and mid-sized businesses may not have the resources to invest in these areas, leaving them at a disadvantage when competing with larger, better-funded companies.
Amazon and other big retailers spend billions of dollars on R&D every year, putting even more pressure on smaller businesses to keep up. However, backing R&D can be financially challenging for many smaller brands, and there are no guarantees that the investment will yield positive results.
Despite these challenges, keeping up with technological advancements and data-driven tactics is essential for ecommerce businesses to thrive in today's competitive marketplace. You can achieve long-term success and profitability by developing practical strategies that encourage customer loyalty and increase lifetime value. Fortunately, we offer a comprehensive approach to future-proof your ecommerce business without the expensive upfront costs.
Stay Ahead With CaaS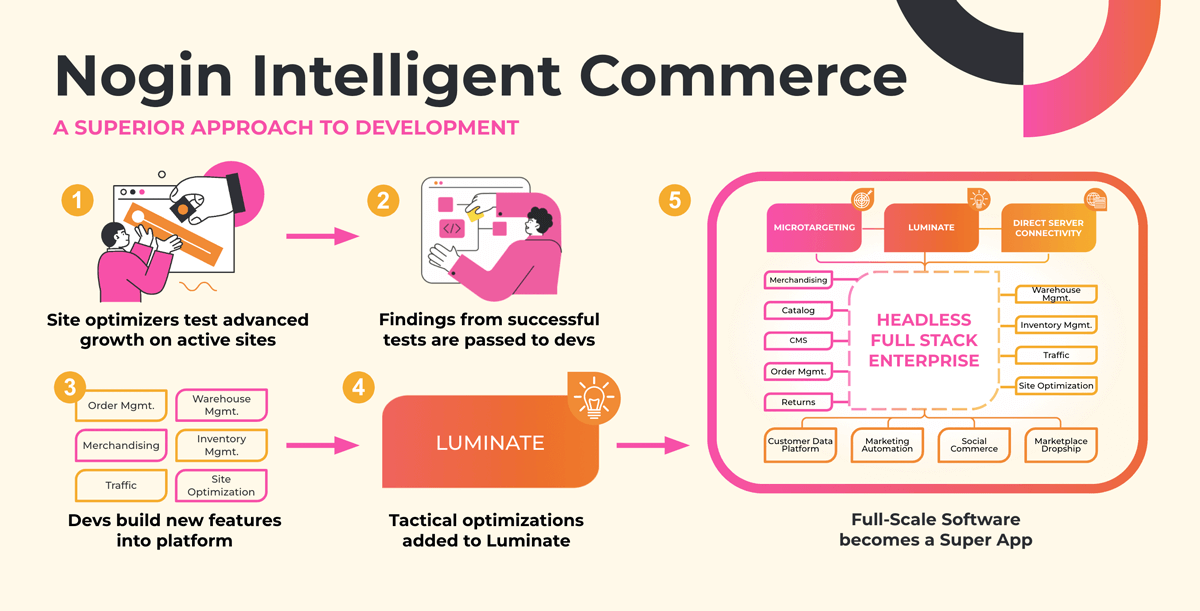 Nogin offers a practical and affordable solution to help independent brands gain the ecommerce technology stack they need to compete with big retailers. Our site optimizers are constantly experimenting and deploying data-driven tactics across our brand network, which requires no heavy lifting on your end.
Our headless ecommerce technology extends the capabilities of Shopify Plus and includes our frontend (Luminate) and backend (Intelligent Commerce) systems. Over the past decade, we have managed over 150 brands and $1 billion in total Gross Merchandise Value (GMV). We continuously A/B test new strategies and deploy tactical optimizations on our platform based on insights we have learned.
Luminate is a pre-integrated frontend theme with the best Shopify apps, partner integrations, and exclusive features developed specifically for our platform solution. We handle all the maintenance, testing, and optimizations to ensure our app ecosystem works in perfect harmony. This comprehensive tech stack covers everything you need to dominate D2C commerce, including email marketing, SMS, review management, customer service, loyalty programs, payments, returns, international commerce, and more. Luminate also features many partner integrations, including Cordial, Klayvio, Yotpo, Nosto, and others, to improve your online shopping experience.
With our Intelligent Commerce infrastructure, you can connect to our collective customer data platform and leverage powerful features, such as AI-powered customer segmentation, algorithmic merchandising, and smart optimization. We continuously optimize our seven unique customer segments by using over ten years of anonymized data mined from our CaaS technology. Our algorithmic merchandising predicts shopper behavior and inventory constraints, while our smart promotion optimization maximizes your online campaigns. To find the best strategies across our client base, we utilize rigorous A/B testing, enabling you to convert more customers at lower costs without any guesswork involved.
We frequently release new features and enhancements to boost customer lifetime values and conversions on our platform. Our site optimizers are constantly improving our tech stack with strategies and features we have acquired from managing our extensive client base. 
Your company will gain far more insights connected to our CaaS technology than you could on your own. We will improve all aspects of your business, including inventory planning, website deployment, customer retention, discounting, fulfillment, returns, product page optimization, and more. Our approach de-risks your P&L, and the data-driven tactics will help you achieve predictable growth and exceed your ecommerce KPI goals.
Best of all, our platform is constantly updated, so you will never have to worry about replatforming or updating an aging platform again. We are committed to providing our clients with the most advanced ecommerce solutions, and we invite you to explore our platform and see how we can help your business grow.
Take the Headache Out of Ecommerce and Use Your Nogin
Nogin has developed a world-class CaaS technology platform that empowers brand leaders to achieve superior growth with predictable costs and an exceptional online experience. Our comprehensive solution optimizes the entire ecommerce operation, allowing you to focus on your brand while running as much or as little of the infrastructure as you choose.
The headless enterprise technology plugs into Shopify Plus, amplifying it with market-leading functionality that outperforms legacy enterprise platforms. Our super modules, which traditionally cost millions, ensure increased future growth and operational savings, providing brands with a complete solution to expand their business without the need for outside agencies or systems integrators.
In addition to our complete CaaS package, we offer expert ecommerce managed services tailored to your specific needs. Contact us today to schedule a consultation and receive a customized quote for the services and technology that will enable you to profitably scale your brand.