The Power of Research and Development to Grow an Ecommerce Business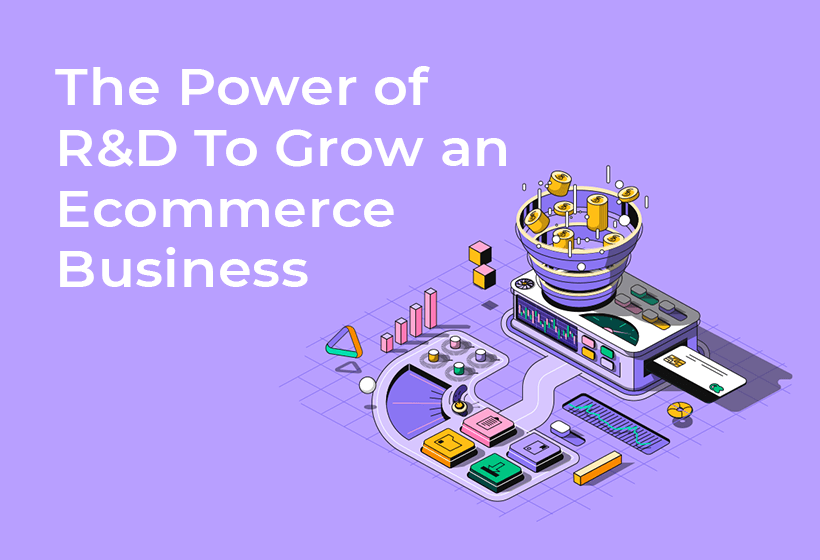 Independent ecommerce brands are in a tough place. As we enter more challenging economic times, your brand might be tightening its budget, searching for viable ways to recession-proof your business. You know you need to invest in data-driven solutions and strategies to elevate your ecommerce channels. Still, you might need help to stay ahead of the technology and innovation required to deliver a world-class online shopping experience.
Amazon spent $22.6 billion on research and development efforts in 2018 alone. Most independent brands don't have the budgets to invest millions annually, let alone billions. Still, they will need to find a practical Research and Development (R&D) solution to compete with Amazon, de-risk their Profit and Loss (P&L), and drive predictable growth. 
Nogin offers a revolutionary approach to R&D for ecommerce companies. Our Commerce-as-a-Service (CaaS) platform is a full-stack ecommerce technology package that arms brands with the machine-learning tech, infrastructure, marketing automation, and R&D solution they need to compete with big retailers. 
Let's dive into the power of research and development and why CaaS is the superior approach for independent ecommerce brands. 
What is Research and Development in Ecommerce?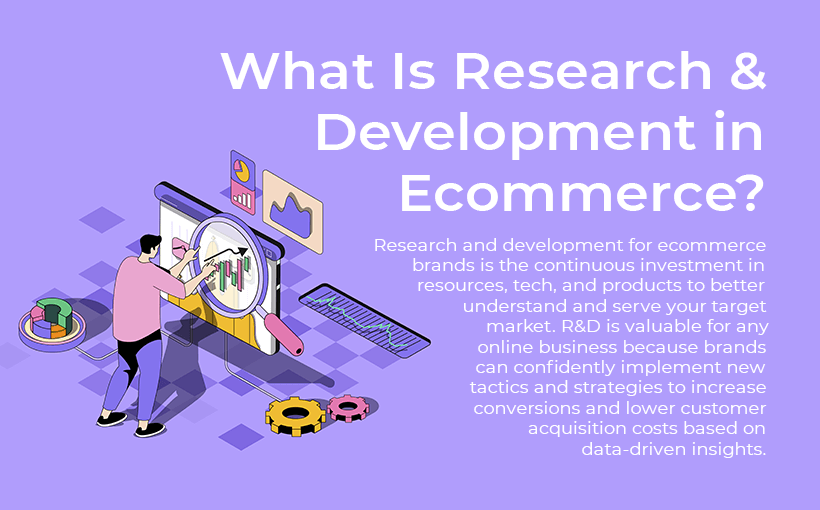 Research and development for ecommerce brands is the continuous investment in resources, tech, and products to better understand and serve your target market. R&D is valuable for any online business because it helps retailers guide strategies that increase conversions and lower customer acquisition costs based on data-driven insights. 
The Nogin Commerce technology platform provides independent companies with practical and affordable R&D capabilities. Our platform performs continuous testing across all our clients' channels (more than $1 billion in annual gross merchandise value). It delivers data-driven outcomes that improve customer acquisition costs, lifetime value, and conversion rates. 
Our CaaS platform sends optimizations across Nogin's entire customer base, with data insights that cannot be achieved alone by a smaller brand. We can optimize customer segmentation, personalization, discounts, shipping, and returns to benefit your bottom line. Improve your P&L with a full-stack ecommerce technology package that keeps you in control of your business. 
Why Most Brands Don't Invest In Research and Development
Research and development is an imperative component of any successful ecommerce business. Companies must develop practical strategies to gain loyal consumers who want to purchase from them over time to achieve high customer lifetime value per shopper. 
R&D can help your business understand consumer behavior to guide them through their ecommerce conversion funnel. It also analyzes ecommerce trends so you can stay ahead of your competition. 
Unfortunately, most R&D resources are risky investments, and the ongoing process requires sophisticated technology or an expensive firm on retainer to give brands important insights. 
Brands will also need to find and manage ecommerce specialists to analyze the data and deploy tactics that align with the information they've gained. As Amazon and other big-retail brands invest billions into R&D, smaller businesses scramble to try and keep up, and there are no guarantees that their investments will pay off. 
If your business can relate to this, Nogin offers a solution. 
The CaaS Research and Development Process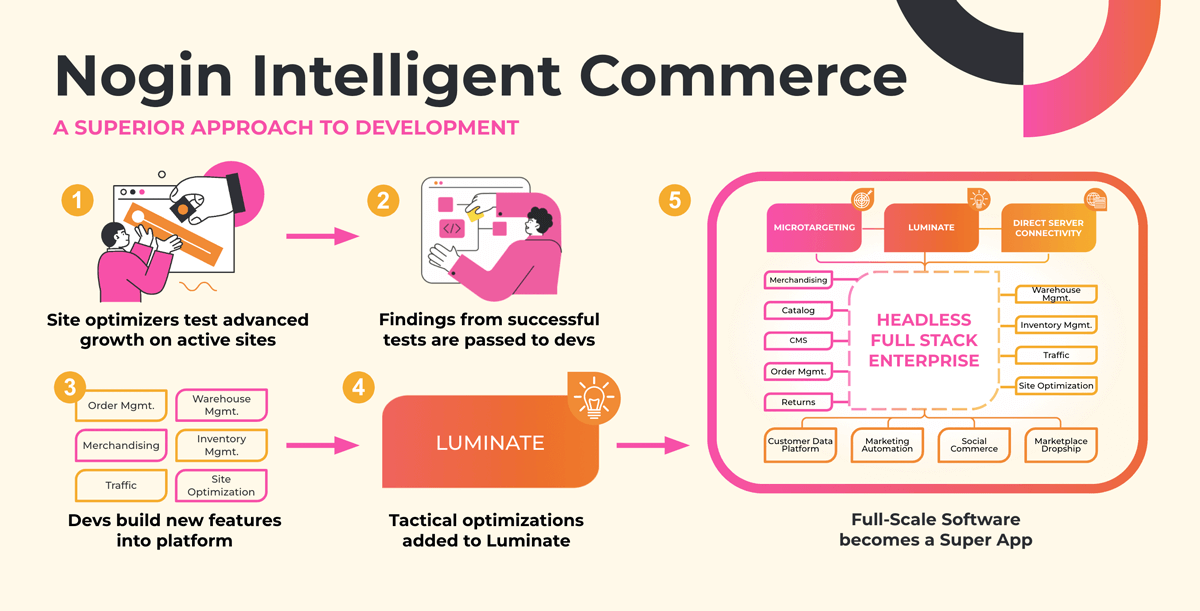 Nogin has simplified the research and development process. Our approach is not only affordable, but the way we deploy data-driven tactics across our brand network requires no heavy lifting on your end. 
We automatically plug each store connected to our ecommerce platform into our Luminate R&D network. Our smart tech analyzes every consumer shopping behavior across all our clients, which amasses more than $1 billion in annual GMV. Thanks to our proprietary AI and machine learning capabilities, our tech will automatically pinpoint the best tactics and deploy the most effective strategies across all our brands. 
Your company will gain far more insights connected to our Luminate network than you could on your own. Our R&D capabilities will improve all aspects of your business, including inventory planning, website deployment, discounting, shipping, returns, product page optimization, customer service, retail pricing strategies, customer retention strategies, and more. 
Best of all, it de-risks your P&L, and the data-driven tactics will help you achieve predictable growth and exceed your ecommerce KPI goals. Nogin's modern technology package immediately fixes your R&D problems, and our platform is constantly updated, so you'll never have to worry about replatforming or updating an aging platform again!
Take the Headache Out of Ecommerce and Use Your Nogin
For brand leaders needing to deliver superior growth with predictable costs and an exceptional online experience, Nogin created the world's leading commerce-as-a-service technology platform. Designed to optimize the entire ecommerce operation, Nogin frees you to focus on your brand while running as much or as little of the infrastructure as you choose.
Our headless enterprise technology plugs into Shopify Plus, supercharging it with market-leading functionality that outperforms against legacy enterprise platforms. Super modules that traditionally cost millions ensure increased future growth and operational savings, giving brands a comprehensive solution to expand their business without outside agencies or systems integrators.
We offer expert ecommerce managed services in addition to our complete CaaS package, so schedule a convo with us for a tailored quote of the services and tech you'll need to profitably scale your brand. 
Consumers will compare your user experience against Amazon, Apple, and big retailers. Give an experience far beyond your size with enterprise-class ecommerce infrastructure, continuous technology innovation, extensive integrations, expert services, and high-volume shipping discounts negotiated across our customer base.
Learn more about the research and data behind a CaaS business model and download the Coresight Research Reports below: