Gel Blaster to Use Nogin's SmartShip Program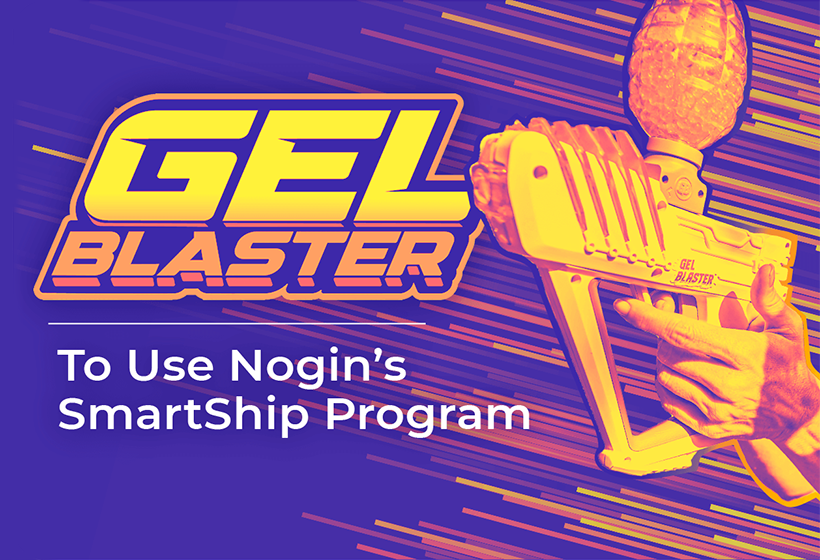 TUSTIN, California – August 23, 2022 – Gel Blaster ("Gel Blaster"), the exclusive provider of advanced backyard battle blasters with clean-up technology, has upgraded its online store fulfillment with the SmartShip program delivered by Nogin ("Nogin" or the "Company"), a leading provider of innovative Commerce-as-a-Service ("CaaS") technology.
Nogin's SmartShip application helps brands such as Gel Blaster enhance their shipping and fulfillment operations without all the cost and complexity of managing those pieces themselves. SmartShip delivers all the order, inventory, shipping, logistics and warehouse management in one easy-to-use application. SmartShip's sophisticated technology can be licensed individually or bundled with Nogin's fulfillment offering, allowing brands to best utilize Nogin to optimize their shipping and fulfillment operations. Fueled by insights from the Company's wider platform and optimized by ongoing technology upgrades, SmartShip will help Gel Blaster deliver top-tier service to its customers without needing to re-platform.
"As our ecommerce operation expands, it is crucial that we have the right partners in place so we can focus on our products and customers instead of on maintaining our fulfillment technology," said Gel Blaster President Peyton Healey. "Nogin's SmartShip program allows us to utilize new commerce insights and provide the exceptional delivery service to which our customers have become accustomed. By simplifying our shipping and fulfillment operations, SmartShip will help us scale as Gel Blaster becomes a household name in outdoor entertainment products."
"Our mission is always to bring the enterprise capabilities of the largest retailers to brands that are struggling to keep pace," said Nogin Co-founder and CEO Jan Nugent. "SmartShip represents our commitment to meeting our partners where they need us most, including allowing brands on other storefront platforms to leverage Nogin's enterprise inventory, fulfillment, and logistics. With our software and scale, Gel Blaster will benefit from highly efficient ecommerce operations and can focus on what it does best – providing great products for its customer base. We look forward to our continued partnership with Gel Blaster and other brands across commerce-based industries who can benefit from optimized shipping."
The Gel Blaster announcement follows Nogin's recent announcement of plans to become publicly traded through a combination with Software Acquisition Group III (Nasdaq: SWAG), a special purpose acquisition company. Additional details can be found here.
To read the full press release, click the link below.