As consumers in the digital age, most of us have received a targeted Instagram ad with a product recommendation that feels a little too personal. (You were just thinking about buying a fun pool float for the summer!) 
When it's done responsibly, personalization is a powerful and effective way to increase conversion and revenue for your ecommerce business. 
There are a multitude of opportunities to personalize the buyer's experience with a brick-and-mortar store. Business owners have the option to change around window and in-store displays, end caps, and potential upsell items displayed by the checkout. During the winter, the store might choose to promote and display coats toward the front of the store, with tank tops and bikinis on clearance in the back.
In the ecommerce space, personalization is like invisible marketing. It is possible to leverage data to get to know your shoppers and to create a customized buying experience that presents products and offers that customers are more likely to act on — your customers see what they want to see from your shop, and you're better equipped to meet your KPI's and increase your revenue. 
Why Does Personalization Matter?
When you're able to tailor the shopping experience to each individual customer, you can provide a more engaging and relevant experience for your customers. You can show an outlet collection or a sale banner only to a Discount Affinity Shopper and show a Shop Our New Arrivals banner to the Full Price Shopper. This prevents you from converting your Full Price Shoppers to Discount Affinity, and you can still move through aged goods while delighting your Discount Shoppers.
There's data that shows customers find an experience that's customized to their preferences and buyer history more enjoyable — according to Salesforce research, 66% of customers expect companies to anticipate their unique needs, and 52% expect every offer they receive to be personalized. 
Bloomreach found that 80% of shoppers are more likely to buy from companies that offer personalized shopping experiences. As a result, many retail leaders are exploring personalization software. 
McKinsey found that companies who excel at personalization are able to capture 40% more revenue than those who don't — and customers reward those who excel through personalized communications, with over 75% of consumers stating their likelihood of purchasing, recommending, or repurchasing a product is based on personalization.
Amazon sets the gold standard for personalization with a comprehensive product recommendation system that keeps millions of U.S. users coming back for more year after year.
In 2010, Amazon rolled out its "customers who bought" widget, which recommends items based on what other users purchased after buying a specific item. Amazon says 35% of its purchases come from personalized suggestions like this, and 56% of those purchasers will become repeat customers.
Amazon is also an ecommerce giant with resources to tap into cutting-edge AI and research strategies that the majority of other ecommerce retailers won't have access to in the near future. 
Still, smaller retailers are often in direct competition with Amazon in an effort to create an enjoyable, easy-to-navigate user experience that provides high-quality products.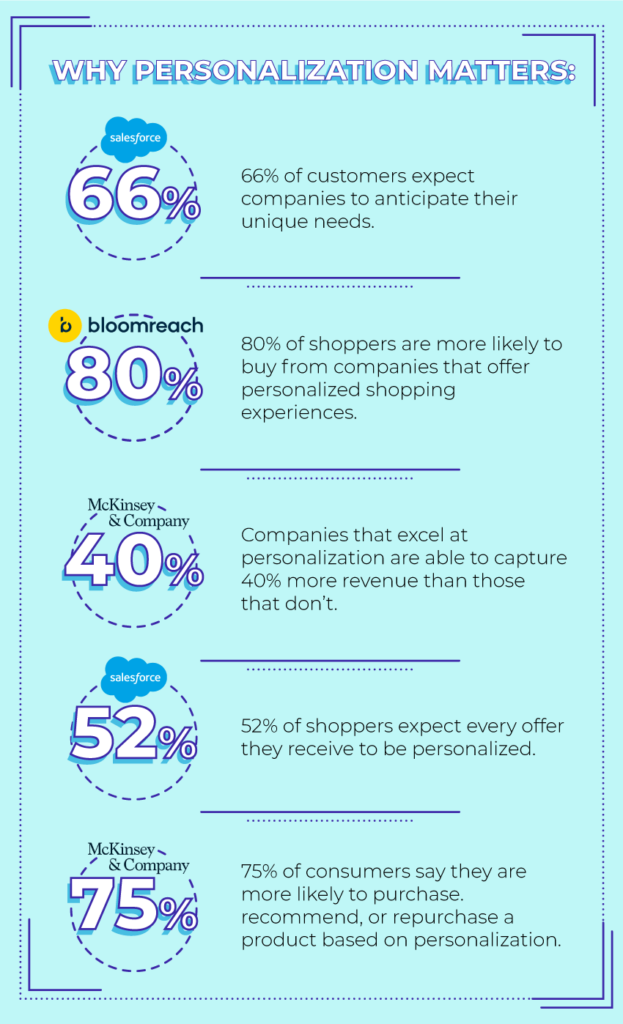 5 Ecommerce Personalization Strategies to Maximize Conversions
We know how overwhelming it can be to navigate the ever-evolving world of ecommerce, and it can feel like there's a new strategy you *need* to implement every day. We're here to help — here are five strategies you can implement to personalize your buyers' experience and convert to real sales that will help grow your business. 
Want to dive deeper? Watch or listen to our free webinar on personalization here!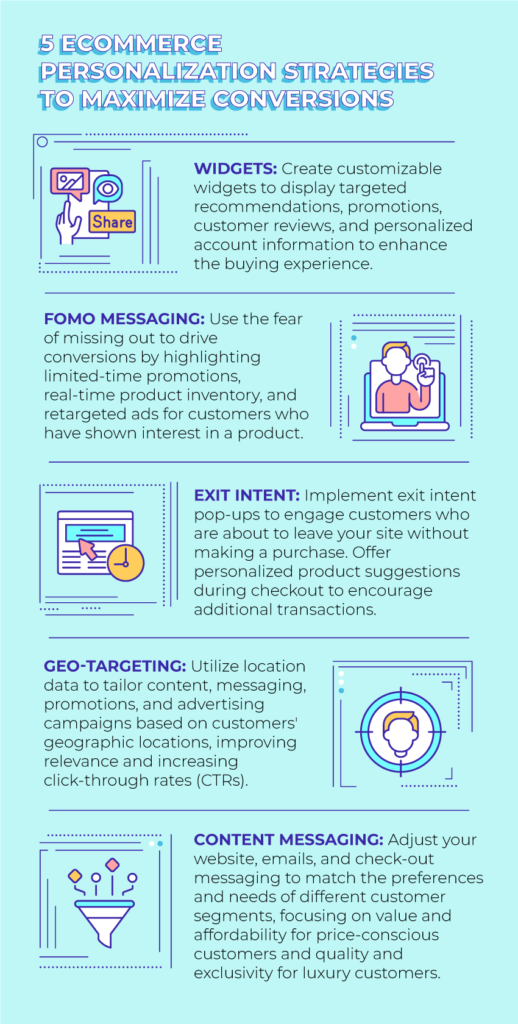 1. Widgets
Creating widgets is the simplest and most flexible way to present targeted recommendations to your customers. 
You can create a widget for almost any purpose. Maybe you'd like to showcase product recommendations, promotions, customer reviews, and ratings. You can also build social proof by building a widget that shows the number of purchases or positive reviews for a given product.
You can also use a widget to display personalized account information to individual customers, such as their order history and reward points. This brings to mind past purchases that might influence future ones and keeps customers up-to-date on their account status.
Widgets are typically easy to install and customize, making them a helpful first step that many ecommerce retailers take to personalize the buying experience. Keep in mind that the widgets have to be seamless to be effective. If the widgets interfere with the shopping experience, it can negatively impact your conversion rate by up to 10%.
CTA: Learn more about how to use widgets
2. FOMO Messaging
Whether it's about missing the big game or the latest beauty product release, the fear of missing out, or "FOMO," is something that we have all felt.
In the ecommerce context, FOMO messaging can help reduce cart abandonments and increase conversion rates. The goal is to create a sense that if you don't act now, you'll lose your chance to purchase a given item.
You can do this by highlighting limited-time promotions or sales. A 24-hour flash sale can help increase your conversion rate — in fact, Nogin found that FOMO messaging can increase conversion rates by over 17%. By emphasizing the limited time frame, you create a sense of urgency and encourage customers to take advantage of the offer.
Another way to use FOMO messaging is by displaying real-time product inventory. For example, you might display a message or pop-up that says, "only seven left in stock!" or "15 people have this in their cart!" Humans are influenced by peer pressure. When we know others like a product or intend to buy it, we are more easily swayed to make a purchase. 
Finally, you can display a retargeted ad to customers who have previously viewed a product but have not yet made a purchase. For example, "Don't miss out — only a few items left in stock!" If a customer believes their chances are limited, they might be more motivated to make a purchase.
CTA: Learn more about how to utilize FOMO messaging 
3. Exit Intent
This strategy uses technology to detect when a customer is about to leave your site without making a purchase. 
For example, it may detect the movement of a customer's cursor to select a different browser tab and trigger an exit intent pop-up ad with a message like "Are you sure you want to leave?"
We have some great exit intent tactics that have up to a 43.5% take rate for users staying in the session and converting.
Exit intent strategies also come into play during checkout. Many retailers offer personalized product suggestions for customers to get them to re-engage in shopping before they complete their purchase. Whether it's suggestions based on previous purchases or a reminder of what's already in the buyer's cart, these cart recommendations are powerful tools for driving additional transactions across the finish line.
We've found that cart recommendations are the highest-converting personalization strategies because they have high intent. Suppose a customer is already thinking about making a purchase. In that case, they're at their most likely point of adding another item to their cart (especially if the option of free shipping past a certain threshold amount is offered). For a First Time Visitor, we can give an incentive if they are close to the Free Shipping Threshold or showcase cart-based product recommendations to get them to the Free Shipping Threshold. 
CTA: Learn more about the exit intent strategy 
4. Geo Targeting
In this context, geo-targeting involves using location data to better meet the needs and preferences of customers based on where they live. 
We've found that this is one of the most commonly-used strategies among ecommerce retailers — and it makes sense! It doesn't take a genius to come to the conclusion that a customer in Alaska might be shopping for different articles of clothing than one in New Zealand. Even though they are in the same state, people in San Francisco may dress very differently than in Los Angeles. We are able to showcase geo-targeted messaging, banners, and products for the best-personalized customer experience. This strategy can increase the CTR by up to 45%.
Other ways to use geo-targeting effectively is by offering location-based promotions or discounts for products that are popular in a specific area or highlighting local events or attractions relevant to local interests.
You can also optimize advertising campaigns through social media by creating relevant ads for customers within a specific zip code or city. 
CTA: Learn more about Geo Targeting 
5. Content Messaging
We've seen that effective content messaging can increase conversion by almost 10%. That's not to say you need a complete overhaul of your website. Sometimes small changes are what make the biggest difference. 
This strategy requires knowledge of your customer base. If you are speaking to a price-conscious customer, you'll tailor language on the site and in the check-out differently than when you're speaking to a customer who's willing to pay a high value for luxury products. 
For the price-conscious customer, you'll focus messaging in emails, widgets, and check-out on value and affordability. Meanwhile, for the luxury customer, you'll focus on the high quality and exclusivity of your products. You can use different messaging for the same product and drive sales, but first, you need to know your audience.
CTA: Learn more about content messaging 
Keep in Mind
Before you address the "what" and "when" of a personalized customer experience, you need to know "who."
Analyze your customer data  — where do your customers live? How much do they typically spend? What are their demographics? Are they buying for themselves, or are they buying a gift for someone else? Then, you can start to set personalization rules that address the needs and preferences of different customer segments. 
It's important to remember that personalization is an ongoing process that requires constant monitoring and adjustment as user behavior and technology evolve — so test, test, and test again to find out what works and what doesn't. 
Finally, a successful personalization strategy should be seamless across all of your channels. When both paid and organic channels have the same feel as on-site personalization, customers notice and might even pay your shop another visit.
Looking for an "Easy Button?"
We know you have a lot on your plate, and figuring out how to optimize your ecommerce store's personalization is a big task.
That's where we come in.
If there was an "easy button" for ecommerce personalization, it would be Nogin.
We bring years of experience helping online retailers like you meet your sales goals and build customer loyalty that will maximize your growth.
In today's ecommerce world, personalization is no longer a "nice to have" — it's a must. Nogin is here to help you with powerful technology that brings customer segmentation and personalization to Shopify Plus. 
Want to Learn More?
We recently offered a free webinar on using personalization to increase customer engagement and jumpstart D2C ecommerce growth — watch here to get inspired! 
If you're ready to start growing your business with Nogin, set up a free introductory phone convo with a Nogin nerd today.