Cloud computing has become the norm for small businesses to global enterprises, and it comes in many forms.
Despite the somewhat nebulous name, cloud computing, or "the cloud," has nothing to do with the fluffy white things in the sky. 
Cloud computing uses remote servers to help online retailers protect, manage, and store their data. You can utilize the cloud to improve your online store's data security, enhance a mobile shopping experience for your customers, and optimize your site's responsiveness. 
Cloud platforms have grown significantly over the last ten years — in 2021, businesses worldwide collectively spent over $400 billion on cloud services. Many companies have even begun to phase out on-premise software altogether. 
As you begin to familiarize yourself with various cloud services, it's essential to understand the differences and advantages of each one so that you can choose the best modality (or modalities) for your online store. 
There are three main types of cloud computing available today: Software as a Service (SaaS), Platform as a Service (PaaS), and Infrastructure as a Service (IaaS). We've collected information about each so you can determine which one might be the best fit for your online store.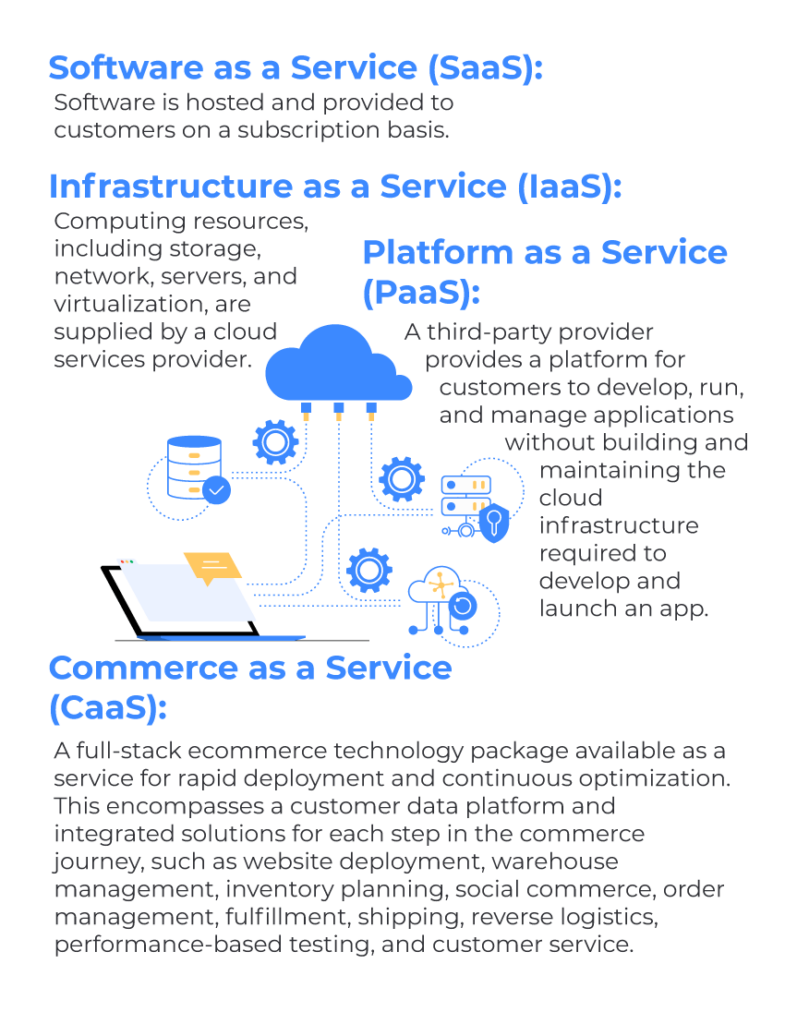 What is SaaS
Software as a Service (SaaS) is a cloud-based delivery model where ecommerce software is hosted and provided to customers on a subscription basis. You can access ready-to-use ecommerce software to improve your business without worrying about infrastructure, maintenance, or updates. 
Popular SaaS platforms for ecommerce include Shopify, BigCommerce, and WooCommerce. 
SaaS platforms provide the technology and infrastructure to create and manage an online storefront, including catalog management, shipping and fulfillment, customer management, site optimization, and more.  
Benefits of SaaS
The four main advantages of SaaS ecommerce solutions are that they are cost-effective, scalable, secure, and flexible. 
Since small and medium-sized businesses don't have the budget to invest and develop their own ecommerce technology, SaaS allows you to access the ecommerce software you need on a subscription basis. Instead of investing hefty sums in creating on-premise software, you can leverage SaaS as a cost-effective solution. 
Keeping up with the latest ecommerce trends and evolution in the market is nearly impossible for independent brands. SaaS is a scalable solution since merchant vendors will handle adding new features, functionality, and improvements to adapt to the everchanging ecommerce space. As new updates roll out, you can upload the latest version of the software without having to handle any technical difficulties on your end. 
Ecommerce security is often overlooked in running an online business, but protecting your customers is paramount. 
Because your SaaS provider constantly updates and improves the software you license, regularly updating your applications will help secure potential vulnerabilities and prevent data loss and hacks.
You also have the flexibility to create an online store using easy-to-use templates. Whether it's adding new applications or apps, you can easily elevate your online store without extensive technical expertise. 
Disadvantages of SaaS
Unfortunately, many of the advantages of SaaS are also disadvantages. For instance, although you can license SaaS to grow your business, you may have to pay more for additional features and support. On the other hand, you may have to pay for additional software features and services you don't need to use. 
You also must trust your SaaS provider to protect your customer data. Although they may have a team constantly patching security vulnerabilities, your customer information is ultimately stored in their data centers. And since 58% of world technology leaders said that SaaS vendors don't meet their security requirements in an Archive360 and Pulse survey, choosing the right vendor is vital.
Another disadvantage to working with a SaaS provider is that you have little room to customize your store. If you're going for a specific look or shopping experience outside your SaaS provider's prebuilt options, you won't have much choice but to use the templates available. 
(Learn more about why SaaS isn't enough to grow an ecommerce business.)
What is IaaS
The second type of cloud-based service is Infrastructure as a Service or IaaS. 
IaaS can offer your ecommerce business a more cost-effective alternative to physical infrastructure. With IaaS, you can pay your vendor for software licensing and another vendor for website hosting. 
A few examples of IaaS are Amazon Web Services, Google Cloud, and Adobe Commerce (Magento).
If you choose to take the IaaS route, you'll still need to handle software updates and security but won't need to worry about the costs of maintaining a physical server. 
Benefits of IaaS
One of the top benefits of IaaS is its scalability. Merchants can buy what they need as they need it and purchase more software as their business grows. 
Unlike SaaS, IaaS allows total control over data infrastructure. You won't need to hire an entire IT department to handle and maintain hardware, and you'll still have complete control over your retail store's most valuable asset: your data. 
IaaS is known as the most flexible type of cloud operating system. Compared with traditional IT, it will give your customers the flexibility to build out resources along with their growth as a business and is easy to automate and scale over time as necessary. 
Disadvantages of IaaS
Despite its flexibility, there are still some limitations when it comes to IaaS. 
For one thing, as compared with SaaS, IaaS is far less user-friendly. Additional internal training may be required for your employees to get used to a new operating system.
Check any legacy technology or applications your business uses for compatibility with the new IaaS service. If they're incompatible, there may be extra up-front work and costs to transfer valuable information from the old system. 
Finally, any time you're transferring data from one host to another, there are security concerns. It is critical to review and anticipate potential security threats and create strategies to remediate them should they arise. 
What is PaaS
Platform as a Service, or PaaS, is a type of cloud computing growing in popularity. PaaS is very similar to SaaS, with one key difference: your internal development team manages the ecommerce application code. A PaaS approach allows you more control over the application and enables your team to pivot as you scale. 
Ecommerce platforms that utilize PaaS are accessible by multiple users, and they are scalable and easy to run without extensive system administration knowledge. 
Some well-known examples of PaaS include Google App Engine, Microsoft Windows Azure, and Red Hat OpenShift on IBM Cloud. 
These cloud-based platforms host, manage and maintain all hardware and software necessary to run the applications — servers, operating system (OS) software, storage, databases, and more, as well as security services, backups, and upgrades.
Through a graphical user interface, your team members can collaborate on app development across its entire life cycle, from development to coding to testing to delivery. 
Benefits of PaaS
PaaS has a more focused user base than IaaS or SaaS in that it's primarily used by ecommerce businesses building software or applications.
It enables developers to save the time and money required to write extensive code and skip right to creating their own unique, customizable product. 
For ecommerce businesses that want to create a unique user interface or app without spending a fortune upfront, PaaS makes a lot of sense. 
Other benefits include:
Faster time-to-market.

Low-risk testing.

Simplified collaboration among developers.

An overall simplified process for platform development. 
Disadvantages of PaaS
Like all other cloud-based servers, PaaS has some potential drawbacks for ecommerce businesses. 
For example, there's always the potential for security risks when data is in the hands of a third party. 
Beyond security concerns, there is room for operational incompatibility. Your retail store may use language and frameworks that a given PaaS solution is not fully optimized for, and finding a uniquely tailored solution may prove difficult at the outset.
Additionally, if you switch vendors in the future, migrating from one platform to another may not be possible without affecting business operations, even temporarily. 
What is CaaS
Here at Nogin, we're on the cutting edge of a new approach to ecommerce called Commerce as a Service, or CaaS. 
Simply put, CaaS is a powerful, all-in-one ecommerce solution designed to help brands achieve the same level of selling power as their major enterprise competitors. 
SaaS platforms are stretched beyond their intentions, and most apps are not advanced enough to keep up with big retail innovations. You need the same research and development capabilities, expert support, and technology to remove wasteful spending and maximize the returns on your efforts. 
This is where Nogin comes in.
Nogin is an all-in-one enterprise ecommerce solution built to manage tech, data, operations, and marketing in one streamlined, centralized spot, allowing you to focus on what matters most — your customers.  
Access the Most Advanced Enterprise Ecommerce Solution With NO Upfront Costs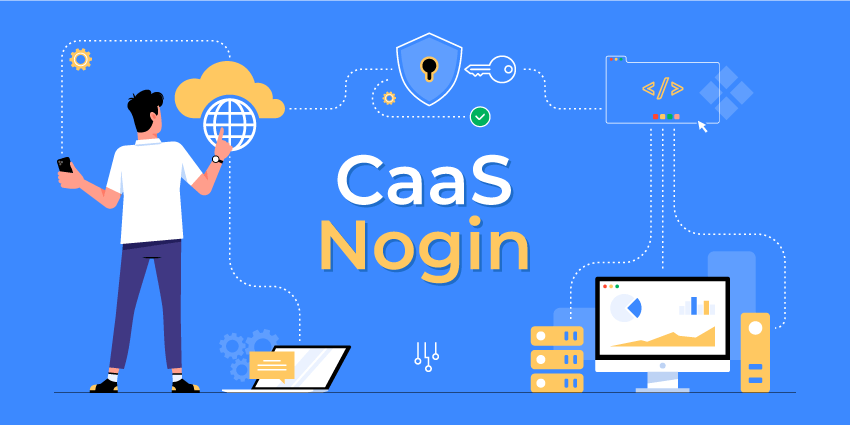 Ready to keep optimizing your ecommerce infrastructure?
If you're thinking about replatforming or outsourcing your D2C business, it's never been easier to migrate than with Nogin. 
Our technology enhances Shopify Plus with market-leading technology and fills the gap between entry-level and enterprise platforms. Nogin offers a radically different approach to ecommerce that future-proofs your business. 
Best of all, choosing Nogin comes with zero upfront cost, and we can get you live in under eight weeks. 
We check all the boxes and go above and beyond to help you meet your customers' evolving needs.
Our superior microtargeting capabilities and hierarchical headless platform deliver the most advanced customer segmentation to create tailored shopping experiences for each visitor. Convert more users, increase conversions, and lower acquisition costs with personalized messaging and offers that increase Average Order Value (AOV) and repeat shopping. 
Your storefront will utilize Luminate, our augmented Shopify theme that tests, analyzes, and deploys superior ecommerce tactics based on features that promote the most growth across our brands (Hurley, bebe, Kenneth Cole, Brookstone and Justice, to name a few). Automatic updates and constant A/B testing will help you keep up with big-retail innovation while staying in control of your brand. 
Our 3PL ecommerce fulfillment solution will cut shipping times and improve accuracy, keeping you competitive with big retailers. We have our own network of fulfillment centers, and utilize sophisticated merchandising and technology to lower shipping costs and return rates. 
Our platform features AI Customer Segmentation that allows you to build and optimize customer segments by leveraging over 10 years of anonymized data from Nogin. You'll be able to deliver true personalization to your customers even if you don't have a large database of your own. Say goodbye to the days of offering one-size-fits-all promotions and offers to your diverse group of customers.
Finally, you can access 40 enterprise-level tools and features that improve conversions and lower marketing spending, shipping, and returns. Forget trying to find the latest SaaS solutions and confidently run your brand while we handle delivering innovation each day to improve your bottom line. 
Nogin is a different approach to enterprise ecommerce, and the results speak for themselves:
Increased personalization drives 15% increases in revenue.

Conversion rates improve an average of 40% on our platform.

Brands discount 20-30% less on average.
If you want to recession-proof your business and instantly become more profitable, it starts with a smarter approach. Learn more about the research and data behind a Commerce-as-a-Service business model and download the Coresight Research Reports below, or contact us today: