Maybe you can relate to this: your brand is outgrowing its ecommerce platform, and you know that unlocking your next level of growth will require a significant change. You have no clue how to keep up with big ecommerce retailers like Amazon, you sense you're falling behind your competitors, and you know it's time to migrate platforms so you can take advantage of features such as microtargeting and personalization. 
You're not alone. 
According to a survey we conducted of some of the top ecommerce leaders of multi-million dollar brands, 56% of respondents were only somewhat satisfied with their current ecommerce technology stacks, and 17% were very unsatisfied.
Especially in the wake of the pandemic, competition has grown fiercer, and many brands are struggling to keep up. Ecommerce sales continue to balloon – they're trending from $5.5 trillion in 2022 to a projected $8.1 trillion by 2026. A migration to an enterprise platform can solve a ton of the challenges many brands face on an outdated, entry-level platform. 
But ecommerce migration is like undergoing a major transplant surgery – your platform functions as the heartbeat of your business, and it needs to work for you. More importantly, you need to find a platform with the tech, capabilities, and infrastructure you need to profitably scale your business. 
We want to prevent your organization from experiencing analysis paralysis when you're looking into next steps to take. So we came up with a comprehensive guide – everything you need to know about ecommerce replatforming. 
What is Ecommerce Replatforming (Migration)?
Ecommerce migration, or replatforming, is like moving a brick-and-mortar retail store to a different location. It's a massive undertaking that includes moving all your online data from one online storefront to another. It involves transitioning products, transfering online content such as blog posts, and exporting customer and order information to a new Customer Data Platform (CDP). 
Unfortunately, the jump to enterprise is often a complex, expensive, and excruciatingly long process. 
The Challenges of Migrating to Enterprise-level Ecommerce
There are several impediments small to medium-sized businesses face when trying to bridge the seemingly impossible gap from a starter commerce platform to an enterprise one. Making the move sooner rather than later is essential if you ever want a chance to compete with big retailers like Amazon. Here are some examples. 
The jump to enterprise is too costly.

The average cost of implementation is $500,000 to $1 million, not including licensing fees, hiring a development team, and other investments that are most likely out of reach for most small to mid-sized businesses. 

The migration takes too long

. The average time it takes for small to medium-sized businesses to transition is 12 to 18 months – unrealistic for most mid-market brands. 

Failed system integrators.

Oftentimes, businesses realize that their system integrators need to take longer to transfer their data, so they halt their migration efforts, costing them time and money. 

New systems can be complex and difficult to use.

IT difficulties such as extract, transform, and load (ETL) processing issues and application programming interface (API) limitations keep businesses from taking full advantage of their new ecommerce solution. 

A development team may be required,

necessitating more time-money investment that many mid-market brands can't afford. 
If you're interested in migrating your online store to an enterprise ecommerce platform, you'll need to compare options to discover which one will work best for your business. Then, you'll need to transfer all your data before setting up your new site.
You'll know it's time to replatform if you feel like you're falling behind industry and market trends, struggling to keep up with your customer's demands, or both. This leads to the next question you're likely asking yourself. 
Why Do Ecommerce Businesses Replatform and Why Is It Important?
If you're still operating on your first ecommerce site, you might realize that what worked early on for your business has started to slow you down. Marketing fees, system integrator maintenance, finding ecommerce talent to manage your team, and shipping fees all eat into your profit margins, making growth out of reach. If that sounds like your brand, it might be time to shed the old online store for something with more capabilities and features. 
Replatforming isn't a quick decision, however. Migrating platforms is a huge investment, and a massive amount of time and money will be wasted if the timing isn't right for your brand. Even if you're starting to consider replatforming, you and your stakeholders need to seriously consider the ramifications. Will the rewards of replatforming outweigh the risks? Will making the switch actually increase your ecommerce revenue? Most importantly, do you have the budget and time to actually attempt to make the move? Here are some ways you can determine whether migrating your ecommerce store is right for you.
Your current online store is slow.

Approximately 40% of shoppers

will leave a site if it isn't responsive within three seconds. A speedy online store is vital for your customer's shopping experience.

Your existing system has gaps that can't be filled unless you replatform

. A new ecommerce site can help you solve long-standing issues that have been frustrating for your administrative team and/or your online shoppers. 

Your team is growing weary of the upkeep and maintenance required to keep your online store functioning.

Clunky backend navigation will slow down your team and ultimately cost you money. A more intuitive system will work better for your team, and allow them to accomplish more in less time. 

You have gaps between administrative functionalities and frontend capabilities

. If this is a major shortfall for your brand, you may want to consider a

headless ecommerce platform.

Maintenance keeps getting more expensive and eats up more time.

If your upkeep costs and technical debt is rising, maintenance tasks are becoming redundant, you're paying for features you don't use, and you don't see the same ROI as before, you'll need to replatform. 

Customers are becoming frustrated.

Your shopper experience should always be your first priority. If customer reviews reflect dissatisfaction about your site (such as too many plugins, lack of intuitiveness, slow response time, etc.), you'll need to reevaluate your

user experience strategy

, which could involve migrating platforms. 

Your analytics are not very streamlined or accessible.

Without accurate data, how will you measure progress? Your analytics must be easy to collect, measure, and display. If this is a weak point for you, a new platform should be considered. (Learn more about the top

ecommerce KPIs

and metrics for your website.) 

You've tried integrating new apps and plugins, but your existing system doesn't play nicely with them.

Upgrading to an ecommerce site compatible with the plugins and extensions your online store needs is a solution to this issue.

Your product page optimization is lacking.

A new enterprise ecommerce platform solution should optimize each of your product pages to give your store the best chance at reaching ideal shoppers, maximize conversion, and reduce returns and cart abandonment. 

Your online store does not utilize microtargeting, and every customer is treated the same.

Poor targeting capabilities keeps you from better connecting with and converting your target customers. 
Must-Have Enterprise Capabilities to Consider Before You Replatform
Perhaps you can relate to the list above and know a transition is necessary. Or maybe you feel your native ecommerce platform is functioning smoothly for your team and customers, but you want to experience growth on a level you know is impossible with your current online store. Either way, here are the must-haves you should keep top of mind when shopping for a new platform.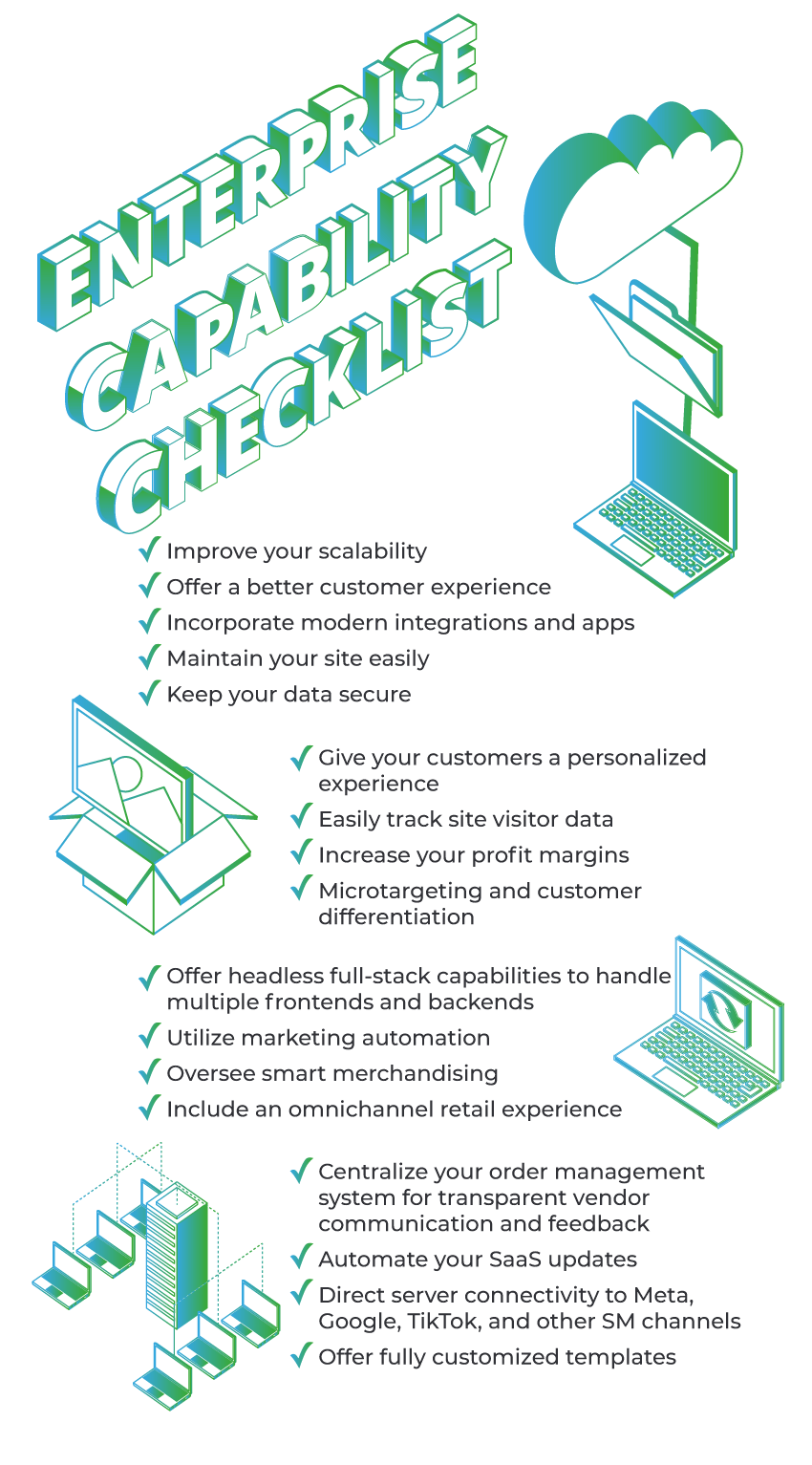 A new ecommerce platform should:
Improve your scalability

Offer a better customer experience 

Incorporate modern integrations and apps 

Maintain your site easily

Keep your data secure 

Give your customers a

personalized experience

 

Easily track site visitor data 

Microtargeting and customer differentiation

Offer headless full-stack capabilities to handle multiple frontends and backends

Utilize marketing automation

Oversee smart merchandising 

Include an omnichannel retail experience 

Centralize your order management system for transparent vendor communication and feedback

Automate your SaaS updates

Direct server connectivity to Meta, Google, TikTok, and other SM channels

Offer fully customized templates
Don't believe the ecommerce myths that online shopping experiences don't hold as much weight as an in-person shopping experience. Your customers will decide whether or not to purchase a product based on how they feel when browsing your online store. Keeping up with this aspect of your business will not only help your store survive but will allow it to thrive. 
Ecommerce Migration and Replatforming Checklist
Replatforming is no longer an either/or option for businesses that want to continue to grow – it's a necessity. The ecommerce software you choose for your brand affects all aspects of your business, from your ecommerce marketing funnel to operations to customer service. 
With ecommerce sales growing rapidly, and migration options overwhelming, the prospect of transitioning to a new online store can feel daunting. We created a checklist to ensure you're covering all your bases when preparing for an ecommerce migration. 
Gather input from stakeholders.

Transitioning your ecommerce site is a massive decision that involves collaboration with your stakeholders. That's why the migration process should begin and end with input from your key decision-makers. Create a list of the boxes you'd like your new platform to check (if you need help, we wrote one in the above section) and determine the pain points of your existing site, for both your customers and your administrative team. 

Start shopping for a new ecommerce site for your business.

Look into third-party apps vs. built-in services and software. 

Determine the best ecommerce options for your business.

Your team should do this collaboratively, measuring potential ecommerce services against your needs. Then issue a Request for Proposal to the platforms you're interested in.

Do the math on ROI and the total cost of ownership.

When you receive your proposals, you'll need to evaluate them based on the cost of the migration and whether it will be worth it. You should also map out the amount of time the potential migration will cost your team. 

Choose your new ecommerce platform.

This is the hardest part and one of the biggest decisions you'll make as a business. 

Meet with everyone involved and start determining and examining your needs.

Your new ecommerce provider should initiate strategy meetings with your team, but make sure everyone is on the same page prior to these meetings. That might require additional time outside your already-scheduled meetings with your new provider, but it's worth it!  

Create your new ecommerce site.

Now it's time for the fun part: making your new online store work better for your customers and administrators.

You'll also have to set up redirects and integrations for your new site. 

Test and experiment with new features.

Your enterprise site will offer the ability to customize almost everything. But that freedom can also cause death by features, which is why it's essential to experiment and test what will work best for your team. 

Choose your data shopping cart migration service.

You'll need a shopping cart service that offers a database while still supporting your shopping cart's functionality. (With Nogin, you can skip this step – we'll offer this service for you). 

Audit your site's SEO before launching.

There's no point in offering an online store if no one can find your site! That's why auditing your site's SEO is so important. 

Launch your new online store!
Nogin offers all the features and services you'd normally need to outsource when it comes to migrating your ecommerce site at no upfront cost, which is why many small to medium-sized retailers are choosing our ecommerce services over other ecommerce platforms. Best of all, our team will handle all necessary preparations to ensure you successfully migrate to our Intelligent Commerce platform in a fraction of the time.
Overwhelmed? Don't Worry! The Move to Enterprise Ecommerce Has Never Been Easier Than With Nogin. No Upfront Costs and Go Live in Under 60 Days
The move to enterprise commerce has never been easier than with Nogin. Our headless enterprise technology plugs into Shopify Plus, supercharging it with market-leading functionality that outperforms against legacy enterprise platforms. Our dynamic solution features sophisticated research and development built in and our clients can migrate to an enterprise level with no upfront costs in less than 8 weeks. Here are some of the main benefits you can expect migrating to Intelligent Commerce:
Our

headless ecommerce solution

features AI-powered customer segmentation, algorithmic

merchandising

, and smart promotion optimization to enhance your customers' online shopping experience with personalization tactics that convert.

We can handle multiple frontends and multiple backends. 

Access 40 enterprise-level tools and features that improve conversions and lower marketing spending, shipping, and returns. 

Access our comprehensive technology stack and pre-integrated frontend theme called Luminate, which includes the best Shopify apps along with partner integrations and exclusive features developed specifically for Intelligent Commerce. Our dedicated site optimizers are constantly working to improve each application, leveraging tactics gained from managing over 150 brands and $1 billion in total gross merchandise value (GMV) over the past decade. 

True global enterprise ecommerce to reach and convert international customers. 

Our

3PL ecommerce fulfillment solution

will lower your shipping and return costs. 

Marketing spend efficiency increases 30% with the CDP.

Plug into our enterprise ecommerce platform solution with NO upfront costs!
Nogin is a different approach to enterprise ecommerce, and the results speak for themselves:
Conversion rates improve an average of 40% on our platform.

Marketing spend efficiency increases 30% with our CDP.

Increased personalization drives a 15% increase in revenue.
Grow faster, spend less, and access enterprise ecommerce with no upfront costs with Nogin. If you think your brand is a right fit, schedule a convo with us! If you want to learn more about the Nogin difference or check out more of our expert ecommerce content, click on an article below:
Why Choose Nogin?