The ecommerce industry has experienced unprecedented growth in recent years. The global pandemic only served to fan the flames of online commerce, and consumers have continued to adopt their new shopping habits. As a result, the global ecommerce market is expected to increase by 10.4% and generate $6.3 trillion in revenue in 2023.
To keep up with this rapid growth and compete with large retailers like Amazon, independent retailers need a sophisticated ecommerce platform with an integrated, omnichannel infrastructure that offers customers a personalized shopping experience. But most importantly, they need a team of ecommerce experts who can build and manage their online channels.
Unfortunately, It's Easier Said Than Done
If you're like most ecommerce brands, staffing is one of the toughest challenges preventing you from scaling to the next level. There are so many unique duties to operating an online business that require specialists to get the job done. Great ecommerce strategists are hard to find and expensive to retain, and most organizations can't justify hiring them on a full-time basis. 
Whether it's performance marketing, merchandising, copywriting, front and backend development, data analysis, photography, brand management, fulfillment or any of the multitude of other tasks, companies struggle to find and pay for full-time support. 
Most brands don't have the budget to hire a dedicated team of ecommerce strategists. As a result, internal groups often must scramble to learn new skills, wear multiple hats, and hope they can pull off their new duties. 
Recruitment is especially hard due to the seasonal nature of Direct-to-Consumer (D2C) commerce. Staffing demands are constantly fluctuating. You'll need robust support to handle high-traffic holiday seasons but can get by with a smaller squad during the more quiet summer months. 
The answer isn't to try to recruit a team all on your own. Instead, you can leverage our Nogin Nerds to solve your staffing challenges.
Fractional, On-Demand Ecommerce Expertise Without the Headaches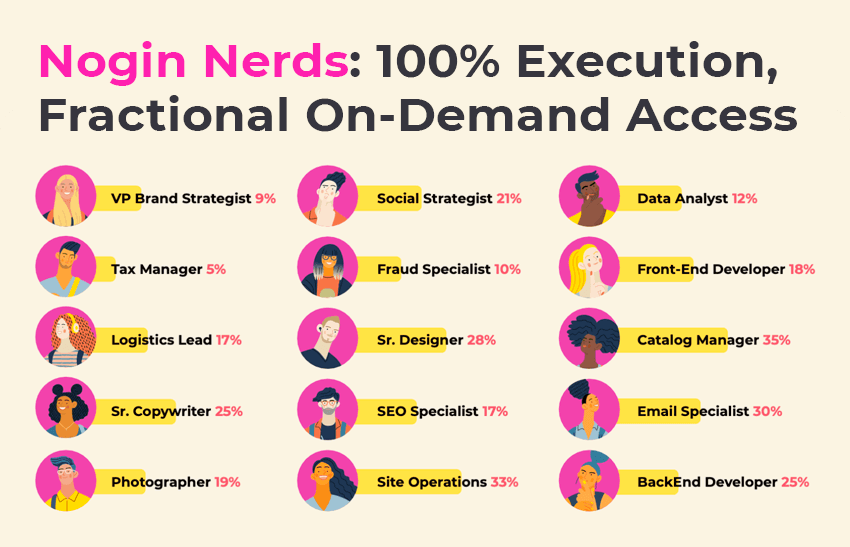 At Nogin, we understand that the conventional approach to hiring for ecommerce doesn't work for independent brands. That's why we introduced a radically different system. Our unique Commerce-as-a-Service (CaaS) offering delivers everything you need to dominate D2C ecommerce, providing enterprise-level technology that supercharges Shopify Plus and solving the challenges of recruiting great talent. Our model gives you access to our fully-managed ecommerce tech, supported with fractional ecommerce experts and every service needed to build a successful D2C business. Brands now have the flexibility to operate 100% fully-managed, 100% in-house, or anywhere in between.
Best of all, we've simplified the complicated process of migrating to an enterprise- level platform. Instead of waiting 1-2 years and spending hundreds of thousands of dollars, you can migrate to Intelligent Commerce in less than eight weeks with zero upfront costs.
Our solution is built on top of Shopify Plus and provides all the capabilities of a $1million+ enterprise deployment in a single platform. You'll gain access to sophisticated features, including a customer data platform, customer segmentation with true personalization, AI-powered merchandising, and smart promotion optimization to help improve conversions and lower customer acquisition costs. 
As your operations evolve, we'll provide the additional support you'll need to fill in the gaps on your internal team. It's not only the most cost-effective way to grow your brand, but you'll obtain access to experts in every realm of ecommerce. They're available on a fractional, on-demand basis to save time and money on expensive and tedious recruitment. 
Solve Your Staffing Problem Once and For All. Plug Into Intelligent Commerce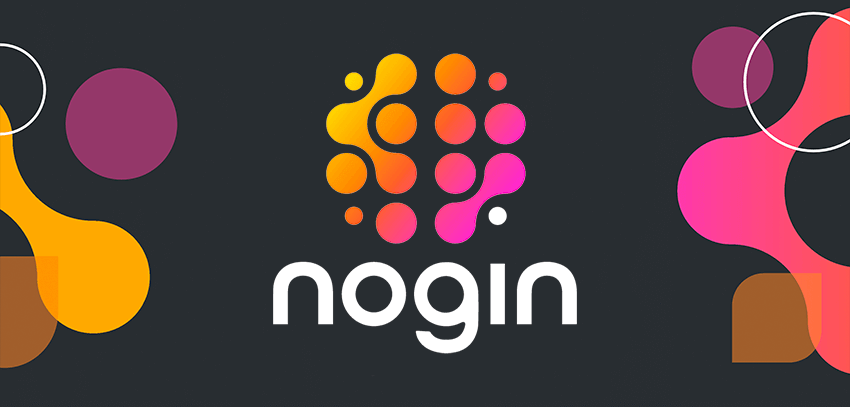 Nogin's technology and services are purpose-built to meet the specific D2C demands of your brand. If you want to future-proof your online business and discover how we make ecommerce growth easy, schedule a convo to get started.