Malls, department stores and big-box retailers — many consumers now view these in-person shopping experiences as a last resort due to the convenience of online shopping. 
People flocked to online marketplaces for just about everything and in 2020, ecommerce sales increased by 43% in the United States. Post-pandemic, the habits of online ordering and curbside pickup are here to stay.
Now, customers can get what they want, when they want it — all without having to step foot inside a store. 
But in order to remain competitive, retailers need to get creative with their user experience strategy and product page optimization to convert page views into sales. This can be accomplished through omnichannel commerce. 
What is Omnichannel Commerce?
Simply put, omnichannel ecommerce creates a unified buying experience for the customer. 
An omnichannel approach places the customer at the center of the multiple channels they'll interact with, from the company website, to social media, to word-of-mouth, to an actual brick-and-mortar store. 
Omnichannel vs Multichannel Ecommerce: What's the Difference?
Although the terms "omnichannel" and "multichannel" may sound similar, they are quite different.
Multichannel ecommerce is product-focused, while omnichannel ecommerce is customer-focused.
The multichannel approach assumes that customers only go to a limited number of sources before they make a final buying decision. 
However, recent industry research shows that this is usually not the case:
A

Harvard Business Review study

found that 73% of shoppers used multiple touchpoints throughout the process of making a purchase.

Research from

Bloomreach

found that a majority of today's buyers prefer to conduct their own extensive research about a product online before purchasing it.
Omnichannel ecommerce relies on a foundation of multiple channels and combines their efforts to create a more unified approach. 
As customer behavior changes, it's time for ecommerce platforms to catch up with a fresh approach to increasing ecommerce sales revenue. 
Omnichannel Ecommerce Examples: Brands Who Are Doing It Right
Omnichannel ecommerce leads to higher visibility and brand loyalty — take it from some of today's most prominent ecommerce companies.
1. Amazon
It's no secret that Amazon has set the bar for ecommerce best practices and played a huge part in changing the way consumers shop. Amazon uses third-party logistics to bring customers' online orders to their doorstep at lightning speed, usually in two days or less.

Beyond the digital, there's a physical element to the Amazon shopping experience, too, with the rise of Amazon Go centers across the U.S. and the ability to scan a code to receive member benefits when checking out at Whole Foods. 
2. Sephora
Sephora's free Beauty Insider program provides a wealth of data to customers. The program, visible from both an app and web desktop, keeps track of previous purchases to make personalized recommendations for the future. 
Once customers earn a certain amount of points, they gain access to bigger discounts on each purchase, as well as exclusive sales for each "tier" of the program. This loyalty program keeps customers coming back — the nearly 11 million Beauty Insider members spend 15 times more at Sephora than the average buyer. 
(Learn more about the latest beauty and cosmetics retail trends.)
3. Target
In order to compete with Amazon, Target took on a headless commerce strategy, creating a more unified user experience from device to device. Target's buy-online, pick-up in-store model increased by nearly 500% during the pandemic, and remains a popular option for grocery — and other — shopping. The option for two-hour curbside pickup on many items adds an undeniable element of convenience, giving Target an advantage over competitors' ecommerce marketing funnels. 
4. Apple
Apple has revolutionized the experience of buying tech, and the option to seamlessly connect data from device to device has brought Apple to the top of its game. Apple's consistent branding through stunning photos and videos lend to simple, yet effective product page optimization.
5. Spotify
Spotify is known for changing the way we listen to music. Users can access their playlists on desktops or on the go, with some smart cars even featuring a Spotify app. No matter where you're listening to Spotify, it will look pretty much the same, featuring the brand's trademark simple, familiar user interface. Recently, Spotify has allowed artists to integrate their online stores directly to their music profiles, so fans can purchase merchandise from their favorite acts using the app. 
All of these companies have one thing in common: They take full advantage of multiple channels, including Android and iOS apps, traditional advertising and social media, both to reach potential customers and retain existing ones. 
When It Comes to Omnichannel Ecommerce, the Benefits Outweigh the Costs
Companies like Target and Sephora have leveraged an omnichannel approach to deliver superior shopping experiences for their visitors. 
Because they've chosen to invest in omnichannel capabilities, they reap the benefits of increased customer retention, more seamless customer experience and boosted brand loyalty.
By presenting a unified cross-platform brand voice, they also increase foot traffic to their sites as in-person and online shopping merge into a seamless, frictionless process.
Our Go-To Omnichannel Strategies to Grow Your Brand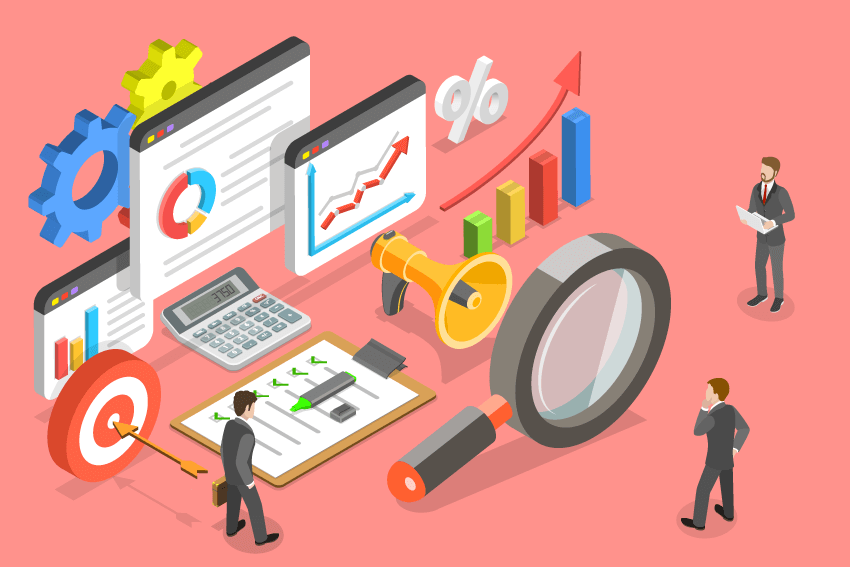 If you're just becoming familiar with the concept of omnichannel marketing, competing with the likes of Amazon and Target may feel overwhelming.
A good place to start is getting to know your customer through market research, inviting customer feedback and meaningful interactions on social media. 
Once you know your customer, you'll know more about their buying habits. Where do they go first when making a buying decision about products like yours — influencer reviews on TikTok, or a trusted member of their book club? Gathering information about your customers will help inform a more personalized experience for your ideal buyer, and help you select the right channels through which to reach them. 
One of the top ecommerce KPIs is customer retention which can be maximized in many ways. Specifically in the post-COVID world, it's important to maintain a consistent brand voice across all platforms, which in turn makes your brand appear more authentic and credible, two qualities that keep customers coming back. 
Once you've identified your customers' habits within each shopping channel, it's important to keep each shopping destination up-to-date.
For example, if one of your channels is a devoted app for product fulfillment, stay current with iOS updates to fix potential bugs and maintain customer trust through cybersecurity. 
Develop systems for marketing automation in order to stay efficient while focusing your labor force on improving other areas of your business.
It's important to keep in mind what makes your business unique. You're not a behemoth brand, but you can compete with them by finding the channels that will work best for your target customers.
Migrate to Nogin's Omnichannel Growth Platform With No Upfront Costs and Go Live in Under 60 Days
Even when you're committed to doing it right, the leap to enterprise ecommerce can be overwhelming and costly. 
Fortunately, we offer a radically different approach to transition brands to enterprise commerce with no upfront costs, no data migration headaches, and instead of waiting 1-2 years, we get you live in under 8 weeks. 
We believe omnichannel is one of the keys to future-proofing your business, and we're here to help you make it happen. Clients connected to our Intelligent Commerce suite gain a full suite of full-stack enterprise capabilities to transform every moving part of their business. 
Gain omnichannel infrastructure to connect all the moving parts of your ecommerce business while our team constantly keeps your brand ahead of the competition with the latest tools and solutions to lower operating costs while maximizing your profitability.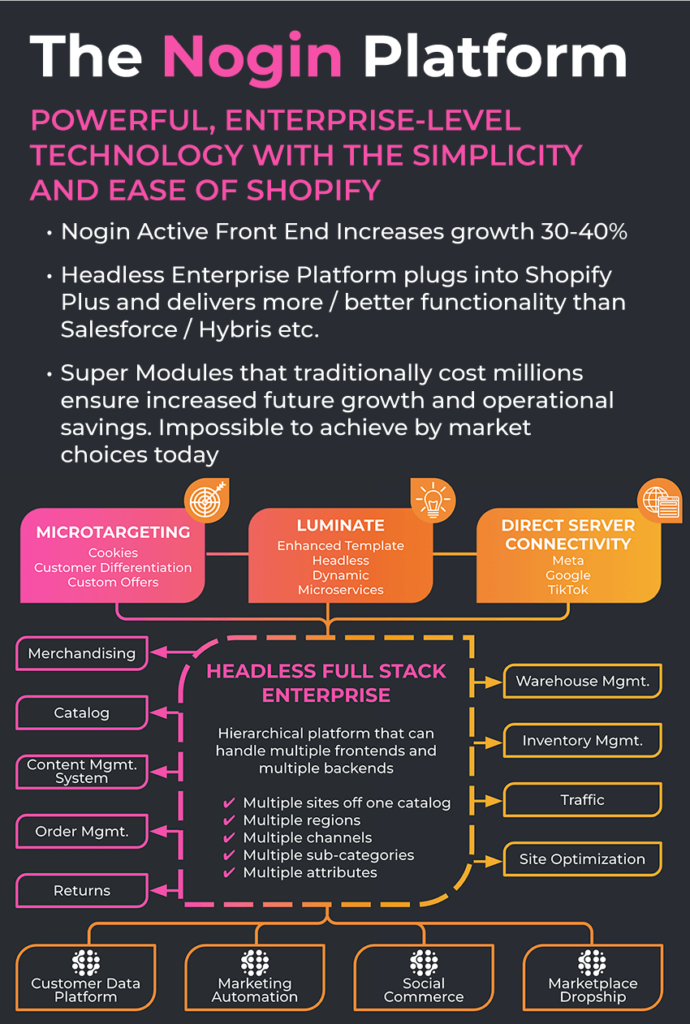 Nogin is a different approach to enterprise ecommerce, and the results speak for themselves:
Conversion rates improve an average of 40% on our platform.

Marketing spend efficiency increases 30% with our CDP.

Increased personalization drives a 15% increase in revenue.
When you work with Nogin, you get to grow faster, spend less and access enterprise ecommerce with no upfront costs. 
Think your brand could be a right fit? Schedule a convo with us! 
If you want to learn more about the Nogin difference or check out more of our expert ecommerce content, check out the articles below:
If you want to dive deeper into the research and results behind CaaS, download our collection of research reports below: