The Hidden (and Not So Hidden) Cost of Replatforming to Enterprise Ecommerce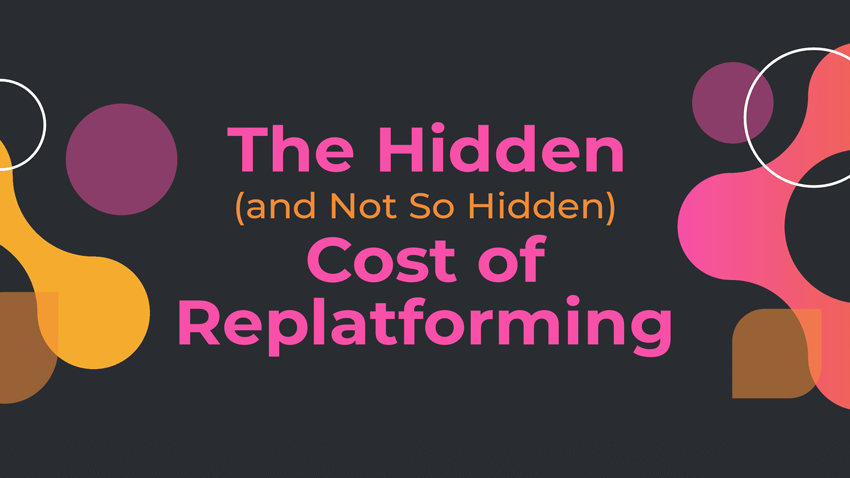 With ecommerce sales on track to reach $6.3 trillion by 2024, it's a productive time for online retailers. 
Consumers are doing more and more of their shopping online, and ecommerce brands have a huge opportunity to capitalize on the recent shift in buying habits. 
Although many online retailers no longer have to worry about staffing a brick-and-mortar location, the ecommerce space has its own set of challenges. For one thing, every independent retailer competes with big retailers like Amazon who are able to pump billions into research and development, technology and innovations to elevate their online shopping experience. 
In order to compete, small and medium-sized businesses (SMBs) must deliver a comparable experience and improve their websites to attract customers and encourage them to spend. 
Replatforming is one of the best investments you can make to improve their online business. But before you move forward, you'll need to get to know the ins and outs of replatforming, and why Commerce-as-a-Service (CaaS) is the best long-term approach to ecommerce.
What is Replatforming?
Replatforming is the process of moving to a new ecommerce platform.
Over the years, you've (hopefully) installed updates and new apps to improve your website. Unfortunately, stringing together various apps and installing updates on an old or entry-level platform can slow down your store and create new problems. 
Instead, you can move your storefront to a totally new ecommerce platform provider that features elevated capabilities and technology to improve customer experience, lower operational expenses and save money. It's the difference between driving an old car and making constant visits to the auto shop to replace old parts versus investing in a brand-new model; for many brands, replatforming is not only long overdue, it's also essential to stay competitive. 
Small SMB platforms often do not have the full-stack, enterprise capabilities brands need once they have grown to at least $1 million in annual revenue. Traditionally, once an SMB reaches $1 million or more in annual revenue, they invest in enterprise SaaS solutions. Many growing brands do not have the budget to invest millions to replatform or wait 1-2 years to migrate.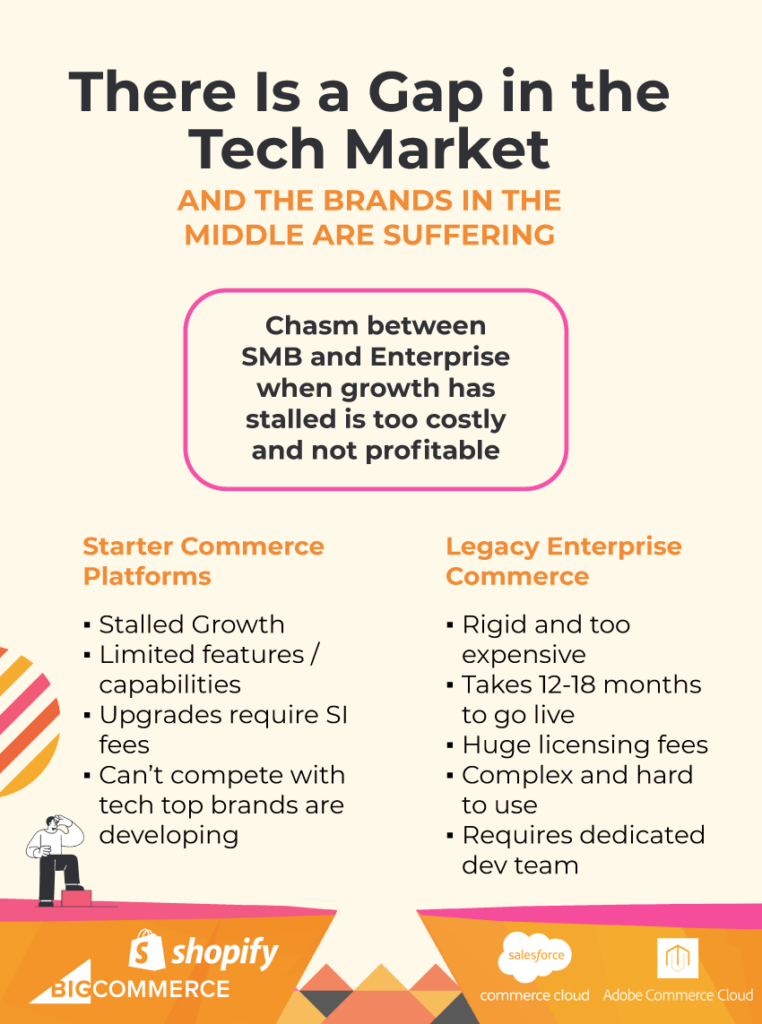 Take Advantage of Nogin's Ecommerce Technology
Nogin's CaaS approach makes a typically lengthy, expensive replatforming process simple.
It's also the most practical and lucrative solution for growing ecommerce brands. Instead of a 1-2 year wait, it only takes 1-3 months for our clients to migrate to our platform. Instantly, you'll have access to advanced enterprise technology to take your business to the next level. 
Our headless enterprise technology supercharges Shopify Plus with enterprise-level functionality that outperforms against legacy enterprise platforms. You'll gain all the simplicity, flexibility, and apps of Shopify Plus along with additional super modules that will instantly transform your brand. 
Plug into Intelligent Commerce and our team and smart tech will get to work. Our solution connects all the working parts of your ecommerce business to lower operating costs and maximize efficiency across your brand. You'll have a total technology solution that will optimize all areas of your business to convert more customers at lower acquisition costs.  
Best of all, you'll never have to worry about replatforming again — we'll constantly deploy new innovations and improvements across our clients to keep your store ahead of the competition. 
If you choose to stick with an outdated system, your customers will start shopping on better ecommerce marketplaces. 
Nogin helps you retain and attract customers, even amidst the high-stakes competition of today's ecommerce landscape. We make it simple, fast and affordable for brands to replatform and access the best-in-class plug-ins, technology and experts you'll need to maximize scalable growth while doing what you do best.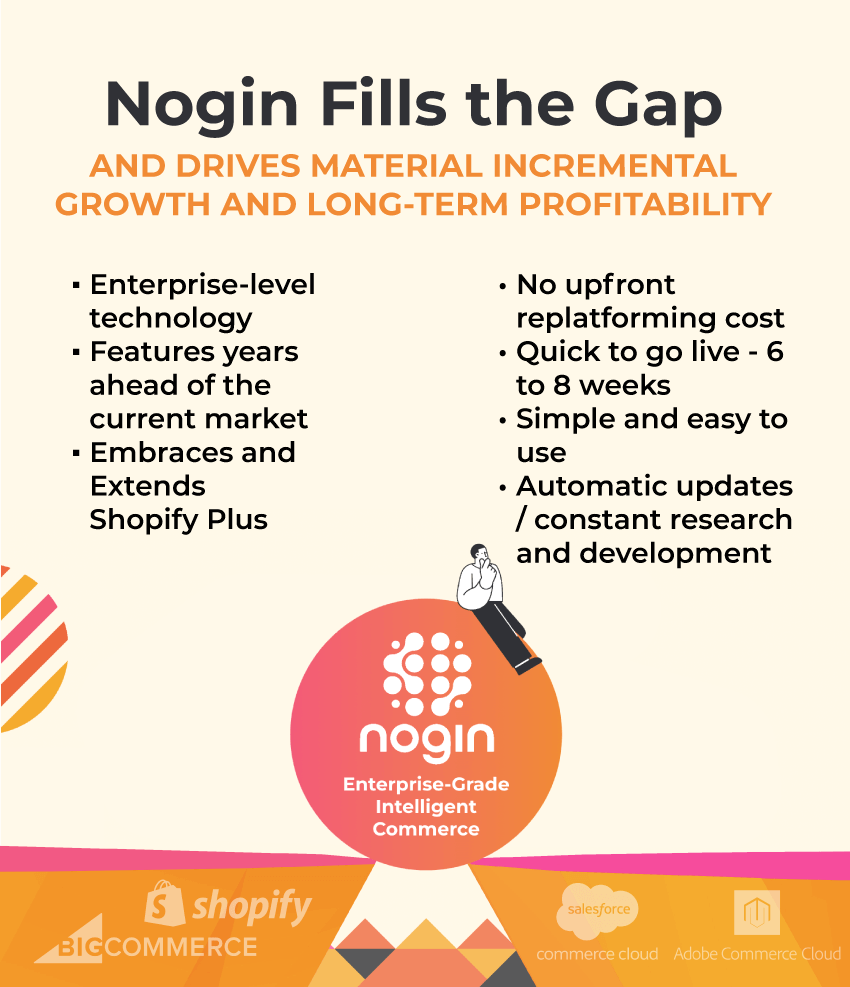 What are the Benefits of Replatforming?
There are many advantages to replatforming your ecommerce store. Here are some of the top reasons to consider it:
Customization:

Traditional ecommerce platforms for SMBs are rigid, and brands are forced to use store apps and templates to build their store. Meanwhile, our commerce platform offers enterprise-level capabilities and tech with the flexibility to design the ecommerce experience you want to display to your visitors. Deliver personalized experiences by customizing your UX and UI to align with your brand's ideal vision. Create captivating shopping journeys that are sustainable for repeat transactions through loyalty programs, wish lists, subscriptions and more. 

Speed:

Old platforms and apps can develop issues over time that slow down your website. Replatforming with Nogin will improve page load speeds to prevent shoppers from bouncing due to long wait times. 

Improved Shopping Experience:

The latest enterprise-level platforms have improved cataloging,

merchandising

, search functionality and UI to deliver superior shopping experiences for customers. 

Checkout:

Integrate payment systems that convert users. Many legacy platforms are restrictive of checkout capabilities and options. The latest ecommerce platforms deliver seamless checkout experiences that improve conversion rates. 

Scalability:

Replatforming will allow your brand to capitalize on the busy holiday season. Older platforms may crash when there are large surges in traffic due to big retail events like Black Friday, costing your business lost revenue and negatively impacting your reputation. Our commerce platform is always up-to-date and scalable. Shoppers will enjoy a superior shopping experience even during the busiest shopping times of the year. 

Integrations: Replatforming on our CaaS platform will unify your ecommerce channels and remove fractured inefficiencies between your systems. Connect your order management system (OMS), enterprise resource planning (ERP), warehouse management system (WMS), content management system (CSM),

third-party logistics

(3PL) systems, APIs and other channels, so all data is collected and analyzed under one platform. 

Omnichannel:

Today's shopping experience is varied, to say the least. Customers can browse and purchase products from desktop, tablet and mobile devices from a variety of channels, including blogs, websites, social media platforms and messaging apps. Replatforming on our CaaS platform allows customers maximum convenience and efficiency. We track all shopping activity, and visitors can continue their journey where they left off on other devices. This not only improves your

conversion funnel

, but you'll have clear visibility over your customer journeys. 
Use Your Nogin and Take the Headache Out of Ecommerce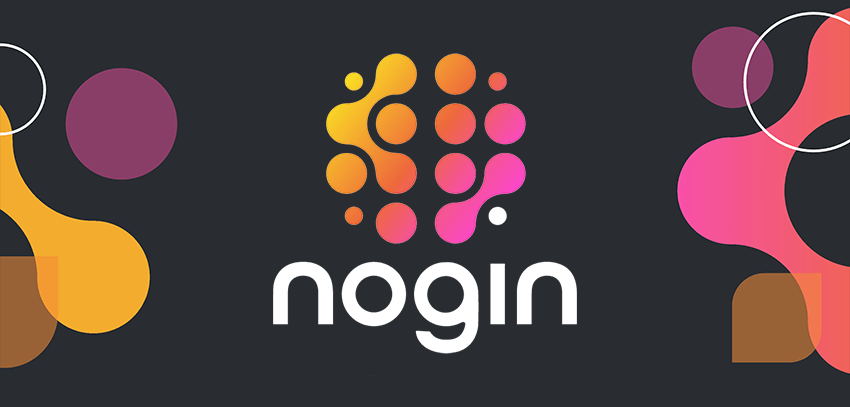 When it comes to competing in today's ecommerce market, brands have options:
Stay on your legacy ecommerce platform and run around trying to find and fix apps, manually try to plug the holes in your ecommerce operations. Drain your budget on marketing and SaaS that costs a fortune without much return. 

Replatform on an enterprise ecommerce platform that will cost millions of dollars and take years to complete. Hire new ecommerce experts and retrain your team to get up to speed— hopefully you can make your money back on this costly-but-necessary investment. 
Plug into Intelligent Commerce that requires no upfront investment and access the full-stack capabilities you'll need to compete with big retailers. Never worry about replatforming again! Obtain the enterprise SaaS, infrastructure, and tech you'll need to create the ideal ecommerce experience you want for your customers. Consolidate your entire operations under a unified and integrated ecommerce solution with research and development built-in. Gain all the capabilities of a $5MM enterprise deployment in a single platform without ongoing system integrator or monthly agency fees.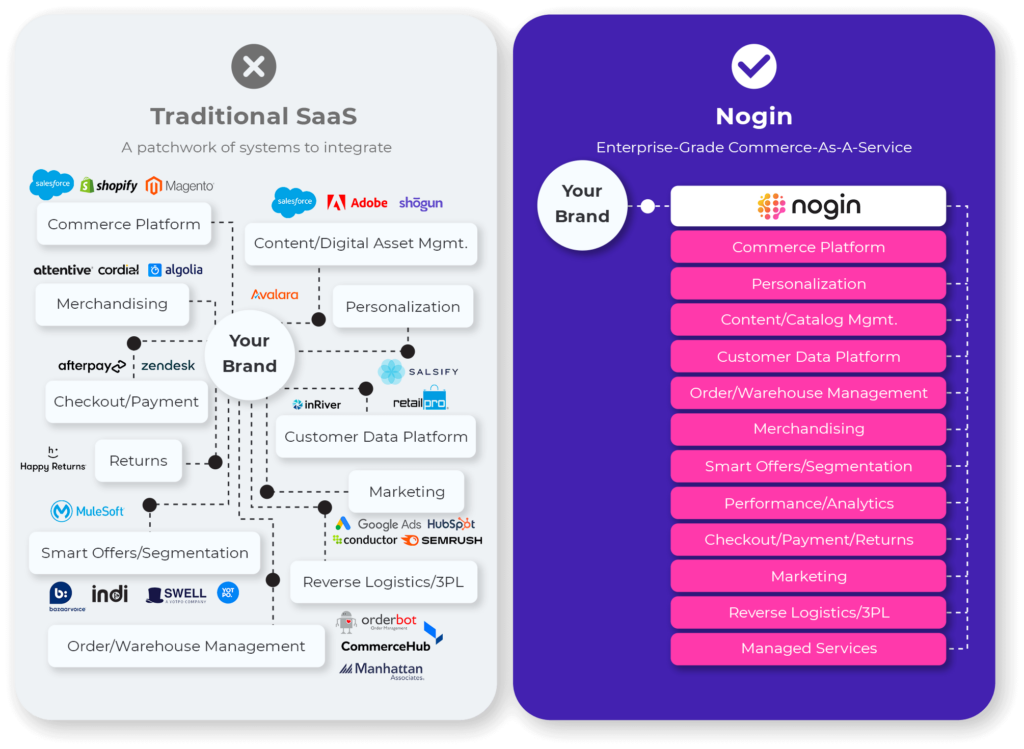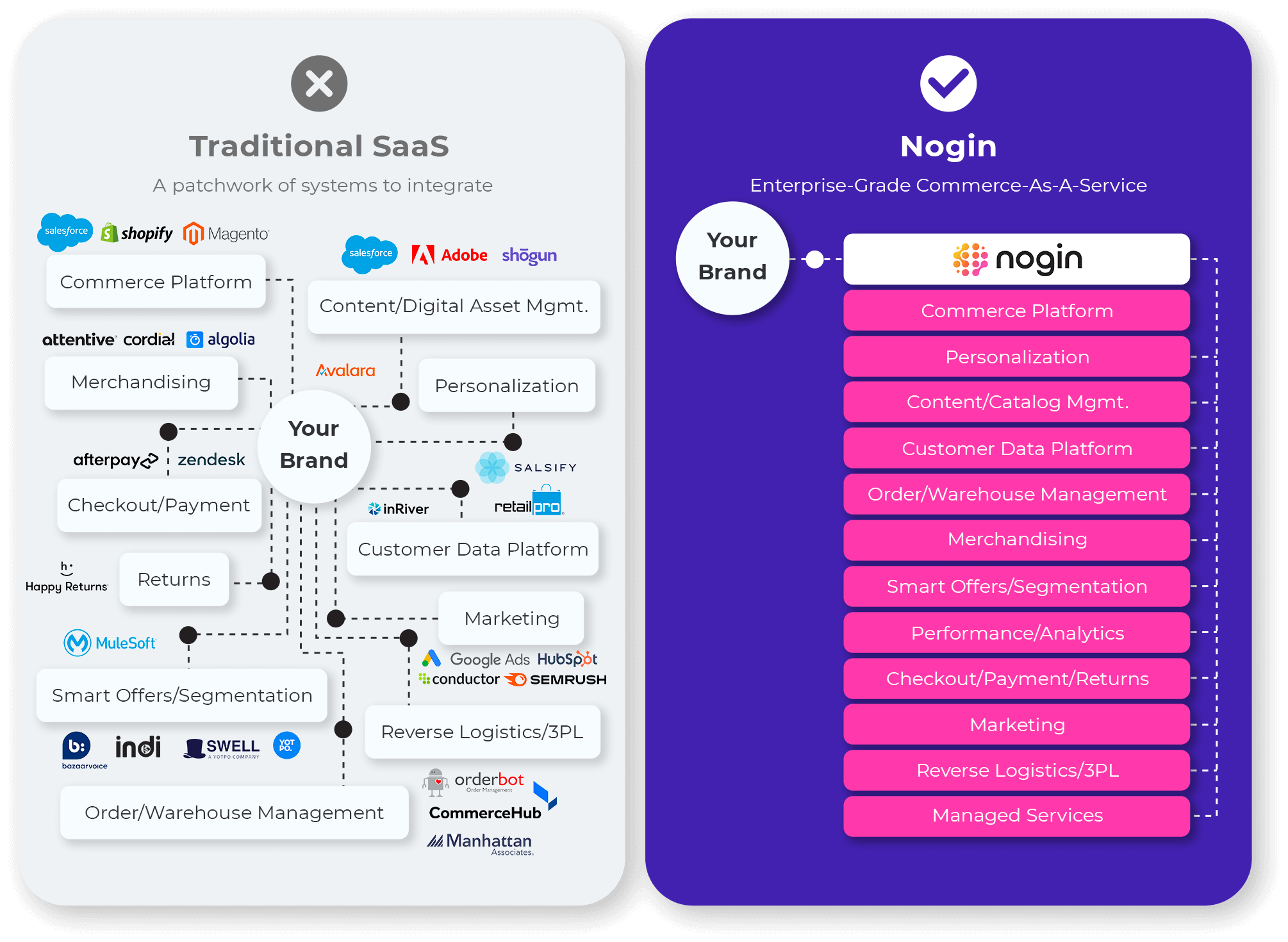 For brand leaders who need to deliver superior growth with predictable costs and an exceptional online experience, our headless enterprise technology plugs into Shopify Plus, supercharging it with market-leading functionality that outperforms against legacy enterprise platforms. Designed to optimize the entire ecommerce operation, Nogin frees you to focus on your brand while running as much or as little of the infrastructure as you choose. 
Consumers will compare your user experience against Amazon, Apple and big retail. Give an experience far beyond your size with enterprise-class ecommerce infrastructure, continuous technology innovation, extensive integrations, expert services and high-volume shipping discounts negotiated across our customer base. 
Learn more about the research and data behind a CaaS business model and download the Coresight Research Reports below: